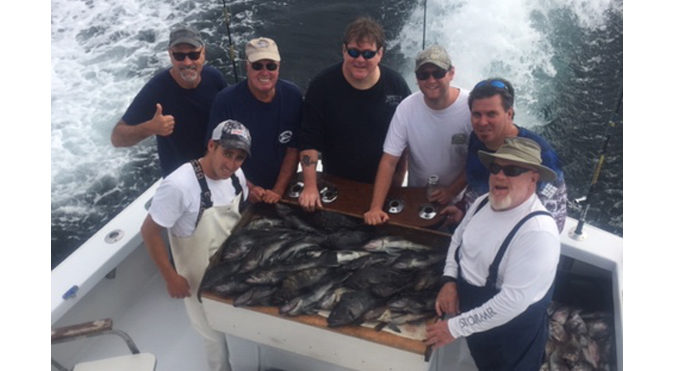 Lots of action to report this month! Huge schools of Bunker all along the south side from East Hampton all the way to the Midway bouy have brought all sorts of sea life. Humpback, Finback, and Minky whales, along with pods of Porpoise too. Naturally around them were Thresher, Sandbar, and Dusky sharks. The Whale action was the best in years while feeding on the Bunker. Jumping out of the water, slapping their pectoral fins on the surface of the water, quite the show!!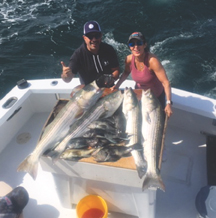 Fluke fishing really came alive with the arrival of the Hognosed Anchovies, and Sand Eels. The hot area was on the south side off the Radar by Brown's cove. Some really big Fluke were taken. The biggest was a whopping 17.9 pounder! Anglers have been waiting for this mass of fish to move through all summer.
Striped Bass action slowed somewhat, but action picked up during the full moon night bite. Live eels worked well as usual. Spoke with some friends in Mass. and Maine and they said the Striped Bass are thick up there. Hopefully this is good news for the Fall run. There is some Striped Bass over by Block island, but you must be inside of the 3 mile limit to possess them. Enforcement has been very heavy and tickets with fines have been handed out, don't risk it!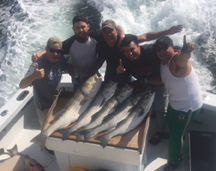 Bottom fishing for Porgy and Black Sea Bass couldn't be better! Wow, what a comeback the Sea Bass have made. Get some clams and squid and fish a high-low double hook bottom rig and find a rockpile that hasn't been hit already and you will be pleasantly surprised. Remember the size limit is 15 inches and the bag limit per person is 7 fish. These Black Sea Bass are delicious and make great tablefare!!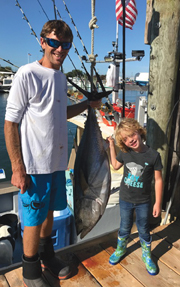 This season the Tuna fishing has been the best in years. Along with lots of Mahi-Mahi thrown in the mix. Offshore in the Canyons was on fire for many weeks, as long as another warm eddy spins off, should hold up through the month! Meanwhile closer to home there has been some nice school Bluefin action out by the Butterfish hole and a spot called 6 & 8. Chunking while drifting near the scallop boats has been producing.. Also some nice ones have been caught on #8 Diamond Jigs. Make sure your gear is up to speed because these Bluefins have been averaging 60-100 pounds!! Great fight on "Stand-up" gear.
Still got plenty of season left to get out there and have some fun. We've been really lucky with the weather this year, but always check ahead and never rely on just one weather site, compare notes between three different sites to be sure!!
Be safe and Go get Em' !!
         ~ Tight Lines, Captain Skip
www.adiosboat.com    ♦    www. facebook.com/adios.charters