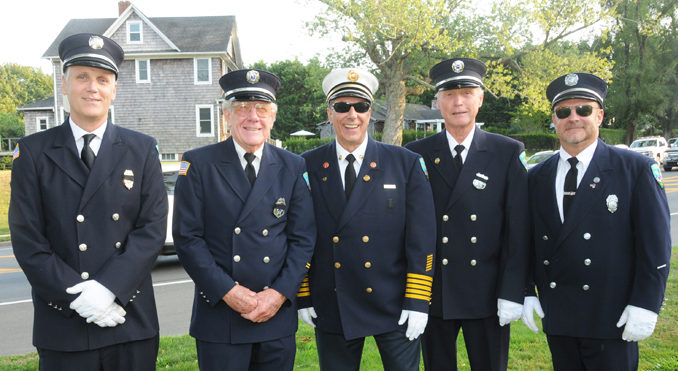 …Photos by Richard Lewin Professional Photogrphy (soniboy@aol.com)…
Welcome once again to the Montauk Fire Department Corner. I hope everyone had a fun, safe and productive summer, and that you are now enjoying our late summer and early fall in Montauk. On that note I would like to remind people that, if you are preparing to close your home for the Season, please be sure that your fire alarms/smoke detectors are up and running with fresh batteries.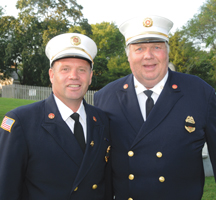 Once again the Montauk Fire Department participated in the annual Memorial Service commemorating the tragic attack on our country on September 11th, 2001. As always we mustered at the Hook Mill in East Hampton Village, along with our brothers and sisters from East Hampton, Amagansett, Springs, Sag Harbor and Bridgehampton, to lay wreaths in remembrance of the firemen, policemen, and citizens who lost their lives eighteen years ago. I know it's hard to believe that it's been eighteen years since we were attacked, and in some ways it seems longer, but let us NEVER FORGET. The photos memorializing this ceremony are provided here by Honorary Montauk Fire Department Chief Richard Lewin.
On Sunday, September 15th the Montauk Fire Department held its annual Big Bucks Bonanza. It was a beautiful day and the event was well attended. As you can imagine an event of this size is "all hands on deck" for our membership, and I want to thank everyone who participated in making the day a runaway success. A total in excess of $160,000.00 was raffled during the three hour event. I would like to take this opportunity to thank Rick White and Eve Lenahan who coordinated the selling and distribution of all the Big Bucks Tickets, Ed Eurell the Chairman of the event, who supervised the food, drink and entertainment provided to all our guests, and to Pat Hamill who rolled all 2,500 tickets. A special thanks to Richard Lewin for providing the photos of this event for your enjoyment.
As you know, we have been profiling a Member of our Department in order for the public to get to know who we are, and to know who is out there volunteering to keep your community safe. For this month's profile, I am proud to introduce Fire Fighter Heather Hewitt Matthews.
Heather joined the Montauk Fire Department in October 2017 as a Fire Fighter, which has special significance since she is only one of five women Fire Fighters in the MFD. Heather is a local Montauk girl, the daughter of Peter Hewitt and the late Janis Hewitt. She is a graduate of Montauk Public School, East Hampton High School and SUNY Brockport. Heather has been married to local attorney Brian Matthews for fourteen years, and has two children, Sully, age 10 and Sadie, age 6 who also attend Montauk Public School. Upon graduating from SUNY Brockport, Heather worked in NYC for Sloane-Kettering Memorial Hospital, and then for a non-profit cancer help organization from Sag Harbor called "Fighting Chance", when she moved back to Montauk. She is currently a manager at the Harvest Restaurant in Montauk. After joining the MFD in October 2017 Heather began her basic mandatory fire fighting training, which takes about eight months. This training includes many hours of classroom and practical experience at the Fire Training Academy in Yaphank and at the Montauk Fire Department.
Seven people began the process with Heather, and she was one of four who successfully completed basic training. She, as all new members are, was assigned to Company No. 3, which is the Department's Water Company. Heather aspires to someday being transferred to Company No. 1 or No. 2, our Engine Company. Fire fighter Matthews has deep roots in the Montauk Fire Department. Her grandfather George Hewitt was a fireman in the early 1940's, when the Department was a fledging organization, and her uncle Jim Hewitt is one of only four people that are Honorary Chiefs of the Montauk Fire Department. Heather also serves on the Big Bucks Bonanza Fund Raising Committee, as well as the Santa Committee, and volunteers during fire prevention week at the School. Heather related that she had always had an interest in joining the Montauk Fire Department, but she made her mind up after her mother Janis was killed in an automobile accident. She was overwhelmed by the outpouring of support to her family from the Montauk community and made the decision to volunteer and give something back. I join the officers, men and women of the Montauk Fire Department in expressing how glad we are that she joined. It is wonderful to be able to work with a woman of Heather's caliber.
That's all for this month. Thanks for keeping up with our news.
~David Ryan, Chief, Montauk Fire Department