Sulphur and Salt in WV's Greenbrier Valley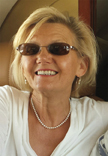 West Virginia's Greenbrier Valley is famous for its captivating fall beauty, rolling farmlands, and its vibrant tapestry of small towns like Lewisburg and White Sulphur Springs, where America's Resort, The Greenbrier, the White Sulphur Springs, and the unique Salt Cave are to be found. The town of White Sulphur Springs is named after its famous mineral springs, which were first reported in 1778 for their curative powers. According to one legend, in that year, rheumatism sufferer Amanda Anderson was brought to the springs in a litter slung between two horses, yet left riding horseback after a few weeks' treatment. Her family had heard that Indians believed the strong-smelling water had healing properties. The springs attracted many others, first camping in tents, then staying in rustic cabins. White Sulphur became one of the most fashionable southern spas during the antebellum period. Dr. John J Moorman, who doctored the summer crowds from 1838 to 1883, wrote in his memoir of ''the most highly medicated and efficient mineral water of its class in America, if not in the world.'' Modern chemical analysis shows the water to be rich in sulfate, calcium, bicarbonate and other minerals.
Our destination, The Pomona Salt Cave and Spa was located on a slow country road just a couple of miles outside of downtown White Sulphur Springs. The heavy days of the infamous virus were a major concern for me due to my seasonal asthma. But through our Montauk Salt Cave, I was familiar with the beneficial respiratory effects of salt = Halo-therapy, a complimentary and/or alternative treatment for conditions such as asthma, inflammation, the common cold, anxiety, allergies, and sleeplessness. My husband can confirm the sleepiness, as he takes a nap as soon as we lay down in the recliner chairs. I prefer to do a deeper breathing exercise that involves negative ion salt particles.
Though we are residing part of our summers in Glade Springs, WV and often drive the extra mile to the Greenbrier Valley, we'd booked an overnight stay in one of the beautifully appointed lodges that are part of the Salt Cave Spa. This would grant us ample time for an extra Halo Therapy treatment, dinner at their Garden Café, a healing Sulphur soak in the privacy of our 2-bedroom lodge, and ample time the next morning to get ready for our "Mountain Memories" spa day.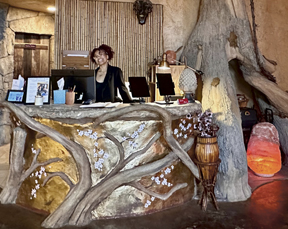 The beautiful grounds that surround the Salt Cave, the Spa, the Garden Café, and the Lodge are part of a sweeping hill, studded with flowering plants. Still the best kept secret in White Sulphur Springs, our rustic-luxurious accommodations featured two bedrooms, a bathroom with a soaking tub, kitchenette, dining space, and living area. What got our attention when we stepped inside were the native decorations and the gnarly log beds that the owners had ordered from a Riverside Rustics wood shop in upstate NY. The charming outdoor fire pit by our front door is worth noting. S'mores kits are available at the café for kids of all ages, definitely a unique addition to Almost Heaven, West Virginia!
Our Salt Cave Spa getaway began that afternoon in the Salt Cave. Created with over 17,000 pounds of deep-mined Himalayan salt, it creates an antiviral, antifungal and antibacterial environment charged with negative ions. Marius Grecu and his wife Adriana, who are the founders and owners, are the most kind-hearted people you'll ever meet. Both were born in Romania, and are living their American Dream. They told us later that when their son fell ill they searched for answers in alternative, complimentary, and preventative medicine that eventually resulted in the creation of their Salt Cave, which from then on expanded and gave birth to the Pomona Spa.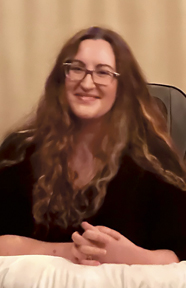 Marius Grecu is a board certified Doctor of Natural Medicine and a Kundalini yoga instructor who had to take on the position of the general contractor for the Salt Cave himself as most couldn't visualize his vision. As far as we know, its the only one of its kind, man-made into the foothills of a mountain and in-ground, in the US. I'm interested in hearing if there are any others. Adrianna Grecu, a licensed massage therapist herself, emphasized that the nature of what happened with their son opened their eyes on many things and resulted in relocating from Lehigh Valley, PA to The Greenbrier Valley, WV, adapting to a more healthy and conscientious lifestyle. Their spirituality is evident, and they are deeply thankful for their son's recovery.
We decided to stay on premises, and get a nice big salad for dinner, especially since the spa's cozy Garden Café is located in such a beautiful setting, steps away from the Salt Cave and our accommodations. The Garden Café at Pomona Salt Cave was the perfect place to enhance our spa journey as most foods are locally sourced and pesticide-free whenever possible. The cafe's manager, Athena, is passionate about clean and creative food. As a baker, she makes all of her desserts in-house from scratch.
Afterwards, I soaked for 20 minutes in hot sulphur water that came right out of the faucet! It was a steamy and sulfur-scented soak, a tradition that spans the ages and continues to be a staple for spas around the globe. Soaking in these waters is said to be a great way to naturally detox one's skin. The mineral content of Sulfur Springs water has been shown to help with persistent skin conditions like psoriasis, acne and eczema. In fact, the treatment of ailments with hot sulfur water is called Balneotherapy and has a rich history.  "Balneotherapy is the treatment of disease by bathing in thermal mineral waters. Balneotherapy has been widely used for centuries, particularly for the treatment of chronic skin and musculoskeletal conditions. It experienced a decline in popularity in the last century due to the emergence of new pharmacological agents but is now regaining interest as an alternative or complementary treatment option with minimal side effects." reports dermnetnz.org
Nevertheless, I splashed on some of the natural Rosewater that I'd obtained from the spa shop, before slipping between a pair of great sheets. My husband knows that I have a problem with sheets and can hardly sleep in anything with polyester. This place grants a unique blend of low country luxury in an all-around environmentally sustainable environment. We had left the shades open and woke up to a lovely morning light spilling into our room. I made us coffee in the little kitchen, then sat outside by the firepit to enjoy the warmth of the sun, the sounds of nature and to inhale the sweet, clean air of the Allegheny Mountains.
The Pomona Spa offers a wide variety of services, including massages, facials, body treatments, and nail care. The Mountain Memories spa package for couples began with a hot foot soak that included pink salts, rose petals, and oils. After that there was a foot reflexology to release tension and improve circulation, and an exfoliating scrub. The couples' spa room had a delightful warm, earthy fragrance and peaceful sounds. During that time we were served a smoothie and a healthy snack that we had ordered from a beautiful young woman at the Spa desk. Every spa, regardless of its uniqueness, is only as good as its therapists. The ladies we met here were incredibly kind and friendly, and clearly loved their place of work. Ms. Amanda II was my therapist. Just minutes into his relaxing Swedish massage, my husband, who really doesn't care much for all the fussing, fell off and on asleep, and fell in love with Ms. Liz. We both chose to add CBD to the carrier massage oil, and, besides the intuitive hands of these ladies, it definitely helped us relax and de-stress. The scalp and hair treatment that followed the massages left my color-treated hair feeling healthy and shiny once more. Since my husband doesn't have so much hair to offer, he certainly enjoyed the scalp treatment. Shortly after we'd gotten dressed, and thanked these spa angels, we were off to the Salt Cave once again for another Halo-therapy session which has definitely helped to improve my respiratory health. www.thesaltcaveandspa.com
White Sulphur Springs, a unique slice of Almost Heaven located in the New River – Greenbrier Valley travel region, is home to endless adventures like hiking and biking trails, fly-fishing, river rafting, falconry, horseback riding, golf and more. With a history in hospitality going back to 1778, when The Greenbrier set new standards as America's Resort, to a town that has overcome a devastating historic flood eight years ago, it's a valley where dreams come true. www.greenbrierwv.com
Until next month from another interesting location.
    — Yours in travel, Ingrid
Escape From Paradise: www.EscapeFromParadise.net
www.facebook.com/ingrid.lemme         #EscapeFromParadise
Award-winning TV Host, Publisher, Travel Writer.
Ambassador for www.Seven-Stars.com & 15 Emmy awards www.aTasteofHistory.org
www.twitter.com/LemmeEscape         www.instagram.com/ingridlemme