A Last Minute Cruise!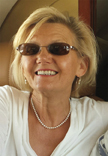 Who hasn't received at times some of these enticing emails that offer one of these last minute getaways at a too-good-to-be-true price and thought: "If I could only get away"? Even those of us who have our vacations planned long in advance. Seriously, who doesn't like deals? And if you think you'd never switch all your advance planning for a more spontaneous escape, we have three words for you: last-minute cruises! As some or my avid readers might remember, we'd cruised last fall over a month on Holland America's Rotterdam, all over the Mediterranean, Israel and Morocco, and really enjoyed the affluence of these smaller cruise-liners, as well as the cuisine and service of their professional crew. So when this email advertised a last minute 7-day cruise on another Holland America ship, the Veendam, with Key West as one of their ports, I was on fire. My husband and I we'd both never visited Key West, and Hemingway's home was on my bucket list. Unfortunately the cruise would depart the next day at 6pm from Fort Lauderdale. Here I should mention that we spend every winter some of the colder month in Florida, but were still about a four hours driving distance away from the point of departure.
We looked at each other, expecting that the other person would finally say something like: "C'mon this is crazy! We don't even have the time to make a list! Or No-Way, we will be running-around-the-house-like-a-chicken-without-a-head!" Instead we both agreed almost instantly that this is crazy and we should really do this. We booked just around 2pm!
My husband and I were both widowers when we met five years ago, and adventurism and an updated passport were part of our dating profiles. Within a couple of hours we packed two larger carry-ons with everything that one might need for Key West, George Town, Ocho Rios and Half Moon Cay, including my new black evening jumpsuit, bathing suits, a straw hat, hairspray, passports and dramamine.
I am sure that many of our Montauk locals and old Gurney's fans remember Phyllis and John Lomitola. They, as well, spend a couple of month in the winter in Florida and of course our friend Johnny agreed to drive us to the port and pick us up. We were set! We left Palm Coast at 8 am the next morning and checked into the cruise terminal shortly at 2pm after filling out the imperative health questionnaire at the desk before boarding. Capable of holding 1,350-passengers the newly decorated Veendam may be smaller than modern-day mega-ships but she maintains a way of sophistication that we prefer as she is not a party type ship. But, make no mistake, there is plenty of entertainment on board, from performances by Broadway-caliber singers and dancers, awesome comedians, to the casino to the Ocean Bar with its live evening music and dance floor. Besides, we really love HAL's cuisine and of course the service.
On the way to Key West the captain informed us that due to high winds we wouldn't be able to dock in Key West (too bad) but he proposed Cozumel, Mexico (YEA!) as alternative port instead. Marcus' cousin Ariel lives on Playa del Carmen and since it was her birthday we were excited about the change of plans.
Unfortunately Cozumel was cancelled the next day as well because another ship that was docked there had a person on board with flu like symptoms and we weren't allowed to dock. Thank goodness it turned out that the person had only a bad cold but it was too late for us and Ariel's Happy Birthday visit on Cozumel. The captain, a young man in his late thirties, was amazing; ever informing, assuring and always trying to accommodate us for lost ports. Btw, the mood onboard was excellent and so was the food! He announced that we were now back on track and one the way to Ocho Rios, Jamaica! Awesome, another place on my bucket list as I had met so many Jamaicans who worked during the summer season at Gurney's and were always looking forward to return in the winter to their beloved island. Some of you might remember the ever kind Odette Jellow, George Summerville, Wilton Kelly, Gwen Frazer, George Fuller, and fashionista Adaire House, just to mention a few. Put our Jamaican friends weren't the only memories of Montauk I got to refresh. I couldn't believe my eyes when I ran into Jan Nelson on the back deck ! Jan, her partner Paul Jacobs, Marcus and I had dinner at one of HAL's specialty restaurants, Canaletto! Jan is a dear friend from my old hometown, Montauk, (a broker with Douglas Elliman realty) and accompanied Paul, who is Veendam's chief engineer. The food was extraordinary and so was the company!
Ocho Rios welcomed us with a big hug from a pirate, a blue sky and waters so turquoise that we would have loved to jump right in. Jamaica is an island country situated in the Caribbean Sea that depends heavily on tourism, welcoming an average of 4.3 million tourists annually. We had booked a one hour bus tour from the terminal that would take us through the charming town and at times off the beaten path to the Martha Brae River where we boarded a 30-foot handmade bamboo raft. Floating three miles down the Martha Brae River is probably one of the most romantic things to do in Jamaica on an overcast day. The river has over the years played host to a number of celebrities including HRH Queen Elizabeth II, Richard Branson, Chuck Norris, the late Kenny Rodgers and the lovely Jane Seymour, to mention a few. Jamaica presents a magnificent palette of experiences, a kaleidoscope of colors, taste, rum, Bob Marley's rhythms and sway. www.visitjamaica.com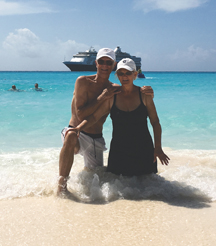 Next on our adjusted port agenda was Nassau, Bahamas! Nassau, the capital and maybe most charming town of the Bahamas, draws the country's lion share of visitors and is a world-famous cruise port with its bustling harbor front of stately colonial buildings. While many visitors headed straight to Paradise Island's famous Atlantis Resort, we hopped on a tour bus to experience the old Nassau first and visit it's main points of interest, like the House of Parliament, Government House and Supreme Court, historic Fort Fincastle, and last but not least John Watling's Distillery, founded in 1789, where my husband got to taste the "Spirit of The Bahamas". www.johnwatlings.com
Our last and definitely not least unforgettable experience was Half Moon Cay, a unique, pristine, private island paradise in the Bahamas. As the most stunning, highest-rated private-island experience in the region, Half Moon Cay has won Porthole Cruise Magazine's Best Private Island award 17 consecutive years, besides many other awards. As soon as our eyes settled on the perfect turquoise crystal-clear waters that surround this private sanctuary and our toes touched that powdery white sand, we understood why. The island, purchased by HAL in 1997, is less than 100 miles southeast of Nassau and settled along a crescent-shaped white sand beach more than a mile in length that fronts on a protected bay. HAL goes to great lengths to help protect the natural ecology of the island. Of these 2,450 acres, 2,400 are still untouched and unspoiled. So unspoiled, in fact, that the Bahamian National Trust has designated Half Moon Cay a Wild Bird Preserve. The other 50 acres are a delightful playground for Holland America cruise guests who get to spend the day there. Btw the Island BBQ for lunch, which is always included, was out of this world and our day there unforgettable in so many ways. www.hollandamerica.com
Until next month from another interesting location.: "Don't worry! Be happy! Everything is gonna be alright!"
~ Love, Ingrid
https://www.facebook.com/ingrid.lemme
Award-winning TV Host, Publisher, Travel Writer, Ambassador for www.Seven-Stars.com