Repositioning the Holy Land, a Journey to a New World, and our flights with Condor to London!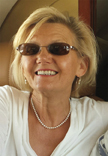 It all started with my bucket list! You don't know what a bucket list is? Well, it's a list of things a person wants to achieve or experience before reaching a certain age or dying. Profound and baffling at the same time when one considers that some or most of our hopes and dreams on that list might never come true. Visiting Ingrid Bergman's Casablanca, I was named after her, and The Holy Land were some places to see that are on my bucket list.
I'd heard of Repositioning cruises through our friend Jimmy. A repositioning cruise (repo cruise) is a cruise in which the embarkation port and the disembarkation port are different. Some cruise ships relocate due to change in season (usually during spring or fall) or economic conditions (a cruise line may relocate a ship when it forecasts demand to be greater in another region). Instead of repositioning an empty ship, cruise lines operate repositioning cruises and therefore they are generally less expensive. As Jimmy had advised I found a huge source of all kinds of cruise lines enticing with all kinds of interesting departure ports from all over the globe on www.repositioningcruise.com –and after I'd talked to Connor Prade, one of the Travel Counselors (ext.7866), I was hooked.
I also learned that these cruises could be used as an alternative to a one-way airline ticket, for those of us who have the time, as repo cruises usually last more than a week; or for people like us, who prefer port-intensive cruises before crossing the Atlantic Ocean to get back home to the USA.
Next, I hooked my husband with the title "From The Old World, To The Holy Land, To The New World" with the fact that Holland America has a fabulous reputation and that The Rotterdam is a smaller ship accommodating only 1404 guests if sold out. Also convincing were her wide teak decks, classic lines and the world's great cuisines served on white tablecloths—and of course the prospect of wearing a dashing new evening gown… Besides, the cruise would take us from Rome all over the Mediterranean, Israel, Morocco with Fort Lauderdale as the final destination. www.hollandamerica.com
To make a long story short I'd booked one-way flights with Condor, a German airline that would bring us to London and then adjoining flights with Eurowings from London to Düsseldorf where we would visit with family first before we would continue a couple of days later to Rome. Well the first leg of our adventure didn't work out as we'd planned. As it turned out Condor was part of Thomas Cook, a 178-year-old British Travel Company and airline that filed for bankruptcy protection, suspending operations and leaving hundreds of thousands of tourists stranded around the world. The travel company operated its own airline, and owned several smaller airlines and subsidiaries, including the German carrier Condor. Don't get me wrong, I am not complaining, just stating the facts. Unfortunately we never got an email or text informing us that our flights had been cancelled but we were trusting the good news that the German government had (financially) backed up this airline and following the chatter on Concord's social media outlets declaring "we are flying!" we thought that our flights that we'd booked with Condor and not with Thomas Cook Travel were safe.
Ten days before our flights I tried once again to log onto Concord's website to upgrade our seats, if possible and that didn't work. I tried to call Condor in Germany and after being hung up on a couple of times and then finally put on a no-sound hold that I stuck to only because I was cleaning my kitchen and already had forgotten that I was on the phone — I got a human.
Unfortunately, I was told that because our flights were destination London (and T. Cook is British) we're part of the bankruptcy disaster. I still don't get it. Note, we had booked with Condor on the Condor website. We thought. Rebooking the same route wasn't possible as all flights were now sold out, but by now the bailed out German Condor offered us flights (of course with an upcharge) with an 8-hour layover in Puerto Rico and a 1-hour layover in the Dominican Republic. No kidding. Our friend Rudy, a travel agent himself, advised that perhaps nothing captures the history of Puerto Rico more than Old San Juan's massive fortresses. El Morro and Castillo de San Cristóbal are among the most visited attractions on the island for a good reason since they are located just a taxi ride from the airport. Besides Old San Juan's Fortaleza Street has carved out a reputation as a Restaurant Row that includes some of the best restaurants in town. In fact, South Fortaleza, or "SoFo," as it's known, even has its own biannual culinary festival. From there we will continue our 9-hour red-eye flight to Frankfurt, Germany and will continue the next morning after another 3-hour layover and then finally off to Düsseldorf and into the loving arms of our family!–Hey, they say that nothing happens in God's world by accident…
Until next month from the eternal city of Rome and finally boarding Holland America's famous Rotterdam in Civitavecchia for our 32-day Holy Land & Journey to the New World cruise.
Love, Ingrid
Ingrid Lemme-Chalut
https://www.facebook.com/ingrid.lemme
Award-winning TV Host, Publisher, Travel Writer, Ambassador for www.Seven-Stars.com