by Ingrid Lemme-Chalut
Red River Gorge and Cliffview Resort in Kentucky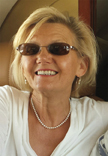 The Bourbon state is one of the most untamed states we've experienced in all our travels, not for the sake of drinking their famous spirits, but for its wild beauty and rugged, heart-racing adventures. We had heard of the Red River Gorge, located about 60 miles southeast from Lexington, and immersed almost entirely within the Daniel Boone National Forest. This amazing place is considered the premier rock-climbing, hiking and ziplining destination in the eastern US, and is home of the Natural Bridge State Park.
We thought that discovering semi-luxurious accommodations within a rustic, adventure driven resort setting would be a challenge, until we came across the Cliffview Resort. True to its name, the Cliffview Lodge sits on a cliff with spectacular views of the Cowan Fork Gorge. A wrap-around veranda is the best seat in the house to enjoy some of the most
beautiful natural wonders right in the heart of the Red River Gorge. Its center is the largest log structure in this part of the country and the Red River Gorge Zipline, the area's #1 attraction, is located at its doorsteps. The Zipline was recently filmed for a fall episode of the primetime television show What Would You Do? with host John Quinones. John Quinones, who had visited Montauk in the past, also reports for ABC News programs such as 20/20, Good Morning America, etc.
Our accommodation, The Cliffview Lakeside lodge, was everything and so much more than we could've imagined. "Why didn't you bring some friends?" Executive Director Joyce Belcher asked when we couldn't believe the amazing size of our lodge. The brand new Cliffview Lakeside lodge turned out to be a gigantic, luxurious log
home with 12 bedrooms, each with flat screen TV, a fully equipped movie theater, a game room with pool and football table, an huge kitchen with granite counter tops and 2 islands, 2 refrigerators, 2 stoves, 2 dishwashers and 2 super-size Hot Tubs etc. etc. etc. The resort features two of these larger lodges, besides several smaller lodges and the main lodge. We realized quickly that this is the place for a perfect corporate retreat, a family reunion or a destination wedding. The 250-degree outdoor view at Overlook Point, located less than 300 yards from the beautiful wedding reception and banquet hall, seems to be the perfect place to tie the knot. A happy couple took off from there in a helicopter for their honeymoon.
Still almost newlyweds, we couldn't wait for our first adventure to start, soaring like eagles together through tree top canopies, hundreds of feet above the gorge. We were asked to arrive ½ hour prior at the Red River Gorge Zipline office, and signed a waiver of liability. Then we all walked over to a barn where the crew helped us into harnesses and helmets and we followed the crew to a bus. Within minutes we arrived at the first plateau, ready for 5 zips total, ranging from 330-1900 feet long. The cables also range from 75 to over 300 feet off the ground! Adrenaline was pumping when I jumped off last, my husband was long gone … I got used to the thrill, and the incredible aerial views of the forest from the platforms and gorges and followed the others carefully over 3 shaky sky bridges. Until we came to the last 2 lines, both Dual Racing Zips that allow you to race at speeds up to 55 MPH soaring 300 FT over the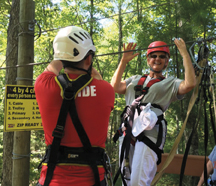 gorge. Here, I jumped first. I was going to show my Mountain Man what a beach girl from Montauk is made of. Thanking the Red River Gorge Zipline crew on duty: Jared (lead guide), Hunter and Macy for an incredible professional job and keeping it fun! You guys rock! www.redrivergorgezipline.com
That evening we relaxed our muscles for a while in one of our super seized hot tubs on the outdoor deck overlooking a beautiful little lake until dusk set in and had a light dinner at home in our country kitchen, overlooking the treetops. After a good night's sleep and a quick breakfast at the main lodge we were off for our next adventure, The Natural Bridge Park, featuring a sandstone arch 65 feet in
height and spanning 78 feet in length. On the way we drove through the historic Nada Tunnel, a unique experience that didn't cost a dime but is worth a memory and pictures! Nada Tunnel is a historic 900-foot long tunnel along Kentucky Route 77, formerly a railway tunnel. The presently paved tunnel has often been described as the "Gateway to Red River Gorge" for the shortcut it provides motorists to the gorge.  https://en.wikipedia.org/wiki/Nada_Tunnel
Shortly thereafter we arrived at the Skylift that would bring us up on a mile long journey through spectacular mountain scenery. Once at the top, we were within easy walking distance of over 900 tons of sandstone molded by nature into a 30-ft wide path now known as Natural Bridge. A right turn from the top platform takes you on a 1200 ft scenic footpath to Lookout Point, a magnificent viewing area. The bridge has no guardrails, so walking across in icy conditions might be not a good idea. We got through "Fat Man's Squeeze", a narrow passage in the rock formation that led us to the bottom of the arch. Natural Bridge has several unique sandstone rock formations, including the Balanced Rock, a huge block of sandstone balanced on the edge of a cliff near the bridge. We had bought one-way tickets that forced us to walk down from here, and we were glad we did. It was a beautiful hike. www.naturalbridgeskyliftandgiftshop.com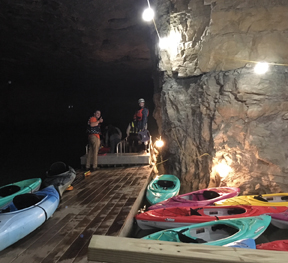 On the way back we got to experience our last, but not least, thrilling adventure in the "Gorge's Coolest Place", a chilling underground mine filled with water and rainbow trout—we took the cave boat tour! Everything we needed for this adventure was provided (flotation device, helmet and headlamp), except sweaters or jackets that we had in the car. During the 1-hour long custom cave boat tour we got to explore the flooded limestone mine and learned how the mine came to be and what caused it to flood. We also witnessed the feeding of the trout and the fish jumping out of the water to catch their food. An exciting, and educational adventure for all ages. www.thrillsville.org
After a day of adventures we were always looking forward to return to our beautiful country-chic lodge, equipped with more than what we needed — and a free Tesla charging station right in front of our lodge… But tonight we were looking forward to a catered meal in our lodge with Ms. Joyce and her husband Rick Belcher, the Operations Manager (a hands-on professional, who build a cozy-cool bar next to the dining room). Chef Becky served a wonderful home cooked country style dinner that we all thoroughly enjoyed: Finger licking Bourbon smoked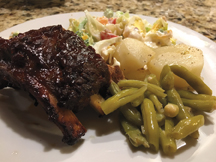 ribs, boiled potatoes with local green beans, a seven layer salad with a creamy homemade dressing and a to die for peanut butter fudge dessert. Rick served some exceptional local beers and Kentucky bourbon after dinner. What else? Becky Morgan is a talented chef, adding her culinary magic to an already magical place; her Cliffview cuisine, that is. www.cliffviewresort.com