Dear EarthTalk: I've heard that PPE waste is a growing environmental burden these days. Is anyone working on ways to solve this problem?     ~ B. Jackson, Jewett City, MD
From healthcare workers and teachers, grocery clerks and students, no one has escaped the increased need for personal protective equipment (PPE) the past two years. Though inarguably a critical agent in preventing the spread of disease, PPE has inadvertently created a new "shadow pandemic"—billions of these single-use items now line streets and parking lots and pollute oceans. Globally, it is estimated that 129 billion facemasks and 65 million pairs of gloves are disposed of each month. "Other than burning [PPE], there is really nothing we can do," says Sander Defruyt, head of the plastics team at the Ellen MacArthur Foundation, a charity aimed at eliminating waste and pollution. "It's designed to be waste."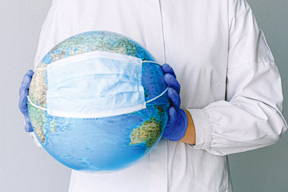 The issue isn't PPE itself; it's single-use PPE made from non-reusable materials. Designed to be leak-proof and tear-resistant, disposable PPE can't be washed and reused, since the cleaning process would compromise the protective integrity. Deepening an already astounding waste mismanagement problem, these throwaway items end up as potentially contaminated pollution simply because they have to.
Luckily, the problem has not gone unnoticed. In the medical community, the case for reusable PPE has gained traction as institutions have developed methods and materials to lengthen the lifecycle of protective gear. Burlington Medical, a maker of durable, reusable medical garments, increased production of their healthcare clothing supplies by 500 percent during the pandemic. They use sustainable materials in their process and operate an on-site medical laundry facility to sterilize PPE. Studies on mask filtration by the Nonwovens Institute (NWI) at North Carolina State led to a partnership with NatureWorks to develop new technology that allows for mask reuse even after chemical cleaning. Globally, companies are testing science-backed efforts to improve mask viability without compromising safety.
Those outside the medical community have access to a variety of sustainable PPE options. French company Geochanvre makes 100 percent biodegradable face masks from hemp, including a recyclable band. Change Plastic for Good developed an additive to make plastic biodegradable, now used to create masks, and MEDU Protection offers washable medical PPE that can be returned for disinfecting and conversion into scrubs and bags. EcoGreen Communities offers compostable face masks, reusable gloves and reduced carbon medical aprons.
The most sustainable option is undoubtedly reusable PPE, but the use of plastic and other disposable protective gear isn't going away anytime soon. Rather than tossing in the garbage, there is a way to recycle some of these items. TerraCycle offers paid recycling services that collect, inspect and repurpose PPE through a detailed process available through their website, and Thermal Compaction Group (TCG) out of Wales has developed a process that re-engineers specific PPE to resell to the plastics industry.
"Plastics are not the problem; the way the human race discards plastic remains the issue," says Tim Hourahine, compliance manager at TCG. With PPE becoming part of our daily routine, we have alternative solutions to sustain both our health and the environment.
CONTACTS: Specialty Fabrics Review, specialtyfabricsreview.com/2020/11/01/the-pandemic-is-driving-more-sustainable-ppe/; Startup Makes Biodegradable Face Mask – Planet Home, planethome.eco/planet-friendly-ppe/; TerraCycle, terracycle.com/en-US/pages/ppe-recycling.
---
Dear EarthTalk: What exactly is gravity energy storage and why are some environmentalists so bullish on it?          ~  James McIntosh, New York, NY
Gravity energy storage, whereby engineers harness the energy in gravitational forces by connecting the momentum generated to the electric grid, is a relatively new technology that could serve to revolutionize energy storage given its low carbon footprint and engineering simplicity. Pilot programs to test the technology and bring it to scale are already underway in Switzerland, Scotland and the United States. Environmentalists are bullish about the technology as a way to bolster energy reserves beyond intermittent clean energy sources like solar and wind, and to have a better way to store energy than in costly and environmentally problematic lithium-ion batteries.
So far researchers have isolated two different techniques for harvesting gravity energy. One employs a tower to drop weights from above, harnessing the momentum generated by the gravitational force during the fall. Another uses mineshafts filled with water to float and drop weights. Both types of processes extract energy from electrical sensors attached to the weights generating momentum and pass it directly to the power grid. Typically, about 20 percent of the energy created during a concrete block's fall is needed to power the weights back up to the top.
Unlike solar and wind power, gravity energy storage isn't dependent on the sun to shine or the wind to blow for the generation of electricity. Herein lies the great green promise of this new technology since energy can be generated steadily but without the inevitability of pollution from fossil fuels. Besides substituting for fossil fuels, gravity storage can also replace batteries as a way to supply electricity locally and/or back to the grid. This is good news for environmentalists who decry the uptick in lithium mining to supply precious metals for the lithium-ion battery makers. Likewise, the more energy we can derive from the constant renewable source of gravity energy means that much less fossil-fuel derived power we need.
While gravity energy may be green and cheap at scale, developers of the technology face great hurdles to making it publicly available. One major issue is policymakers' fear of novelty: It's hard to rewire a system built around fossil fuels. New plants would have to be built. Paying for both the plants and the infrastructure surrounding them would involve replacing existing systems and structures.
But in the end, fossil fuels will ultimately cost us more. Indeed, our addiction to fossil fuels has already resulted in air pollution, rising atmospheric temperatures, contaminated landscapes and even damaged human health.
It may seem strange at first glance that gravity alone can generate so much energy. Yet these simple mechanical operations generate a vast promise for new advancements in energy production that dwarf previous advancements. This innovative discovery may prove to be a sea change regarding the way we generate and store energy moving forward—if only we can build it out to scale.
CONTACTS: Gravity Energy Storage Will Show Its Potential in 2021, spectrum.ieee.org/gravity-energy-storage-will-show-its-potential-in-2021; Gravity Could Solve Clean Energy's One Major Drawback, wired.com/story/energy-vault-gravity-storage.
---
Dear EarthTalk: What is the "Climate Pledge" that Seattle's new hockey arena is named after all about?           ~ E. Howard, Washington, DC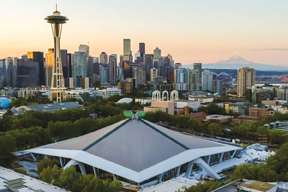 When Seattle's new sports and concert arena opened its doors to the public in October 2021, many were left scratching heads as to what the heck the building's name was about. It turns out that hometown e-commerce juggernaut Amazon bought the naming rights and decided to use the opportunity to raise awareness for the Climate Pledge. The Climate Pledge calls on companies to reach net zero carbon emissions by 2040, a decade earlier than called for under the terms of the Paris climate accord. Amazon co-founded the Climate Pledge with organizer Global Optimism in 2019, and immediately became the first signatory. Cut to the present and 200 other companies—including Procter & Gamble, Hewlett Packard, Visa and PepsiCo—have since signed on.
Seattle's Climate Pledge Arena is indeed an apt showpiece for what signatory companies hope to achieve. The new building—home to the National Hockey League's expansion team, the Seattle Kraken, as well as Women's National Basketball League, The Seattle Storm—was designed by architect Jason McLennan. As founder of the International Living Future Institute (ILFI), McLennan helped set the standard for how buildings in the carbon-constrained days ahead will likely operate. Indeed, ILFI's Living Building Challenge certifies "net-zero" buildings and others at the extreme end of the sustainability spectrum while advocating for the tightening of standards for new construction as to emissions reduction/elimination and energy efficiency across the U.S. and beyond.
At Climate Pledge Arena, rooftop solar panels account for most if not all energy needs. No fossil fuels are used within, making it the first net-zero arena of its size in the world. Ditching fossil fuels inside makes transportation to and from the arena the largest contributor to its overall carbon footprint. Amazon is stepping up and paying for carbon offsets through the non-profit Nature Conservancy, which purchases and expands agricultural and forest lands that serve as carbon sinks. Also, fans who purchase tickets through Climate Pledge Arena's app can download free public transit ride vouchers to get there and back.
Reusing rainwater is a big part of meeting Living Building Challenge goals, and Climate Pledge Arena was designed from the ground up to utilize a series of chutes and gutters to channel Seattle's prodigious rain water into cisterns that then feed the arena's ice making processes and all other on-site water needs.
Another aspect of the arena's green appeal is that 75 percent of the ingredients for food and drinks served come from sources within a 300-mile radius of the facility, significantly cutting down on "food miles" emissions. Single-use plastics are a no-no; vendors must stick to aluminum or biodegradable/compostable containers, straws, cutlery and to-go packaging. All paper products must contain at least 30 percent post-consumer content while cans, bottles and other non-compostables get recycled. Given there will be no "trash" created inside the arena, visitors will have to get used to seeing only composting and recycling bins for their waste.
Only time will tell whether these green features will become standard in other arenas and new buildings elsewhere moving forward. Environmental advocates among others are sure hoping so.
CONTACTS: Climate Pledge Arena: Sustainability, climatepledgearena.com/sustainability; "Climate Pledge Arena goes on offense with sustainability goals," kuow.org/stories/Climate-pledge-arena-goes-on-offensive-with-climate-goals; The Climate Pledge, theclimatepledge.com.
---
EarthTalk® is produced by Roddy Scheer & Doug Moss for the 501(c)3 EarthTalk.
See more at https://emagazine.com. To donate, visit https://earthtalk.org. Send questions to: question@earthtalk.org