Ciao By The Beach -'where every day is Sunday', is a unique dining experience and full of surprises. Nothing to think about or decide, other than what you'll be drinking with dinner, as your food choices are made for you by Chef Dave. They strive to bring diners back to the tradition of Sunday dinner at Grandma's when families enjoyed conversation and good food together. Welcoming you to their house, where everyone is treated like family, using the freshest ingredients possible, Ciao staff wants you to sit back, enjoy, and make memories.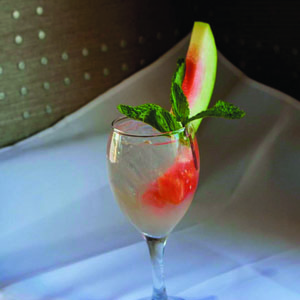 After sipping a drink with Chris at the outdoor bar, we decided to eat outside and enjoy the early evening cool breeze. Since you don't order, Chef Dave 'dabuzbouy' as he dubbed himself, checks that there aren't any food allergies or dislikes, and then the parade of dishes proceeds. Our waitress Sara started us out with three tasty appetizers: Homemade Mozzarella and Ricotta on pizza crust triangles topped with diced tomato, onion and basil and a balsamic drizzle, Artichoke Hearts stuffed with light and flavorful breadcrumbs and gently broiled, and a mixed green salad lightly dressed with a sweet balsamic dressing. Each was fresh and delicious, a great start to our dinner. Next was a thin crusted Fresh Mozzarella and Basil Pizza, and Eggplant Balls. The Eggplant Balls were very unique and flavorful; the center of ricotta was surrounded by pureed eggplant, lightly breaded and fried.  These were very tender and delicious.
The food will continue until you say 'Uncle' so prepare to pace yourself and enjoy each course. The Sweet Chili Sea Bass accompanied by mashed potatoes, and the tender Veal Marsala with mashed potatoes, mushrooms, pepper, and yellow squash in creamy Marsala were each cooked perfectly and full of delicious flavors. One of my favorites is the homemade Cheese Ravioli; plump, tender and in a great signature Marinara Sauce. Also quite tasty, with a great combination of flavors, is the Gemelli with sausage in a light pink sauce.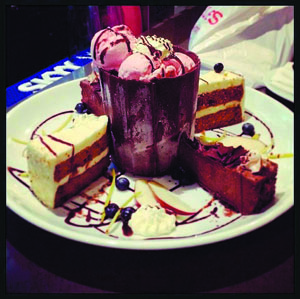 So at this point we cried 'Uncle'- although like with any good family meal, we had to end it with dessert. The four selections of the evening, and you are presented with each, were all homemade with a variety of    flavors sure to satisfy all palates.  The Fried Oreo reminded me of a Zeppole with an Oreo in the middle, while the Napoleon with a light flaky crust and cream was just like the one's we'd buy at the Italian bakery. Ice box Cake prepared with custard and raspberry filling and Cheese Cake with citrus/lemon ricotta cheese were also quite satisfying.
Good, Family Style Italian Food, a Chef who mingles entertaining diners with his magic tricks, indoor or outdoor seating, appetizers at the bar, and music on the patio, as well as late night Karaoke on Saturday nights – Ciao by the Beach has a lot to offer.