by Sue Giustino
A Unique Boutique Resort
Located on Second House Road on the outskirts of town, Solé East is a full-service Boutique Resort. Hidden away by lush greens and a beautifully manicured lawn [dotted with Adirondack chairs, fire pits, and hammocks] visitors can enjoy airy bungalow-like rooms or garden cabana suites, a heated backyard pool and surrounding oversized St Tropez style beds, and a poolside lounge and full service restaurant. Strolling through the tranquil bamboo tunnel leading from the Motel into the Backyard Restaurant prepares you for the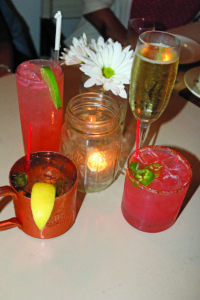 relaxing atmosphere and delicious dinner to come.
Dining inside with the doors open allowing a cool July breeze to flow, we were greeted by our lovely server Azaria who suggested some creative signature cocktails: the Mtk Mule, Pink Panther, and Hot Tauk; a spicy version of a margarita. They were all so fresh and light, perfect to sip on while enjoying the plank of warm crusty bread with olive oil, garlic, butter, and balsamic for dipping.
With each new season, their Gazpacho changes just a little and I always look forward to what it will be. This year it's Yellow Cab Tomato with lobster meat and avocado- and it's outstanding. I was fortunate to try some on our last visit, so we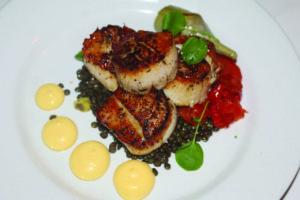 chose to order some of the new creations that we haven't had a chance to taste.
For starters, Arugula & Quinoa Salad with creamy goat cheese, walnuts, and tart green apples along with a bit of sweet from the Shery & Honey dressing made this salad both delicious and healthy.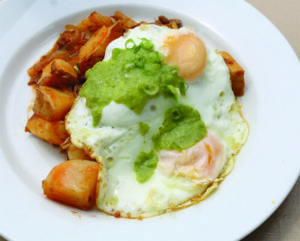 Baby Artichokes on homemade flatbread with prosciutto and Parmigiana Reggiano was crispy and light. One of the table favorites, the Avocado Toast is a seven grain toast with combination of quinoa, baby kale and curry yogurt resulting in a magnificent blend of flavors that come alive with each bite. The Grilled Portuguese Octopus is grilled to tender and adorned with Gigante Beans, oregano, harissa, caper berry and lemon- simple delicious. The Steamed Mussels at first appeared to be light on flavor, but the surprise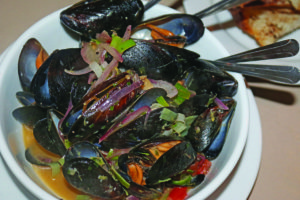 came as we dug to the bottom and the aroma and flavor of the leeks, tomato, parsley butter, and Pernod broke through. The accompanying gilled garlic bread was perfect for dipping in the light broth.
Main meals are broken into Main Courses, and Simple Grilled with which you can choose one of the sides: Creamy Polenta, Roasted Baby Carrots, NF Roasted Potatoes, Broccoli Rabe or Steamed Bok Choy. Ordering Simple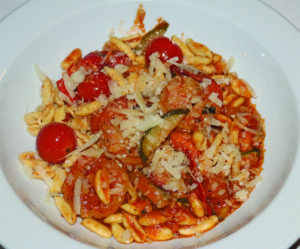 Grilled MTK Monkfish, Wild Striped Bass, or Diver Scallops, or the Skirt Steak means your choice will be coated and grilled with an array of fresh herbs, allowing the natural flavors to dictate the taste. We chose the Scallops with Broccoli Rabe and the Skirt Steak with Roasted Potatoes. The herb crusted scallops and steak were so tender, and the lime cilantro Chimichurri complimented the steak perfectly. Each was cooked to order and naturally delicious.
We also enjoyed the beautifully presented Pan Seared Scallops with Puy Lentils, Roasted Tomato, and Baby Artichokes and topped with dollops Saffron Aioli. These scallops were equally tasty and tender. The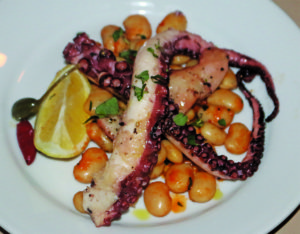 Backyard menu always includes a summer pasta dish. This season's pasta is Cavatelli blended with lobster meat, jumbo shrimp, tarragon, summer squash, cherry tomato and Parmigiano Reggiano. This Cavatelli Pasta is a delightful fresh, light summer pasta creation.
An array of Sorbet and Home-made desserts are also something to savor at Solé East. Light, thick, chocolaty Flourless Chocolate Cake with vanilla ice-cream is always a good choice. Or, the tart Lemon Tart served with fresh blackberries, the gentle Lavender Crème Brulee with pistachio and almond cookie, or one of the evening specials could be a perfect ending. A special we enjoyed was a delicious caramelized Peach Tart with vanilla Ice Cream.
If relaxing by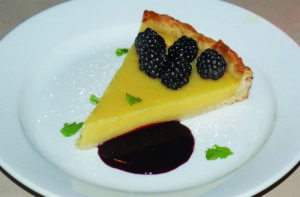 a fire-pit is what you enjoy after your meal, they have a Backyard S'mores Kit. Complete with Hershey's chocolate bars, Reese's peanut butter cups, Marshmallows and Graham Crackers they certainly are a family favorite.
Every menu whether it be for dinner, cocktails, lunch, brunch, or breakfast offers a complete array of dishes that are creative, fresh, and sure to please many tastes. Chef Joaquin is in his second season at Solé East and he said that he shares his success with the entire staff. "It's all about food and making the customer happy. I make simple dishes and let the natural flavors emerge" His mantra is to – 'leave the food alone'- enjoying the simplicity of the flavors.
The Backyard Restaurant at Solé East-http://www.soleeast.com/ is open daily for Breakfast, Lunch, and Dinner – and Sunday for Brunch with live music: Sunday- Thursday 8am-10pm; Friday & Saturday 8am-11pm; Bossa Nova Sunday Brunch 10am-2pm