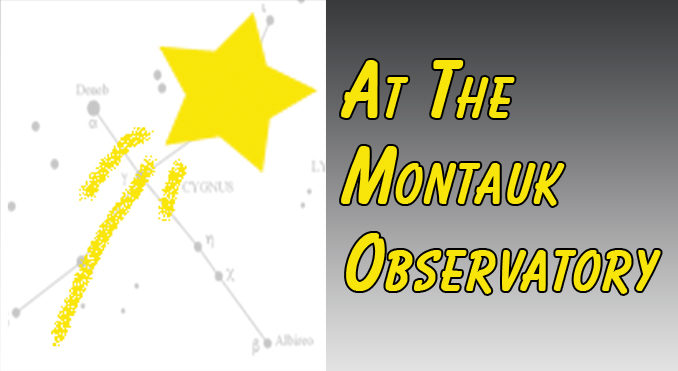 Stargazing Parties Hosted by the Montauk Observatory
by Patria Baradi Pacis
This was a busy year for the Montauk Observatory (MO). One of the more memorable events was celebrating the 50th anniversary of Apollo 11's lunar landing on July 20 when astronauts Neil Armstrong and Edwin "Buzz" Aldrin walked on the moon. What made the event extra special was meeting five of the original 400,000 engineers from Northrop Grumman Corporation who built the Lunar Module (LEM) in 1969 at Bethpage, Long Island and watching NASA's never-before-seen footage and audio recordings of Todd Miller's 2019 documentary at Stony Brook University's Theater in Southampton.
On October 5th there was a Guild Hall event called "Sunny Days" in which the MO was invited to attend. Paul Stengel operated our solar telescope to give folks a safe look at the sun, and William did StarLab portable planetarium shows. Ever since I witnessed my first eclipse at the age of five in Manila, Philippines, I've been hooked on astronomy. When a telescope is not available, I watch eclipses by piercing a pin sized hole on cardboard, placing it in front of the sun and waiting for the moon to cover the shine that's reflected on white paper.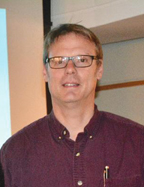 At the Montauk Library on November 1st, MO's guest speaker, Professor Alan Calder from Stony Brook University, gave a talk on NASA's Juno Spacecraft that was launched eight years ago on August 5, 2011. It arrived on Jupiter, our largest planet, five years later, on July 4, 2016, at the distance of 483.8 million miles away. The attendees learned about Jupiter's atmosphere and composition such as the amount of water, as well as understanding other planets, its magnetic and gravitational fields. After the lecture, I asked the professor whether he preferred flying straight to Mars or back to the Moon. He answered: "Back to the Moon since it only takes 3 days to get there instead of 130-300 days to Mars."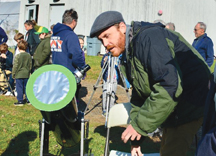 At the Ross School, in East Hampton on November 11, where the MO's 20" Meade telescope is housed, more than sixty students observed Mercury in Retrograde, when the planet's transit across the sun was the thing that was really special since it happens so rarely.
Unfortunately, we were only able to look through 8" and 10" telescopes and not through the 20" due to damages on the retracting roof of the dome that was caused by high winds. Although Mercury looked like a dot compare to the huge sun, I still found it very exciting knowing this event will not come back again until 2032. Because Earth and Mercury are in constant motion, Ambassador Taylor had to adjust both telescope often.
Living in Montauk, a designated dark sky park, affords my husband, our Labrador Princess and I, to have the luxury of witnessing many stargazing events. Last November we watched the annual Leonid showers in the direction of Orion, the Hunter designated by three stars in a row. With the naked eye, we found the Big and Little Dipper, the North Star, Cassiopeia or W shaped stars and the Milky Way. Our Skyview App on our phone helped us locate most of the Stars of the Zodiac and the planet Saturn. What a clear night!
Kudos to MO's President Terry Bienstock, Director Donna McCormick and husband Jeff Owen Katz, Dr. Mike Inglis, Prof Sean Tvelia, Susan Harder, Dr. Dava Sobel, David Larkin, Matthew Pappas, Prof. Paul Stengel, Southampton Supervisor Jay Schneiderman, and other volunteers for having the foresight of building an observatory so that future generations can enjoy the wonders of the universe and beyond.
The next Stargazing Party, presented by William Francis Taylor & Jeffrey Owen Katz PhD, will be held at 6:00 PM on Friday, January 17, 2020 at the South Fork Natural History Museum and Nature Center, 377 Bridgehampton-Sag Harbor Turnpike, Bridgehampton, NY.
From 6:00 – 8:00 PM Montauk Observatory astronomers will set up their telescopes under the dark skies of the South Fork Natural History Museum (SoFo) in Bridgehampton to give guided tours of the heavens to all who attend. At 6:00 PM, you'll learn about what you'll be seeing—the Moon, planets, nebulae, even the Andromeda Galaxy—then we'll go outside to observe. Feel free to bring a blanket or a lawn chair, refreshments (for one or all), to set up your own telescope or binoculars or do astrophotography. A free, fun and educational event for the whole family! Please note: The star parties will not be held if it is snowing, raining, or very cloudy.
The MO soon to be renamed Hamptons Observatory, is a 501(c) (3) nonprofit dedicated to fostering interest in science, particularly astronomy, through quality educational programs. Lectures and stargazing events are FREE and held throughout the South Fork of Long Island. Donations are welcome and are tax deductible. Observatory programs (portable planetarium shows and guided tours of the night via telescope) are available for private parties. For more info kindly contact Executive Director Donna McCormick at MontaukObservatory@gmail.com or go to www.MontaukObservatory.com