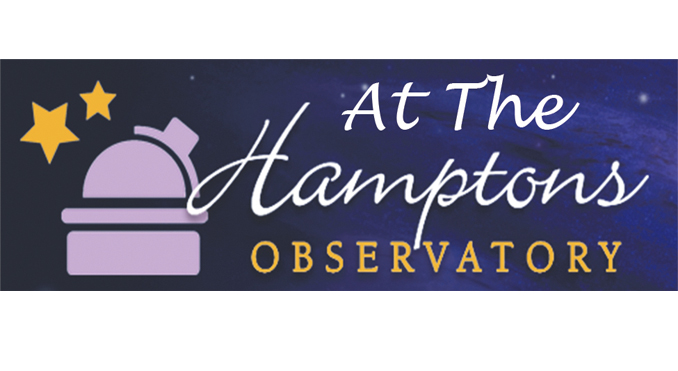 Mars Landing of NASA's Perseverance Rover
by Patria Baradi Pacis
On February 18, the Hamptons Observatory and the East Hampton Library held a virtual event: A Talk and Live Watch Party To Witness the Mars Landing of NASA's Perseverance Rover. To actually watch the car-sized Rover land in real time, with the rest of the world, and listen to NASA's engineers from the Jet Propulsion Laboratory in California announce the spacecraft's descent on Jezero Crater, minute by minute, was so exciting!
Waiting for pictures of Mars that is 250,000 miles away to come back to Earth in just minutes, was even more unbelievable. Actual videos of the landing, thanks to the cameras on board, are available if you want to physically experience the landing yourself. Kudos to NASA Solar System Ambassador and Hamptons Observatory Senior Educator, William Francis Taylor for answering all the questions asked by wannabe astronauts through Zoom. Thanks also to HO's Executive Director Donna McCormick for always keeping us up to date. This reporter can't wait to find out if there is life on the Red Planet.
The next free, virtual event:
The Spring Equinox: A Virtual Tour of the Night Sky
DATE: Tuesday, March 16, 2021    •     TIME: 7:00 – 8:30 PM
SPEAKER: William Francis Taylor    •     CO-SPONSOR: Quogue Wildlife Refuge
ADDRESS: ZOOM    •     ADMISSION: Free
REGISTRATION: Call Quogue Wildlife Refuge 631-653-4771 or go to: https://us02web.zoom.us/meeting/register/tZArdO2vrTwqGNF2UXc2boyzLKCPEqCtpmR3
FURTHER INFO or QUESTIONS:
www.HamptonsObservatory.org    •     HamptonsObservatory@gmail.com
Each spring, we see nature's changes all around us as trees blossom, birds migrate, and animals revive from winter's slumber. The origin of all these changes is up in the sky, as the Sun returns to the northern hemisphere, making our days longer and warmer. We'll explore the way this happens and the ceremonies which people celebrate to mark the March Equinox. We will also take a look at the constellations of Spring, from a pair of bright galaxies in the head of the Great Bear to a whole cluster of them in the arms of Virgo. We'll also get a sneak preview of an April shower of shooting stars.
Hamptons Observatory Senior Educator, William Francis Taylor, has been a NASA/JPL Solar System Ambassador since 2014, lecturing about the universe around us and sharing his love of the heavens by giving guided tours of the sky through telescopes. He is a local tutor and a life-long East End resident.
Hamptons Observatory would like to thank the Quogue Wildlife Refuge for their kind collaboration, and William Francis Taylor for sharing his expertise.
Hamptons Observatory (HO), a 501(c)(3) NYS nonprofit that relies on public support has served the South Fork since 2005. Its mission: to foster interest in science, particularly astronomy, through educational programs. Lectures, star parties, portable planetarium shows and other events are held throughout the South Fork, often in collaboration with other nonprofit organizations. HO has established the first astronomical observatory on the South Fork (on the campus of the Ross School in East Hampton), complete with Long Island's largest research-grade telescope; these facilities will soon be accessible over the internet to students, teachers, researchers and the general public. Hamptons Observatory offers all of its programs free-of-charge to encourage participation regardless of economic status. For further information or to make a tax-deductible donation to support our mission, please go to our website: www.HamptonsObservatory.org. To be placed on our list for event notices, please email: HamptonsObservatory@gmail.com.