by Debbie Tuma
This year's Art Market & Design Show, located at the Bridgehampton Museum, was bigger and better than ever, with an expanded 55,00 square feet of space, and showing 75 international galleries. This four-day fair, over the July 4th weekend, was located in a huge building on the museum grounds, and included artists from Long Island, New York City, Boston, Philadelphia, Miami, California, Belgium and even Shanghai. It was organized by Director Max Fishko, of New York City, and his team.
It was an exciting experience to walk into this gigantic building and view artwork in separate booths, from all over the world. There were mobiles hanging from the ceiling, and paintings, photographs, sculptures, and all kinds of artistic creations everywhere. It was also exciting to see our local East End galleries represented.
Janet Leher Fine Arts of East Hampton had a booth, featuring local artists including Mym Tuma, Shimon Okshtyn, Adam Handler, Haim Mizrahi, William DeKooning, and others. Her current solo show of Adam Handler, is running now through August 7. Her new show, August 9-30, features artist and author Mym Tuma, who had a long relationship with Georgia O'Keeffe which she wrote about in her new memoir, "An Embryo of Time." She also has 20 letters from O'Keefe in another book.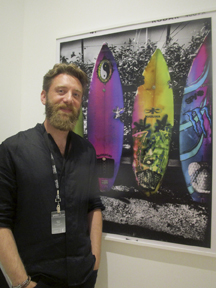 At Art Market, there were also some colorful, huge photos of beach and surfing scenes in Montauk. These photos were enlarged and done in a special process that made them really pop out, and would look great on the walls of any beach house. Aaron Katz, of Analog Contemporary in Philadelphia, was showing them off in his booth. Also represented at Art Market was The White Room Gallery of Bridgehampton, with a very large booth of several artists, including Stephen Bezas, who studied with Chuck Close, and had very creative installation pieces; Dinesh Boaz, with aerial photography; and Susan Washington, with fashion-oriented mixed media works. White Room Gallery owners Andrea McCafferty and Kat O'Neill were on hand to welcome guests.
In keeping with the natural beauty of the East End, artist Katherine Liepe Levinson of Riverhead, had some of her "Earth/Water" series of photographs at ArtMarket. She shows her original and beautiful water shots around many East End galleries, including Alex Ferrone in Cutchogue. Another nature-loving artist– Denise Cummings, of Manhattan, showed stunning abstract flowers that she painted from her "Designing Flowers Series." She also paints them on gorgeous large screens, in amazing collages. Born in Hawaii, she has a natural feeling for nature.
One of the best things about Art Market is the huge variety of artwork you can see, in every form, and the creativity is stimulating. There were even some really fun, really collectible, framed psychedelic 1960's posters from Bahr Gallery in Oyster Bay.
There were colorful posters from numerous rock bands and events of this era, including the artsy posters of the Grateful Dead concerts, Jimmy Hendrix, and Woodstock era bands. This utopian time in hippie history produced not just posters, but art! Many of them are first edition, and signed. Gallery owner Ted Bahr said he is inviting everyone to see his timely Woodstock Exhibition now through August 31. Looking forward to next year's Art Market & Design Show!