…by Debbie Tuma…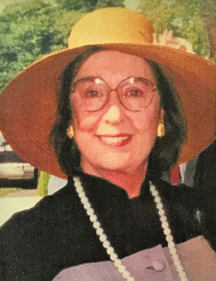 St. Therese of Lisieux Roman Catholic Church was packed with present and former waiters, waitresses, bus boys, bartenders and hostesses from Gosman's Dock Restaurant in Montauk, as they paid their last tribute to their long-time manager, Roberta Gosman Donovan. Along with her many friends and family members, this huge church was practically filled to capacity, on May 15.
Roberta Gosman Donovan worked for over 50 years alongside her four brothers at their family restaurant, hiring, overseeing and scheduling the floor staff, which over the years included students from Ireland, Slovakia, the Czech Republic, and Jamaica. She also hostessed, and stood at the podium taking the names of people lined up at the front door, waiting to get in. Her fabulous long life of hard work, world travel, romance, and public service, as an East Hampton Town Planner, ended on May 10, 2018, at the age of 85, after a long illness.
In his lovely eulogy about her life, Father Tom Murray included a bit of humor, adding, "Wouldn't it be interesting if Roberta got to heaven and she had to wait in line to get in? Although, like Gosman's Restaurant, it was worth the wait."
Sharon Gosman, Roberta's niece, recalled how her aunt was caring and attentive to the staff, but tough and feisty when she needed to be, with the demands of this hectic restaurant. Gosman noted affectionately that Roberta would swing the microphone around on busy Saturday nights to keep the crowds from bombarding the podium, as they waited, sometimes impatiently, for a table.
"She cared about her employees, the restaurant, the dock, her family, and also about Montauk," she said. "With Misha, (her partner), by her side, she didn't complain, in her failing health, and her memory was always sharp."
Over her life, Gosman's Dock Restaurant grew and expanded to become two more waterfront restaurants, Topside and Inlet, an outdoor clam bar, many more shops, and even an outdoor concert area.
Two of her closest friends, Tom and Marilyn Bogdan, started some of the first shops in Gosman's Village, known as "The Rumrunner" shops.
At the funeral, Tom Bogdan recalled how he and his wife started their first store 50 years ago, and how he had talked at the funeral of Roberta's mother, Mary Gosman, 20 years ago, along with the late Perry Duryea, former owner of Perry B. Duryea & Son Lobster House in Montauk.
"Roberta was the face of this most famous restaurant in Eastern Long Island," he said. "She was hard as steel, but soft as a summer breeze. She was the protective mother at the restaurant."
Bogdan told of all the traveling he and Marilyn did with Roberta and Misha Ferman, along with the Montauk travel group. "Over the past 20 years, we traveled all over the world with them—she loved to travel and was always ready to try anything…from China, to Italy, Bulgaria, Turkey, Hawaii, and Africa," he said. "She and her mother brought the 'Irish Invasion' to Montauk."
A burial was held at Fort Hill Cemetery in Montauk, followed by a reception, held later at Gosman's Dock Restaurant. At the reception, Roberta's cousin, Christie Harrington, of Ireland, recalled how he had come to work at Gosman's during his college years in the 1970's.
"It was a great place to work and learn how to deal with so many people," said Harrington, who now has an acupuncture practice in Port Jefferson. "Roberta knew everyone and everyone knew her." His brother, Leo Harrington, also worked at Gosman's, which led to his opening his own restaurant, "The Irish Coffee Pub," in East Islip.
At the reception, several hundred people packed Gosman's Dock Restaurant to reminisce about "the old days" working their way through college in this great location on the Montauk Harbor. I joined this crowd, thinking about how Roberta hired me as a waitress at 18 years old when I was first able to serve alcohol, and how I stayed working my way "through college and travels" until I was 27. We told our favorite restaurant stories, and how it was an "education" all its own, just to meet all the celebrities and fascinating people we got to wait on there, back in the 70's and 80's, right through till today.
We poured over many photo books gathered by the Gosman family, of all of us decades ago, and of the different Gosman families, over the years. An enlarged photo of Roberta stood at the front door of the bar, next to a big red lobster made of red roses, created by Strawberry Fields florist of Montauk.
This same red lobster flower creation was at the wake held for Roberta on May 14, at Yardley & Pino Funeral Home in East Hampton, along with numerous framed photos of her and her family, and more photo books of the restaurant and staff. Hundreds of people came by, including Joe LaCarrubba, former owner of LaCarrubba's Store which stood on Amagansett Main Street for 75 years.
Joe LaCarrubba, 85, was in Roberta's class at Amagansett Grade School in the 1930's and 40's. "She was a pretty girl, and she was smart," he said. "She also played the clarinet."
Terri Flanagan, former owner of the "Irish Country Loft" in Gosman's Village, said Roberta also loved the arts and that they often attended the opera in NYC.She was also a supporter of "Music For Montauk."
Roberta Gosman Donovan was born on October 31, 1932, at home in Amagansett, along with her five brothers: John Gosman, Emmett Gosman, Dick Gosman, and Bill Gosman, all of Montauk, and Hugh (Sandy) Gosman, who is deceased. She is the daughter of Mary Harrington and Bob Gosman, and she grew up in Amagansett and also graduated from East Hampton High School. She attended Rosemont University in PA and also Fribourg University in Switzerland, and she lived for awhile in Europe. She did some modeling work, including for East Hampton artist/illustrator Ray Prohaska.
In 1978 she married the late magazine publisher, Cornelius Donovan, and they lived in Montauk and also did extensive traveling. For the past several decades she has been with her partner, Misha Ferman, a former model and professional soccer player. They continued to travel and enjoy living in Montauk.
Roberta Gosman Donavan is survived by her four brothers, her partner Misha Ferman, and by 11 nieces and nephews. Memorial donations may be sent to the non-profit "Music For Montauk" organization:
http://www.musicformontauk.org/ways-to-give.html