by Debbie Tuma
If you're thinking of getting away for an easy trip, and a change of scenery from the Hamptons, there is no better place than Block Island. Only about 15 miles from Montauk, this small island is reminiscent of the way Montauk looked 40 years ago—lots of open land, not too commercial, slow-paced and laid back, with miles of pristine ocean beaches and high bluffs.
And like Montauk, the winters are super quiet and desolate, but the high season of July-August bustles with activity. On our recent trip, in mid-June, things were just starting to heat up, as the boats were just arriving in their slips at Champlin's Marina when we pulled up in the Viking SuperStar from Montauk. This 120-foot steel boat, which sails daily at 10 a.m. from the Viking Dock, is the ideal way to get there from Montauk, as it takes about an hour and 15 minutes. You can also take your bike aboard, and there is plenty of room for luggage. There are comfy seats on two levels, and there is also a nice galley where Debbie serves the coffee and cooks you egg sandwiches for breakfast. On the way back at 5 p.m., she serves alcoholic and other drinks as well as snacks. The Viking Superstar also sails daily from Montauk to New London in July and August, and once to Martha's Vineyard in August. They also do whale-watching trips from Montauk, and have so far had 100 percent sightings! And the new Viking Classic restored wooden boat, with a full bar, does sunset cruises to Fort Pond. Visit www.vikingfleet.com or call 631-668-5700.
Sailing into the New Harbor on Block Island, with Capt. Jay Burke at the helm, we see many sailboats moored and ready for the upcoming "Race Week." We find out that there is also the Block Island Music Festival, the new Block Island Film Festival, and "Restaurant Week" going on at the same time, so we picked a great time to check out this fun island. The Viking Superstar let us out at Champlin's Dock Marina, and we walked up a steep hill to Aldo's Mopeds & Bikes where people were renting bikes, and also getting picked up in a van, by owner Leo Leone. It was a short ride over to Aldo's Boat Basin located up the hill, where we rented a cute Fiat 500 to drive around the island. We always look forward to seeing Leo and his son, also called Leo Leone, who helps run the business. This family also owns Aldo's Old Harbor moped and bike rentals on Chapel Street, downtown. Young Leo's grandfather, named Aldo, came over from Italy and started the family complex there of Aldo's Italian Restaurant, Aldo's Bakery, and Aldo's Ice Cream shop, which are all worth a visit! For information, visit aldosmopedsbi.com or call 401-466-5018.
Since the ferry got in at 11:15 am, it was time for lunch so we headed to Spring House Hotel, one of the many sprawling Victorian Inns on the island, dating to 1852. It sits on a high bluff overlooking the ocean, with wide lawns and Adirondack chairs all around that face the water. We sat on a long outdoor veranda, enjoying the sun, the outdoor bar, and the spectacular views. Our waiter Ryan came over and we ordered their New England clam chowder, (chock full of clams,) a gigantic fresh beet salad, a spicy Cajun Shrimp Taco, and one of the biggest lobster rolls I have ever seen. It's well worth a walk through the inside of this historic hotel, where there are large, romantic rooms for weddings and special functions. The summer help was a bit disorganized, but other than that we had a good time. For information visit springhousehotel.com or call 401-466-5844.
Since Block Island is a beach lover's paradise, we drove over to Crescent Beach, off Corn Neck Road, which also leads to the Northeast Lighthouse, one of two on the island. The other famous lighthouse is the Southeast Light on the Mohegan Bluffs. We enjoyed the tranquility of this off -the- beaten track beach, and jumped in the water, On the way back, we passed Captain Tony's, where the music festival was underway, and Tiger Fish Restaurant, which has Karaoke, Yellow Kittens a well-known nightspot, and Winfield's Restaurant which also has great food.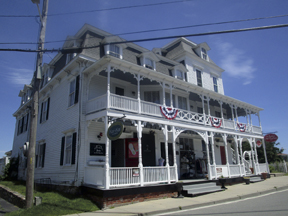 Block Island's Main Street, of colorful shops, restaurants and old inns, like the National and the Surf Hotel, was bustling as we pulled up to the Inn at Old Harbor, in the heart of downtown, overlooking the Old Harbor. One of our favorite places to stay, this three story inn dates back to 1882. It has eight delightfully furnished, cozy rooms, with old-fashioned wallpaper, private bathrooms, waterfront balconies, and sweeping views of the harbor and Main Street. Our hosts, owners Gabrielle Long and her brother Kai Costanzo, of Montauk, made us feel right at home. They also offer coffee service and light continental breakfast, plus wine and cheese daily at 5 p.m. for their guests.
The Inn at Old Harbor was featured on "The Affair" TV show in Season One and Three, which is often mentioned by tourists. Gabrielle and Kai also own the "Kai Kai Sandal" clothing boutique, and Block Island Ice Cream Parlor, next door off the wrap around porch. They are now running a "Summer Special" of $199 a night, from Sunday to Thursday, for July and August, and they are open through Columbus Day. Visit www.innatoldharbor.com, or call 914-707-3367.
For dinner, we chose one of the best spots on the island, the famous Hotel Manisses, which was walking distance from the Inn at Old Harbor, at 251 Spring Street.
This charming Victorian hotel was purchased about four years ago by Paul and Blake Filippi, who renovated the whole place. The Manisses (which means "little island,") has a wrap -around front porch, 17 guest rooms, and a spacious, sunlit restaurant and bar room downstairs. There is also seating on a romantic, outdoor garden patio off the main dining room.
We met Kristin Love, the marketing manager, and her husband Michael Hervieux, the Executive Chef, who popped out of the kitchen on this busy Friday night. Kristin sat us at a lovely table with huge windows facing the garden, and we ordered some Louis Jadot Chardonnay. Their menu is Mediterranean inspired cuisine, with local, seasonal produce and fresh catches of fish and seafood right off the boats.
"We also use a lot of citrus, olive oil, fresh vegetables, and vinaigrettes to give a pop to our food and its taste," said Chef Hervieux, who learned cooking from his big Portugese and French family, and graduated from The International Institute of Culinary Arts in Fall River, Massachusetts. His very professional staff is also international, coming from countries as Jamaica, South Africa, and Italy.
Our charming waitress, Georgia, of  Jamaica, brought over our first course of the best Eggplant Caponata we had ever tasted, with an amazing blend of flavors. It was served with heirloom tomatoes, fresh mozzarella, watercress and balsamic reduction. I tried their "Kale Wedge" and found it surprisingly tender, with roasted tomato, pickled red onion, pancetta, bleu cheese, and buttermilk tarragon dressing. Our main course consisted of the most succulent Grilled Island Swordfish, with white beans, kale, roasted garlic, and olive tapenade—and my partner had the "Bomster Scallops," served with sweet corn cream, crispy pork belly, pea tendril, pickled carrot and mint salad. The food was totally creative and amazing! In keeping with their all- homemade theme, the desserts were spectacular—a melt in your mouth Tiramisu, and a Buttermilk Panna Cotta with berries that was irresistible. We can't wait to come back to the Hotel Manisses again! For information, visit www.hotelmanisses.com or call 401-466-9898.