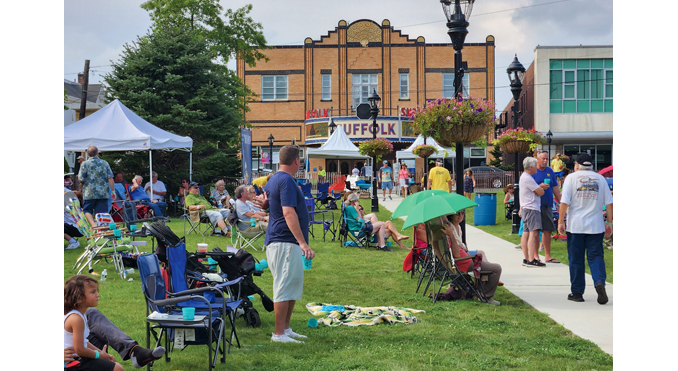 by Debbie Tuma
After a 10-year hiatus, downtown Riverhead was once again packed with people enjoying a music fest entitled "Blues on the River 2023." It was presented by Townscape, Riverhead's 47- year old non-profit beautification organization which puts hanging baskets on Main Street, planter pots downtown, and new plants around the traffic circle on Route 58. They are also hosting the famous Riverhead Country Fair on October 8, and the tree lighting on the Town Square on December 2.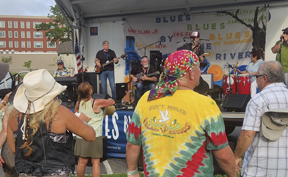 Although the past Riverhead Blues Festivals were held in the big parking lots along the Peconic River, this year's gathering was held in the new Riverhead Town Square, a grassy park-like area across the street from the Suffolk Theater, on Main Street. A big white band shell showcased the performing bands, which included Kerry Kearney and the Kings of Psychedelia, Lex Grey and the Urban Pioneers, Gene Casey and the Lone Sharks, Jack Licitra and South Bay Soul, and Kane Daily and the Roadhouse Dawgs.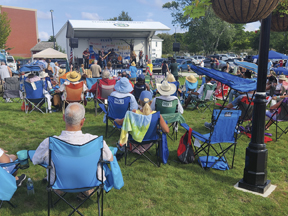 About 500 people sat on lawn chairs and blankets around the grass, and others got up and danced around the stage to this soulful music. Families, kids, couples, and dogs, were having a great time on this hot, sunny day. Out in the riverfront parking lot, were vendors selling food, including Preston House, Cucina 25, and Good JuJu. The Long Island Blues Society had a tent and were selling their T-shirts, CD's, and bumper stickers. They are having a big upcoming "Cedar Beach Blues Festival" in Port Jefferson on Saturday, October 7, in Harborfront Park, with 15 acts on two stages.
Jim Warner, President of Riverhead Townscape, and blues festival co-chair Lisa Pickersgill, owner of Robert James Salon, were greeting friends and selling T-shirts at this event.
"For our first time planning this in decades, and putting it all together in about eight weeks, I think we did pretty well," said Warner. "We hope to make it even bigger and better next year."
For information, visit www.riverheadbluesfestival.com