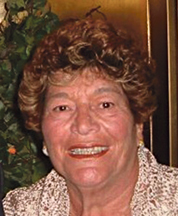 Rose DeFina, 88 years young, from Montauk, New York and Aventura, Florida, passed peacefully in her sleep on July 11, 2021 with her family at her bedside in Miami, Florida.
Rose, a graduate of New Utrecht High School, met her husband Cosimo Philip DeFina at a Church dance in Brooklyn and were happily married for 63 years. In the late 1950's Rose and Phil vacationed in Montauk during a hurricane and it was love at first sight for Rose!
Since then, Rose enjoyed raising her children and grandchildren in beautiful Montauk. Her home was always opened to her extended family and friends and many fun and happy memories were made together poolside at her home. Rose's great sense of humor made people gravitate to her warm and charming ways!
Rose loved the ocean and swimming, on one occasion she saved her cousin from drowning in the ocean and she made sure her children and grandchildren respected the waters off Montauk and knew how to swim.
Rose will be lovingly remembered by her beloved husband Cosimo Philip DeFina and sister Patricia LoFrisco. Her loving sons Philip (Maria), Leonard (Lola) and devoted daughter Laura DeFina. Doting grandchildren Candace, Danielle, Alexa, Philip, John, Isabella Rose, Dylan and Michael, and great grandchildren Hunter and Logan.
A private ceremony was held in Miami, Florida with family and friends.
Donations may be made in memory of Rose DeFina to the Montauk Village Association, PO Box 457, Montauk New York 11954 or MontaukMVA@gmail.com.