Photos by Richard Lewin Professional Photography (soniboy@aol.com)
Hello, everyone, and welcome to this month's edition of the Montauk Fire Department Corner. I hope everyone enjoyed a nice safe and fun filled Fourth of July celebration and that the fun has continued into August.
I am happy to report that things are finally loosening up for us around the Montauk Fire Department. I am pleased to report that, after a year of quarantine, social distancing, masks, etc. due to COVID-19, we were able to host our annual BBQ for members, their families and friends. On June 28th we held this year's BBQ on the grounds of the Montauk Fire Department. Members and their families enjoyed classic picnic food, including burgers, corn on the cob, hot dogs, and Dreesen's famous doughnuts. Montauk's John's Drive-In fed everyone dessert and satisfied everybody's sweet tooth with a variety of treats from their ice cream truck. I can't tell you how nice it was for us all to be able to get together again. Also, I'd like to thank Firefighter Lisa Valcich for organizing this event. Please enjoy the photos supplied by Honorary Chief Richard Lewin. I think you can tell that everyone enjoyed themselves.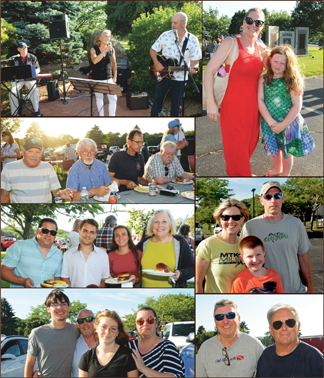 I would like to take this opportunity to thank Fire Police member Bob Sanchez and his House Committee. Bob, members of his committee, and other personnel recently replaced the flooring in the firefighters room. This was much needed and has been in the works for a long while. Everything in the room had to be carefully moved out and stored while the job was completed. Fire Police Company No. 6 member Sanchez would like to thank everyone who helped in this endeavor.
That's it for this month. Please be mindful on the roads of emergency vehicles, bikers and pedestrians. If we all stay patient on the roads, it will insure a more peaceful, safe and fun Summer. See you next month.
~ Mitchell Valcich, Chief, Montauk Fire Department
https://www.montaukfiredistrict.org/