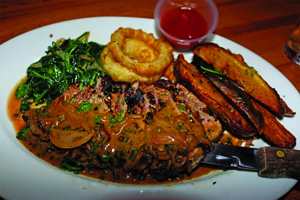 Fall brings many changes to Montauk, mostly a calm sense of normalcy that is inherent with fewer crowds and less traffic. There's always a comforting sense of familiarity achieved when we can visit our favorite establishments and experience the friendly service and excellent food we've come to expect, appreciate, and enjoy.
 at the end of East Lake Dr. is just one such place. Open only on weekends and still hosting a nice crowd, yet the always pleasant management, wait staff and bartenders makes it feel as if they've been waiting for you. Whether it's a breathtaking sunset you're after, a spectacular lightening display, or just dinner with a view, Inlet Seafood never disappoints.
With the changing colors of nature comes many delicious fall specials at the Inlet. Their creamy Pumpkin Martini could be a perfect way to celebrate the season. Possibly followed by some baked Montauk Pearl Oysters with blue cheese and panko topping and then maybe a Shell Steak Au Poivre with spinach and crispy wedge fries, or a Roasted half Long Island Duck with roasted potatoes and zucchini. The menu offers so many possibilities and the added evening seasonal specials are a pleasant bonus.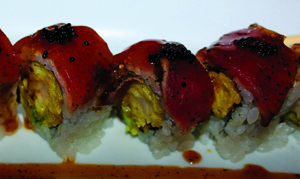 Dining at the Inlet Restaurant is somewhat like being in a glass enclosed tree-house perched above the Montauk Jetty. The bar area and outside decks also double as alternative dining areas, each lovely and offering the unbelievable view. Enjoyable to look at and a nice personal touch, artistic photos of the owner's boats are hung over the bar above the surrounding windows. Often we enjoy a cocktail and an appetizer, sushi or specialty roll selection- from the extensive Sushi Menu- while sitting at the bar watching the boats enter or leave the harbor.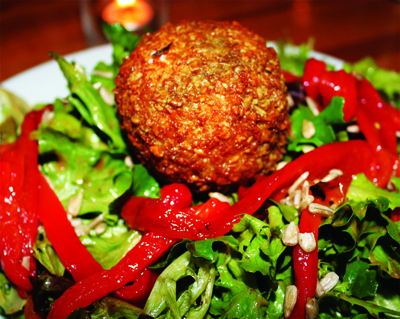 However, on a cool October evening as the sun set, we dined at a high top in the bar area with our waiter/bartender Matt and feasted on some chef's choice specialties. First out were those tenderly baked crispy panko topped Oysters, they're truly a hidden gem-such a tasty blend of flavors accentuating the fresh oyster flavor. Next, and one of my all-time favorites was the Warm Sunflower Seed Crusted Goat Cheese served over field greens with roasted red peppers and a light basil vinaigrette; just one of the many delightful salad choices. A delicious recommendation by Matt, the Black Bird Roll offers contrasting textures from the crunchy shrimp tempura and tender pepper tuna on top, along with avocado, and Black Tobiko and Spicy Yuzu sauce. Each sushi menu selection is prepared with the freshest selection of fish.
Being owned and operated by a fishing family, the Inlet always offers fresh local catch brought in through the dock on property. As a result, some type of Fish is usually the way I go when eating at the Inlet. Whether enjoying the fresh Scallops, Codfish and Chips, Montauk 1.5lb Lobster, or one of the many menu or nightly special fish items, each selection is always fresh and cooked perfectly and in a variety of ways. So that being said, we decided to stray a bit and sample two of the evening specials; The Shell Steak Au Poivre, and the Linguine with Local Clams.
The mouthwatering Steak Au Poivre was served in a delicate peppercorn sauce- like my mom used to make- cooked to order and accompanied by crispy rosemary wedge fries and sautéed spinach. It was tender and delicious. As was the Linguini with a generous portion of whole and chopped clams in a garlic white wine sauce and served with toasted bread. We really enjoyed this creative Surf-n-Turf combination.
The Inlet Seafood Restaurant will remain open Friday through Sunday through November and will re-open Presidents weekend in February.  Visit http://inletseafood.com/ for more information.