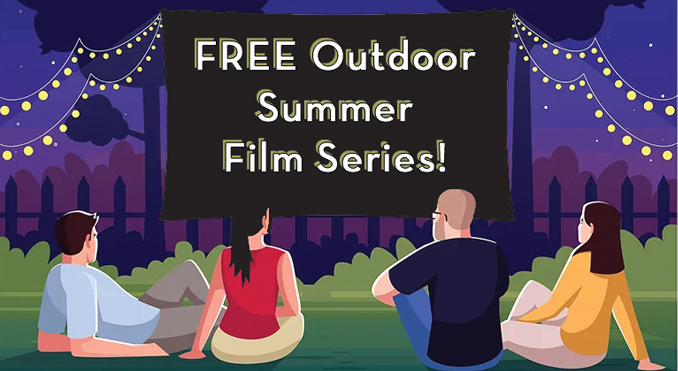 by Evelyn J. Mocbeichel
After spending a day on the beach or golfing or cycling, now you are looking for an evening activity after dinner that the whole family can enjoy. Here is one suggestion that was recently announced by HamptonsFilm that is returning for its fourteenth year of presenting entertaining and engaging documentary films to audiences out East.  It is the East Hampton Summer Outdoor Screening Series for the Summer 2022 season. Each week from June 22nd through August 24th, HamptonsFilm will screen classic crowd pleasers on Wednesday evenings in Herrick Park, East Hampton Village, New York. These events are free and each screening will begin approximately at sundown. The series will feature titles suitable for the entire family to enjoy, including A LEAGUE OF THEIR OWN, E.T., APOLLO 13, and more.
Seating is free and open to the public. Attendees can visit HamptonsFilm.org to reserve an 8'x8' square for themselves and their party free of charge. Each square can accommodate up to six guests. Additional guests will be accommodated on a first-come, first-serve basis. Those interested can also purchase and reserve a square in the front two rows near the screen. Proceeds will go towards supporting HamptonsFilm's year-round educational initiatives. RSVPs are strongly encouraged.
Film Series Dates:
JUNE 22:  "A LEAGUE OF THEIR OWN" (1992)

JUNE 29:  "E.T." (1982)

JULY 6:  "ALADDIN" (1992)

JULY 13:  "RAIDERS OF THE LOST ARK" (1981)

JULY 20:  "MARCH OF THE PENGUINS" (2005)

JULY 27:  "DIRTY DANCING" (1987)

AUGUST 3:  TBD

AUGUST 10:  "OPEN WATER" (2003)

AUGUST 17:  "APOLLO 13" (1995)

AUGUST 24: RAIN DATE

Looking ahead to the fall – The landmark 30th annual Hamptons International Film Festival (HIFF) will be held October 7-16, 2022 as an expanded 10-day event. HamptonsFilm is also commemorating the festival's 30th anniversary with "The First 30" program. Throughout 2022, HamptonsFilm is reviving some of the memorable films that screened during the film festival. Each week someone affiliated with the film or the festival will look back on the film's impact during the festival. Artistic Director David Nugent, Executive Director Anne Chaisson, Senior Programmer Megan Costello, Advisory Board member and MOMA Chief Film Curator Rajendra Roy and New York Women in Film & Television Executive Director Cynthia Lopez are among those participating along with surprise directors, producers and industry luminaries. More information on the program and where to stream selected titles can be found at https://hamptonsfilmfest.org/hiff-the-first-30/ The 2022 Summer Outdoor Screening Series is sponsored by Macrae Skye. Additional media sponsors include The Purist and The East Hampton Star.