Sebring, in the Heart of Florida's Highlands!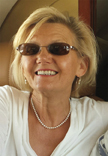 Florida is one of the most successful states even during these trying times and since we stay away from politics, we attribute it to sunshine and the beaches. There's more to Florida than the ocean, gulf regions and theme parks. We visited the charming city of Sebring located in Highlands County, about 90 minutes south of Orlando in an area known as Florida's Heartland. Highlands County features more than 84 lakes, with 9,212-acre Lake Jackson,  Dinner Lake and Little Lake Jackson, all within Sebring's city limits.
Sebring is nestled among the orange groves and cattle ranches of Central Florida. It was founded in 1912 by George E. Sebring, a pottery manufacturer from Ohio, who was struck by the area's natural beauty. The town today is an el dorado for golfers and a treasure trove when it comes to Florida history. It is home to Highlands Hammock State Park, Florida's first State Park, comprising 9,000 acres with trees over a thousand years old. Sebring is headquarters for Florida's Civilian Conservation Corps Archives and Museum and is also noted for its historic downtown commercial district. Built around a pretty park circle, the town is listed on the National Register of Historic Places. Its downtown is beaming with small town pride, quaint antique shops, study museum exhibits, cute boutiques, an old ice cream and soda shop and several unique restaurants. Sebring is nicknamed "The City on the Circle". Our kind of town! www.visitsebring.com
We tried to get a room at The Inn On The Lakes for mid March, but it was the week of the annual Motorsports Endurance Race and we had to postpone to a later time so my husband could meet up with our friends from West Virginia for their annual golf match.  Sebring is home to one of the oldest continuously operating auto race tracks in the United States. It is the site of the prestigious 12 Hours of Sebring Motorsports Endurance Race and part of the American Le Mans Series since 1951.
Some of you might remember that we'd stayed here at the Inn On The Lakes just for a night in early January on our way to Key West and loved the place. The BHDM designer firm out of New York had done a fabulous job! The hotel and its location is absolutely beautiful; and the scent of the tropical flowers and herb gardens priceless. I relaxed by the pool, next to a huge Rosemary bush before check in and indulged on complementary aroma therapy. Since there was so much of this amazing herb I broke off a couple of sprigs, took them upstairs into our suite and placed them on our nightstands. Rosemary is said to have anti-stress properties and to improve focus and memory.
With over a 155 guest rooms and suites, colorful gardens, a pretty lakefront pool and indoor & outdoor dining facilities nestled right along the shore of Little Lake Jackson, this boutique hotel feels definitely more like a resort. The staff welcomed us back with their famous Southern hospitality, and we felt right at home once again. Our fabulously decorated suite displayed serene views of a bird sanctuary while the perfect blend of elegance with a Florida Highlands' flair reflected the spirit of Sebring. Each detail of decoration seemed to have been carefully thought out and
reminded us, though entirely different in style, of our suite at Streamsong, another golf and spa resort located in Florida's heartland.
The first evening, we met in our hotel suite with our friends Dick, Joy, Amy and Joe. We had brought a bottle of champagne and some cheese for a little appetizer before dinner and to kick off their annual Florida golf match with a toast. We all enjoyed our dinner and the views later at Chicanes lakeside restaurant. The food was phenomenal and so was the service. Being from the Hamptons, I am used to creative cuisine; Chicanes rang the bell.  www.chicanesrestaurant.com
We ordered breakfast both mornings, delivered to the room at 6:30am to make sure that we wouldn't miss the sunrise.  A warm blueberry muffin, Florida orange juice, eggs and sausage on an English muffin, and fresh brewed coffee were delivered a la minute the next morning. We thoroughly enjoyed breakfast as the sun painted the living room bright orange. There were hundreds of beautiful white birds sitting on the trees covering the little island below our window, and then as by a secret signal they all took off at once, circled around the morning sun and to our delight returned once again to the island. It was going to be a perfect day for my excursions and the golf match.  www.innonthelakes.com
The Deer Run Course at the Sun N Lakes Golf Club was one of Dick & Joy's favorite courses during their time in Sebring and Dick had booked the T-time for 11:12 am. My husband had decided to start earlier to practice for the annual "Florida Golf Challenge"! — I, the no-golf enthusiast, really like golf because I imagined myself already gliding through a paradise of swamps, marshes, and implausible wildlife instead. —We got to meet the friendly crew and Andy, the head-pro at the pro-shop who welcomed the Northerners with their famous Southern hospitality and got the scoop: "The Par 72 Deer Run (opened in 1976) is a classic Don Dyer designed course, featuring long holes and obstacles to challenge even expert golfers. Every year, a number of prestigious golf tournaments, local and national are held here…" Sun 'N Lake Golf Club has been voted the number one golf course in Highlands County four years running for a reason! We all had dinner that night at the golf club's Island View Restaurant  & Pub! It was Half Price Burger & Beer Night; the place was packed with happy people; and we had a blast. Btw, Dick won the match. No other comments. www.sunlakegolfclub.com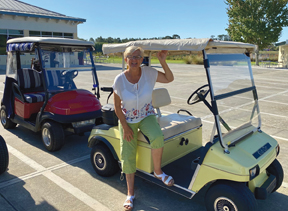 As the guys were teeing off that morning, I was on the way to meet with Capt. Jon Scott at Neiberts' Fishing Resort. The place turned out to be an unassuming, small fishing resort with a cool, rustic bar, located at Creek Side on the outskirts of Sebring, with a young Captain waiting for this late arrival. I was placed in the hot seat next to the handsome Captain with two couples in two rows in front of us. Let me say right here that this was going to become the wildest airboat ride of my life, with up-close looks at gators of all sizes. This was above and beyond what I expected but
the highlight of our ride was when Jon pushed the airboat with full power up on a small, sandy island. Just when I thought I had recovered from the shock that we were now like a fish out of water, he rode that airboat with a big splash back down into the water. Wow!  www.visitsebring.com/partners/neiberts-fishing-resort/
After my thrilling morning with Capt. John in the water world, I was ready for a little more calm activity. I met with Russ Sharp at Highlands Hammock State Park. Mr. Sharp,
a member of the board, took me on his UTV on a journey back in time to the Civilian Conservation Corps Museum where I learned about the men who helped build this and many other Florida state parks. We rode through the park which has more rare and endemic species than any other state park in Florida. We visited an ancient hammock where he pointed out 1000 year old oaks, explained the delicate ecosystems, and showed me a carnivorous plant.  www.floridastateparks.org/parks-and-trails/highlands-hammock-state-park
Sebring prides itself on its reputation for being a relaxing place to get away, highlighting its numerous golf courses and ample access to surrounding lakes, activities and attractions. But there is even more to Sebring and that is its close proximity to Lake Placid. Just 15 minutes south of Sebring we found the town of 50 fascinating murals that Dick and Joy had described to us. Later on the way back north we saw a sugarcane farm, where we found the Sugar Sand Distillery.  Founder Don Davies, a native Floridian, gave us a quick tour of his 10-acre sugarcane estate farm and the well maintained facilities. Sugar Sand Distillery is a true farm-to-bottle operation producing small-batch rum, whiskey, vodka, limoncello and moonshine. My husband tried some of Don's spirits and bought a bottle of Apple Shine. Just to let you know, I was the driver back home. It was a great escape to visit and explore a new city and catch up with old friends.  www.sugarsanddistillery.com
Until next month from another interesting location.
Love,   ~ Ingrid ♥
Escape From Paradise: www.EscapeFromParadise.net
www.facebook.com/ingrid.lemme #EscapeFromParadise
Award-winning TV Host, Publisher, Travel Writer
Ambassador for www.Seven-Stars.com & 15 Emmy awards www.aTasteofHistory.org  www.twitter.com/LemmeEscape      www.instagram.com/ingridlemme