by Ingrid Lemme-Chalut
Somewhere frozen in Time — Mackinac Island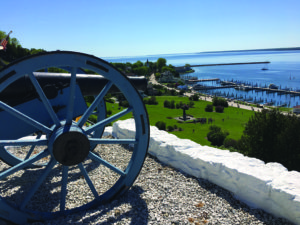 As much as Montauk is America's most quintessential fishing and beach town, Mackinac Island is America's most quintessential 19thcentury island town. Home of historic Fort Mackinac and famous 'Arch Rock', the island is also the location of the famous film 'Somewhere in Time'. For over thirty-five years thousands have come to Mackinac Island to remember the 1980 movie 'Somewhere in Time', filmed with Christopher Reeve and Jane Seymour at the Grand Hotel, Mission Point, the Round Island lighthouse and a gazebo located behind the Fort. Mackinac Island is frozen 'somewhere in time' and no cars are allowed. Here, by the end of the 19th century, motor vehicles were already restricted because of concerns for the health and safety of the island's residents and horses after local carriage drivers complained that automobiles startled their horses. This ban continues to the present with exceptions only for emergency and construction vehicles.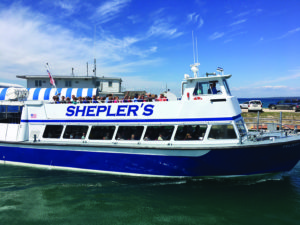 Mackinac Island is about 8 miles in circumference and 3.8 square miles in total area. It is located in Lake Huron, at the eastern end of the Straits of Mackinac, between Michigan State's Upper and Lower Peninsulas. The island was home to an Odawa settlement before European exploration began in the 17th century. It served a strategic position as a center on the commerce of the Great Lakes fur trade. This led to the establishment of Fort Mackinac on the island by the British during the American Revolutionary War after which it was the site of two battles during the War of 1812. According to the 2010 US Census, the island had a year-round population of fewer than 500 who can be reached by private boat, ferry, small aircraft, and in the winter, by snowmobile over an ice bridge. We had the best experience with Shepler's Ferry (celebrating 75 years); they delivered us safely to the docks and our luggage came promptly before our own arrival at Mission Point resort. www.sheplersferry.com
Of course I had come mostly for the film 'Somewhere in Time' and The Spa at Mission Point but my husband was interested in discovering historic Fort Mackinac and experiencing the amazing views through Arch Rock, a natural limestone arch formed during the Nipissing post-glacial period. Arch Rock perches on Lake Huron's shoreline 146 feet above the water. The Native Americans saw Arch Rock as a place of numinous power, and told many stories and legends about it. To our surprise we found that Arch Rock is located within walking distance from Mission Point resort, our domicile of a couple of unforgettable nights.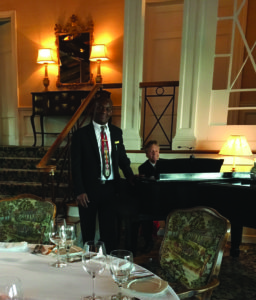 Historic Mission Point resort is the place where much of the famous movie "Somewhere in Time" was filmed. It's hard to imagine a more magical setting, excellent cuisine or a nicer staff. From kite flying and flower pressing to biking and bocce ball to putting and spa-ing — this place was magical. Located on the island's sunrise side and within walking distance to Shepler's Ferry or the history town Mission Point, the resort spans over 18 acres of waterfront property and overlooks the beautiful sparkling waters of the Straits of Mackinac. This well cared for and restored resort and its dedicated staff captured the essence of Michigan's most beloved island retreat like no other. To our surprise we discovered that contrary to common belief, there were actually two grand places on Mackinac Island where the famous movie "Somewhere in Time", was filmed; the Grand Hotel and Mission Point. At the time of filming, Mission Point resort was still Mackinac College. Today, guests can watch movies here and even sit in the same seat that Richard Collier sat in while watching Elise (Jane Seymour) perform. An engraved plaque designates it as Christopher Reeves' seat. – I didn't have time to sit in his seat, because my husband insisted that we would ride bikes for eight miles all around this beautiful island. But when we returned I got to enjoy a fabulous massage at Mission Point's brand new spa while he went for a round of golf putting instead. www.missionpoint.com
We also got to visit Fort Mackinac, a former British and American military outpost garrisoned from the late 18th century to the late 19th century. The British built the fort during the American Revolutionary War to control the strategic Straits of Mackinac between Lake Michigan and Lake Huron, and by extension the fur trade on the Great Lakes. The British did not relinquish the fort until fifteen years after American independence. Fort Mackinac later became the scene of two strategic battles for control of the Great Lakes during the War of 1812. During most of the 19th century, it served as an outpost of the United States Army. Closed in 1895, the fort has been adapted as a museum on the grounds of Mackinac Island State Park.  mackinacparks.com/parks-and-attractions/fort-mackinac/
Until next month from another interesting location……
Love, Ingrid
Award-winning TV Host, Publisher, Travel Writer, Producer, Author and Ambassador for
www.Seven-Stars.com