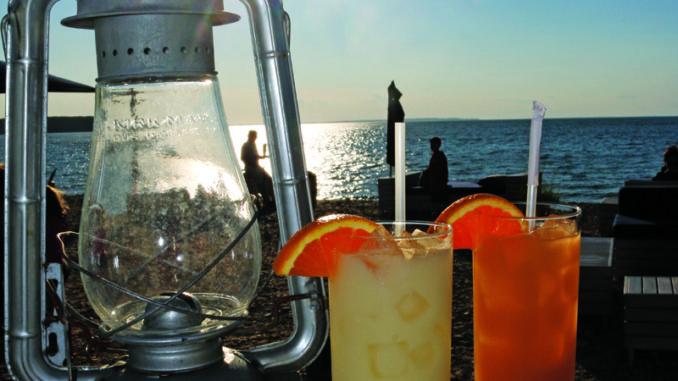 by Sue Giustino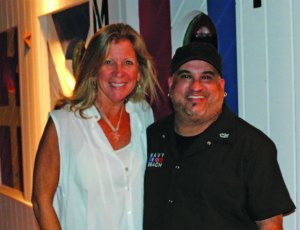 Overlooking Fort Pond Bay and Gardiner's Island, the 200-foot private beach is an idyllic setting for this nautically themed bar and dining room, including waterfront picnic tables and lounges on the beach. The laidback beachfront location enables boaters to anchor in the protected waters of the Bay and come ashore for a meal or cocktail.
Open since 2010, Navy Beach serves casual coastal cuisine featuring fresh seafood and locally-sourced produce, as well as a large variety of internationally-influenced menu items that change seasonally. This picturesque sunset venue is also known as the place to go for their extensive list of fine Rose Wines and complete menu of Red, White and Bubbly Wines, beer, and creative cocktails.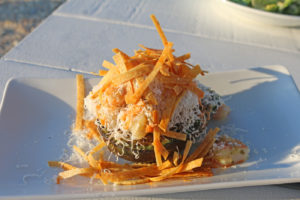 As we arrived at Navy Beach on a clear evening in late June, the sky was preparing for a spectacular sunset. Greeted by the manager, Lauren, we were seated at a picnic table on the beach. Enjoying the cool evening breeze, we sipped on a few of this season's new mixology treats. Both the Lemon Cooler with vodka,
lemon, iced tea and thyme, and the Navy Grog with rum, grapefruit, orange and pineapple were refreshing and light.
Our waitress Ali informed us of some of the new menu items that Chef Randy Santos was preparing for us; having enjoyed many of his creations, we were eager to see what he came up with this season. A few of his signature dishes that return each season include the Jumbo Lump Crab Cake; Hamachi Ceviche; Nikkei Tuna Crudo; Local Clam & Corn Chowder; Crispy Portuguese Octopus; Little Gem Salad; Whole Market Fish; Buttermilk Fried Chicken; Navy Burger; and the Lobster & Clam Bake.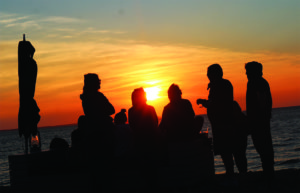 To start, we enjoyed a few small plates. The Grilled Avocado adorned with chilled shrimp, tomatillo, Calabrian chile oil, queso fresco and tortilla crisps was alive with flavor and texture. The smoothness of the gently grilled avocado along with the dense shrimp and crispy tortilla with a subtle spice that kicked in at the end was perfect. Marinated with celery, red onion, daikon and lemongrass, the lovely citrus flavor of the tender Hamachi Cevi che was accented with a spicy secret weapon- gochujang- a Chinese chili paste. Each flavor comes alive at different moments during each taste, an excellent citrus-spicy experience. Aptly named, the Little Gem Salad is just that. Fresh, crisp Baby Romaine with a lemony-garlic dressing bread crumbs, capers, and fresh shaved Parmigiana Reggiano- quite a gem.
Our large plates covered most of the food genre; meat, seafood, fish and pasta and a veggie side. Spaghettini Pomodoro is not like any dish I've ever tasted, nor would I have ever thought to add fresh mint to a pasta dish. Prepared with fresh roasted cherry tomatoes blended with mint, bread crumbs, ricotta salata and perched on top… half of a Main Lobster-this is a unique delicate summer dish. On the first bite, the mint flavor popped adding a coolness only fresh mint can- I highly suggest trying this unique, light summer treat. Atlantic Salmon offers a flavor like no other fish. Sitting atop a bowl of Miso soup blended with a soba noodle, daikon, baby bok choy, and mushroom, it becomes a whole new culinary experience. This bowl offers a tasty combination of flavors with the salmon taste permeating through, yet another lovely summer meal. The Dry-aged Cowboy Bone-in Ribeye elegantly grilled and served with seasonal charred mushrooms, garlic confit, Au Poiuvue butter and avocado chimichurri was cooked perfectly. The avocado adds a smooth flavor and constituency to the traditional notable chimichurri flavor which is such a delightful accompaniment for the mouthwatering steak.
Along with these delicious dishes, we also enjoyed a side of Roasted Cauliflower and Truffled Mac. The cauliflower was dressed with an orange aioli and pistachio breadcrumbs, the citrus flavor with the cauliflower was a delicious unexpected flavor blend. Truffled Mac baked to crisp the top and bottom with a smooth center was as good as it looked. The creamy center is a blend of Swiss, gruyere, and cheddar cheese, along with the truffle flavor, scallions, and topped with panko.
Such a lovely way to enjoy a meal; a cool breeze, great food and drinks along with the arrival of dusk preempted by a perfect sunset. Only an after dinner sweet could improve the moment. Lucky for us, Chef Randy drew our evening to a close by concluding the meal with a delightfully creamy graham cracker crusted Key Lime Pie.
Tucked away over the train tracks off of 2nd House Road, a trip to Navy Beach is a great destination for a laid back, family-friendly setting. Lunch and dinner are served daily in season as well as a kids menu for the little ones. For more information: https://www.navybeach.com/