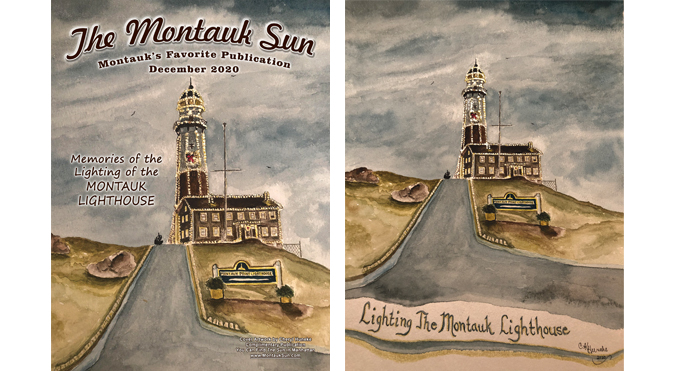 December 2020
No Lighting of the Lighthouse This Year…
But We Have Our Memories!
Although the Montauk Lighthouse will NOT be lit for this holiday season, we celebrate the memories of this beautiful sight with the watercolor likeness of the Montauk Lighthouse gracing our cover courtesy of Long Island artist, Cheryl Huneke.
"This year has been challenging and difficult for everyone. The Montauk Historical Society, as a nonprofit organization, depends on public support and grants in order to survive, so we are especially grateful that the public has been there for us through this pandemic. Although our season started late, we were able to open the Lighthouse grounds and museum to visitors, who showed up in great numbers, observing all social-distancing guidelines and protocols. Sadly, those guidelines are forcing us to cancel this year's Annual Holiday Lighting of the Lighthouse. We deeply regret the disappointment this will cause to the Montauk community, as well as to our visitors, and the impact it may have on hotels and restaurants. With luck, next year's festivities will be all the more joyous as we celebrate around our newly restored, preserved and repainted tower. Please check our website for updated schedules, and for more information about our $1.3 million Lighthouse Tower Restoration Project. If you come out to see us some late fall or winter's eve, do turn on your phone's flashlight mode to salute the Lighthouse, honor a loved one, or hail the holidays. Maybe even sing a chorus of "Deck the Halls." We wish you the warmest, safest holiday season possible, and look forward to welcoming you back in 2021." ~ Montauk Historical Society
Fortunately for The Montauk Sun, Long Island artist Cheryl Huneke captured memories of past lighthouse lightings in her watercolor and pen & ink work which graces this month's cover. Of course, once the decision was made to cancel the lighting, we needed to crop her original work (see photos above).
The inspiration for her art comes from everything and everyone around her. Family, friends, nature, animals & pop culture as well as quaint local towns, their people and the beaches of Long Island are all inspiring to help create unique works of art.
"I like realism in my work to capture things as I see them. I work in many media which include pencil, colored pencil, watercolor and pen & ink which are my favorites to work with. I love capturing people, animals and scenery as they are." ~ Cheryl Huneke