……A touch of Germany in Montauk 
As you enter Zum Schneider Bavarian Bierhaus restaurant you are welcomed into a festive, airy feeling of a typical German beergarten, popular with families and singles alike. Half of Zum Schneider's is a large bar area and the other half for dining. Guests can opt to sit at long, communal tables, styled like the famous Hofbrauhaus (huge beer hall) in Munich, or at a separate table of their own. The dining room features an open wall to the outdoors with tables available for patio dining. The interior decor is lively with the blue and white colors of Bavaria prominently displayed and instantly guests feel welcomed into this friendly establishment. Opened in 2012, it's the second location of owner Sylvester Schneider, with another in New York City. What continually impresses guests to Zum Schneider is the genuine friendliness of the entire staff from the greeter at the door, to the manager, Sebastian, that makes everyone coming to dine feel like a member of the family.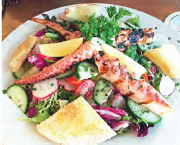 Under the culinary creativity of Chef Benjamin Niggo, there is some­thing on the menu to please everybody. Some guests may not be familiar with German food, but anxious to try the succulent offerings, while others know what they want and pleased they can find delectable items right here in the heart of Montauk. The printed menu uses the German name of the choices with English translations below. The menu is designed in the Bavar­ian colors and the wording such as "Vom Wasser" (from water) Vom Land (from Land) etc. quite easy to comprehend without reading the titles. New specials are featured daily and the menu changes every few days, with popular standards remaining.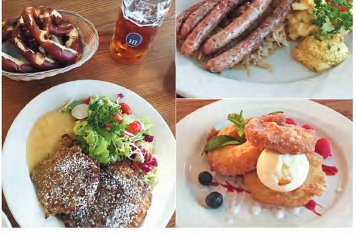 There were three of us dining that evening, so it was easier making up our minds what appetizers to order so we could sample and share. A first choice, listed as O'Batzda, is a traditional Bavarian cheese spread made with brie, blue cheese and beer, topped with thinly sliced onions, accompanied with a basket of assorted petite bread slices. It's impossible to visit a German restaurant without ordering Reiberdatschi, crispy potato pancakes with apple sauce, and house salad.As our daughter took a pancake, she re­flected on how Grandma would make them, grating a five pound bag of potatoes within minutes. When I tasted them I felt this was the closest in years to her homemade ones. We also ordered a basket of freshly baked            im­ported Bavarian soft pretzels, perfect a compliment to the large glass of German my husband had before him. Zum Schneider's German beer menu includes 13 beers on tap and seven bottled varieties as well as an extensive wine selection to meet the satisfaction of any choosy palate.
Reviewing the daily specials on the huge chalk board and reading the menu made for some serious de­cision making. After the appetizers, the three of us started with the soup of the day, a clear vegetable broth with stuffed pasta pockets. Since it was a vegetable stuff­ing, this was perfect for the vegetarian of our party. The soup was a flavorful broth with floating, petite ravioli style "pockets". It was a perfect meal starter that did not suppress the appetite for the en trees coming next. Other specials that night were the tempting crispy pork shank braised in beer gravy for 8 hours and served with dumplings and cabbage salad. Another eye catcher was the Hax'n, short for Schweinehaxe (Pork Knuckle). Hax'n goes perfectly with a dark German Jager. Now for our dilemma do we try something new or go with traditional favorites? Our daughter went for the Octopus Salad, which was grilled octopus served over a large greens salad with garlic bread. On my last visited the wiener schnitzel (pork tenderloin with potato salad and cucumber-dill salad) was terrific and I was almost tempted to re order it. Then the pan seared local scallops caught my eye and my choice deviated. Coming in both large and small portions this mouth wa­tering delight came with potatoes and sauerkraut in a light cream sauce, which was an unusual and totally sat­isfying preparation method to enhance my meal. My hus­band scanned the many wurst (sausage) offerings that remain popular favorites and opted to go with one of his traditional favorites. Multiple "wurst" choices and plat­ters make it clear guests should have repeat visits to try them all. Or how about the sauerbraten, roast pork, mar­inated beef braised in wine sauce and any of the dishes "from the water"? Being in Montauk visitors might opt for the beer battered fish filets or the "catch of the day" described on the specials menu. Every pick is a winner and as you look over a companion's en tree selection it is easy to realize another visit to  Zum Schneider will be in the near future. Of course, one might think with all that we ate there would be no room for dessert. We shared so we didn't turn down the Apfe'radl, battered apple slices tossed in cinnamon with vanilla ice cream and the Bayerische creme another traditional Bavaria dessert. Both were art­fully presented, out of this world, and every bite a delight!
On Saturday and Sundays from noon to 5 pm, wonderful brunch options have be­come quite popular on the weekends. Whether you pick the traditional German break­fast of cold cuts, eggs, jams and bread to the popular omlettes and various egg dishes, starting the day with a hardy breakfast will carry you through an afternoon at the beach, fishing or cycling. What caught my eye while browsing this menu was the Eierp­fannkuchen (pancakes filled with apple sauce or jam) making a mental note to stop in for brunch the next weekend. A Bloody Mary, Mimosa, or champagne go wonderfully with any of the brunch items and are part of the menu choices, as well as coffee and tea. Guests visiting your home for the weekend would enjoy this different atmosphere and delicious food over the traditional morning choices at home.
Gemiitlichkeit
This word, Gemiitlichkeit, is German and defined in the dictionary as "that de­scribes an environment or state of mind that conduces a cheerful mood and peace of mind, with connotation of a notion of belonging and social acceptance, of being cozy and unhurried:' When talking about the ambiance of  Zum Schneider, this word fits per­fectly. Guests never feel hurried or rushed for their table and the comfortable feeling makes guests want to linger, have another beer or wine and enjoy each other's company and the surrounding atmosphere. This all goes back to the friendly feel of the restaurant and the welcoming attitude of the manager and staff.
The night we ate dinner at  Zum Schneider's was the start of the Euro Cup Soccer Games. Huge TV screens are in both the bar and dining area for guests that want to catch up on their sports. However the biggest draw and we have heard this personally from our daughters, is the terrific line up of bands that appear every Saturday night. The schedule of entertainment is posted both in the restaurant and on their website, with entertainment listed through October 1, 2016. One of the highlights of this lineup is the appearance of Zum Schneider's own Sylvester Schneider and Mos! Franzi and the JA JA JA's band on July 30th. This appearance will be the celebration of the 500th an­niversary of the Bavarian PuritLaw. Not familiar with this law, I looked it up and learned it was passed 500 years ago by Bavarian German noblemen stating that "nothing other than barley, hops and water be used" to produce beer and has been the law governing beer brewing in all of Germany. We know that Germans are serious about their beer and this law became "synonymous with high-quality German beer. Currently, some 5,000 different beers carry its seal." So we can see why a German Restaurant in Montauk will be celebrating this anniversary on July 30th! To check out the music schedule line up for this summer visit http: //montauk.zumschneider.com Dive-music-events.
Visiting  Zum Schneider Bavarian Bierhaus seems to be more than a dining expe­rience. It is being part of the good feeling and warmth of the German culture and the graciousness of the staff there ready to welcome new guests and those returning. Go for lunch, dinner or come in Saturday evenings for the music and a bite to eat or enjoy some fine German beers. You will see what other guests have discovered. Montauk's  Zum Schneider is certainly unique and a dining experience delight!