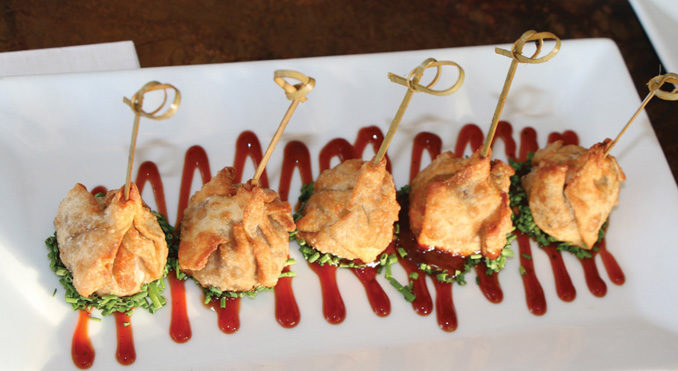 …by Sue Giustino…
Looking for a casual family friendly dining experience while enjoying picturesque Montauk waterside views? Westlake Fish House fits the bill, offering a menu for both land and sea lovers with an array of fresh sushi, as well as nightly specials including dock to dish creations.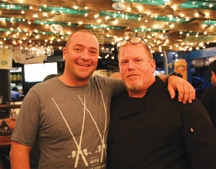 This year, owner operators James and Laura Lyons welcome Shawn Hewitt back to Montauk and into their kitchen. Shawn is a longtime Montauk resident and Executive Chef who was born and raised in Montauk, he learned his craft from his Chef father and the other Chefs he's worked with including famous restaurateurs David Burke and Bobby Flay. His most recent stint was as chef/owner of The Trestle in Astoria, Queens.
For our review, it was a perfect Thursday summer evening, we sat in the enclosed deck by the back bar, with the sun setting over the trees while
listening to the Woodworkers performing outside. Watching boats return from a day on the water, fishermen cleaning their catch, families playing the yard games or sitting on benches enjoy the music and a cocktail it inspires one reflect on how fortunate we are to enjoy these idyllic views and moments right here in Montauk.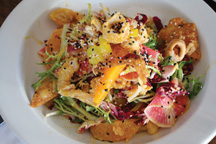 After being welcomed by Laura and our friendly waiter Ira, Chef Shawn presented us with the Westlake Seafood Platter; a tower of fresh clams, oysters, and shrimp chilling on a bed of ice. Following up the delicious shellfish, Chef decided to send us some of his picks and out came four lovely dishes: the Summer Salad, Mediterranean Plate, Westlake Salad, and BBQ Pulled Pork & Jack Cheese Dumplings. Consisting of sweet watermelon topped with salty prosciutto, tender grilled and chilled
asparagus, and fresh creamy burrata, the combination creates a blend of flavors making the Summer Salad pop in your mouth. Served with grilled pita, the tasty Mediterranean Plate offers a sampling of hummus, baba, feta & olives and tzatziki along with pickled carrots and curry cauliflower. One of the evening specials, the BBQ Pulled Pork Dumplings with jack cheese were crispy little pouches of delicious pulled pork arranged on a plate with a light dipping sauce and fresh chives. The Westlake Salad has always been one of my favorites, so when I saw it had changed I admit I
was a little apprehensive. However, this new creation was a wonderful blend of flash fried calamari, frisee, radicchio, watermelon radish, and banana peppers all tossed with a light orange sesame vinaigrette- I loved it.
The next course came from the Sushi Bar. A Fluke & Mango Roll which is elegantly presented with sashimi fluke wrapped around mango and cucumber spears with a spicy citrus sauce. The Westlake specialty roll
has avocado, spicy tuna and shiso inside with fluke and sea bass outside, while the Pink Lady has spicy kani salad, tempura shrimp, mango and avocado wrapped in a pink soy paper. All three rolls were perfect- depending on your favorites the
extensive list of Sushi, Sashimi, Maki and Specialty Rolls, as well as combo platters will certainly satisfy any palate.
Although we cried uncle, they had no mercy and the next course consisted of two House Specialties and two Evening Specials. Prepared 'summer light' the Linguini & Clams was perfectly al dente with chopped and whole clams, oregano and garlic.
The gently Pan Roasted Atlantic Halibut was accompanied by fingerling potatoes, pancetta and clams in a light sauce. Fresh caught- Dock to
Dish Striped Bass and Yellowfin Tuna were two of the many specials of the evening. The grilled Bass was perched upon a bed of sautéed broccoli rabe, a roasted corn and avocado relish and topped with blue corn tortillas with a Tomato Miso on the side. These diverse textures and flavors
blended spectacularly creating a mouthwatering dish. Grilled outside with a cool center the Yellowfin Tuna was cooked perfectly and accompanied by baby bok choy, a vegetable fried rice spring roll and a tomato miso vinaigrette. Although we enjoyed everything, these two dishes were table favorites.
Along with this amazing dinner menu they have an extensive list of Specialty Cocktails, frozen drinks, beers and wines. We sipped on some lovely LI Rose, a Saketine which is a perfect blend of sake and Crop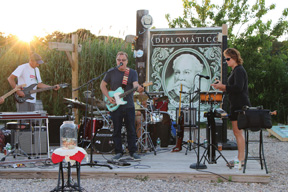 Cucumber Vodka, and a Broken Radar which blends three Diplomatico Rums with other special ingredients resulting in a big tasty rum punch! Enjoying a cocktail at the outside bar while being entertained by the nightly live music is one of our favorite things to do with friends.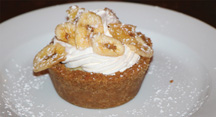 Desserts are made fresh by the pastry chef and include: a Lemon Tarte, Crème Brule, a warm Brownie Sundae, a light and airy Strawberry
Shortcake, and creamy Banana Cream Pie in a thick graham cracker pie dish crust. WOW, they not only look good, they taste great- so be sure to save room.
Breakfast is served daily starting at 5am, followed by lunch and dinner. They're open Sunday through Thursday 5am- 10pm, Friday and Saturday 5am-11pm, and serving Brunch from 12-3pm on Saturday and Sunday.
New beginnings can be challenging, but Westlake Fish House is certainly on the right track! For nightly Music line-up and more info: http://westlakefishhouse.com/