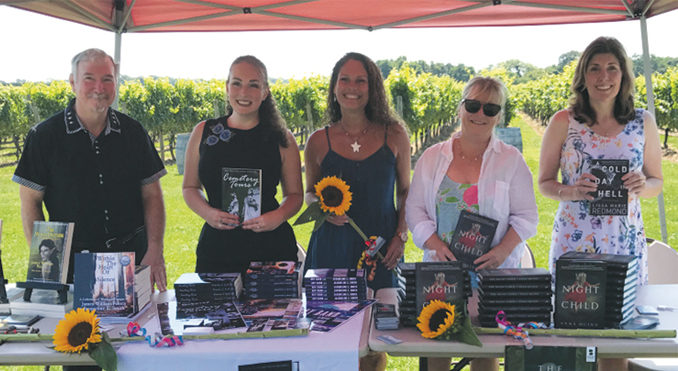 …by Sue Giustino…
About a year ago Mary Pettit – a friend of mine from work – and her online book obsessed friend, Jennifer Allabastro started a blog: Two Girls and a Book Obsession. It started as a mutual love for the same kinds of books but then grew into so much more! They review books, interview authors and other book loving people, and they organize events bringing readers and authors together.

In August, I was lucky enough to attend a "Book and Wine Pairing" event at Clovis Point Vineyard on the North Shore and met four wonderful authors. Jackie Smith, Anna Quinn, Lissa Redmond and James Peercy made the trip to NY just to attend the event, sign their amazing books, and do a reading. While I had not read any of their book prior, it was a pleasure to meet them and get a first-hand synapsis of their writing.
After buying a few books, which they signed, I can't wait to read their work! Plus, I enjoyed a glass of wine or two with some great friends. It was a great day.
"What I loved most about today was hearing how important a blogger's reviews are and our ability to network with others is to an author and how an author's support for a blogger is so critical to our own growth and ability to gain more followers. To review a book we loved on our blog gives us great pleasure but to look an author in the face and tell them how much you loved their book was priceless!" ~ Mary Pettit
Find them on Facebook: facebook.com/Twogirlsandabookobsession
Twitter: @Bookobsession4
Instagram:  two_girls_and_a_book_obsession
Follow their blog for automatic updates, reviews, requests, and other book news: www.twogirlsandabookobsession.com