Tucked away past the downtown area of Montauk on the way to the Lighthouse is The Crow's Nest, affectionately known as the "last restaurant in Long Island" since it is roughly four miles from Montauk Point. Its landmark, an illuminated ship on the corner of Montauk Highway and Old West Lake Drive catches attention, a strong symbol of the Crow's Nest foundation of seafood specialties served overlooking the water.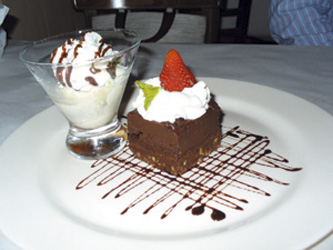 Dutifully waited on by an outstanding server and encircled by substantial, glowing tanks of exotic sea-life and local Lobsters, our dinner at the Crow's Nest was pleasurable as it was satisfying. Sampling the signature New England clam chowder, full of clams and rich in flavor, our prelude to our entrees also included the traditional Caesar Salad piled high with crisp croutons and flecked with slivers of Parmesan cheese. Local Clams and Oysters on the Half Shell, chilled Shrimp Cocktail and Smoked Salmon smothered in Brie were tempting starters that made our decision pleasantly challenging.
The wine list generated by the Crow's Nest is a well-rounded collection with broad appeal. Underscored are local vineyards from the North and South Fork, as well as the customary Californian, Italian, Chilean and French wines, mingling with South African, Australian, Spanish, New Zealand, Washington and Oregon varietals.
Choices from the land, sea, and specialties from the house offered a variety of dishes that included a daintily roasted Rack of Lamb, seared Duck Breast, Marinated Free Range Chicken, Tri-Color Peppercorn Filet, Handmade Lobster Ravioli and bountiful Seafood Linguine.
Enticed by the description of the evenings' specials, the Beef Wellington, encased by a flaky crust, and buttressed by bright green asparagus and chunky hand-cut fried potatoes was an opulent dish, well versed by Chef Sean Blakeslee. Coming to the Crow's Nest with many years of experience in New York City, Sean Blakeslee skillfully creates dishes including the buttery Chilean Sea Bass, resting atop gently sautéed spinach and speckled with baby tomatoes in a dazzling yet subtle broth. Vegetarian needs are heeded at the Crow's Nest, offering a broad cut of al dente Lasagna, crowded with fresh vegetables and draped in gooey cheese and fierce tomato sauce.
Quite satiated yet coaxed by the impressive dessert selections, the Velvety Vanilla Crème Brule beneath a thin, candied crust and plush hunk of chocolate cake with a whipped cream mousse and crunchy nut base justified our temptation and satisfied our sweet tooth. Pleased with our experience at The Crow's Nest, it is clear that this Montauk Landmark is here for many years to come.
The Crow's Nest Restaurant is open for lunch and dinner with over four pages of items to choose from. Lunch is served from 12-4 pm. Steakhouse specialties are served nightly. The Crow's Nest Restaurant is open seven days a week from 12 am to 11 pm. A special feature that I thought was unique is that they offer a "Clam Bake to Go", including lobster, clams, and chicken, complete with all the trimmings. The restaurant will send a cook and staff to your home, beachfront choice, wherever, and cook and serve on the spot. Now that is service when you are entertaining and want to be like a guest at your own party! Spacious enough to accommodate large groups, the Crow's Nest is also a popular choice for wedding receptions and has an amazing per guest fee for these and other larger parties. For more information, you can visit their website at www.crowsnestrest.com or call them at 668-2077 or 6668-4483.