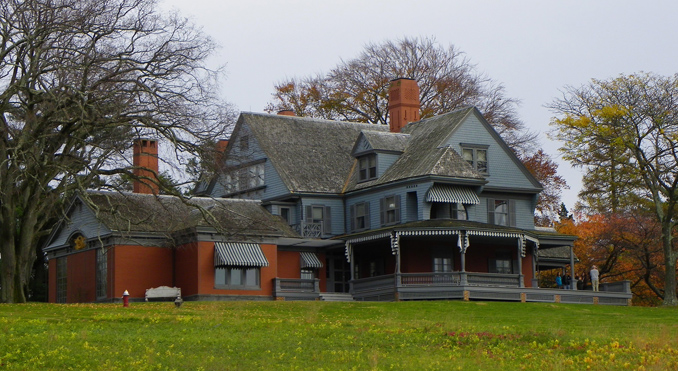 by Evelyn J. Mocbeichel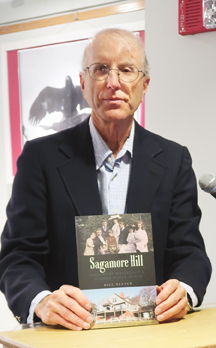 Once again the Montauk Library arranged an interesting guest speaker as part of their programming schedule. Bill Bleyer, author and historian, talked about Sagamore Hill: Theodore Roosevelt's Summer White House on Long Island. With his credentials as a prize winning staff writer for 33 years at Newsday, a follow up career as an author naturally fell into place for Mr. Bleyer. He is the author of The Fire Island Lighthouse: Long Island's Welcoming Beacon (The History Press 2017), Sagamore Hill: Theodore Roosevelt's Summer White House (The History Press 2016) and co-author of Long Island and the Civil War (The History Press 2015). ). He is currently working on Long Island and the Sea: A Maritime History, to be published by The History Press next spring.
Naturally most Montauk residents and summer guests know about Roosevelt's Rough Riders returning to Montauk in 1898 after the Spanish American war. Third House Museum is dedicated to these men that were stationed on the East End of Long Island. Mr. Bleyer's lecture and slide presentation covered so much more about Theodore, "Teddy" the man from his early life, marriages and family background. Who would have guessed this rough, tough courageous man was sickly as a child with an asthma condition? The audience heard how "Teddy" became Mayor of New York at only 28, then at age 40 the governor. Hearing about Teddy's upbringing and what a wonderful family man he was, detailed more about him than known through his military and governmental biographies. After the lecture I followed up on learning more about Theodore Roosevelt and one quote stood out that showed how his father's influence contributed to his personality and fortitude.  It was said that when Teddy enrolled in Harvard College back in1876 is father told him, "Take care of your morals first, your health next, and finally your studies." These words must have been his moral compass throughout his life as Bill Bleyer detailed Roosevelt's biography and his summers at the family's beloved Sagamore Hill.  Personally, not being from Long Island, I was unaware that Sagamore Hill was the family compound he enjoyed all through his youth on summer vacations. It's in the Oyster Bay area in Nassau County on the North Shore. So beloved that as a young many, Roosevelt purchased 155 acres next to the family's compound. He spent from 1885 until 1919 there until he passed away. The United States Register of Historic Places has the 22 room Sagamore Hill listed and includes the Theodore Roosevelt Museum in a larger building on the grounds.  Visitors can tour the building and see all of the original furnishings and learn more about Roosevelt's second marriage after his first wife passed away and follow the growth of his large family of five children.
There is so much to learn about our 26th president who served from 1901 to 1909, who is perhaps overshadowed by his cousin, Franklin D. Roosevelt in the historical content of their presidency. Mr. Bleyer brought fascinating tidbits about Theodore through the slide presentation and commentary throughout the lecture. For more information about Bill Bleyer's book, Sagamore Hill: Theodore's Roosevelt's Summer White House visit the following website:  https://www.arcadiapublishing.com/Products/9781467118095