Just a few steps off the beach and you head to the bar for some live music, a drink or a snack; feel like you're on vacation yet?  Say "Hi" to Pete or Espo behind the bar and they'll be sure to take care of you. Take a stroll to the upper deck and experience the vast Atlantic Ocean breaking on Nick's Beach while dining on the outdoor deck or indoor dining area, separated by a sprawling 360 degree bar. Are you there yet? Breathe… smile…and relax, you're on vacation- or can at least pretend you are.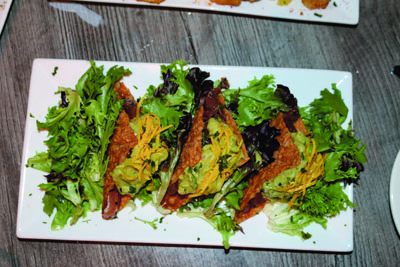 Open 7 days for lunch and dinner the Sloppy Tuna offers daily special drinks and eats as well as their regular menu. Anything from clams and oysters on the half shell, to coconut shrimp, mozzarella and zucchini fritter, wings, taco, salads, lobster roll, veggie wrap, beach burger and fresh cut fries… to name just a few; there's sure to be something to please hungry beach goers or evening diners.
On a stormy July evening, from the upstairs panoramic windows we watched the clouds roll  above the ocean and the lightening illuminate the beach below.  We started with some pre-dinner treats from the bar; The Dutch- a special drink that included Dutch Moonshine and House Lemonade, the Tunarita a house specialty margarita, and a Peach Palmer with sweet tea vodka, peach schnapps and house lemonade, each cocktail was tasty, light and refreshing.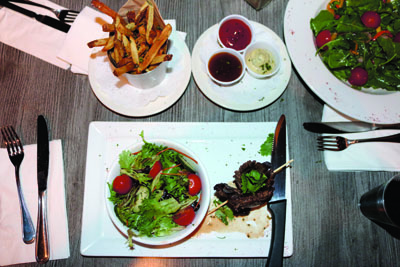 Since we've already enjoyed some of their delicious sandwiches like the Lobster Roll generously served on a toasted brioche roll, and the steak sandwich with chimmichurri marinade, caramelized onions and Jack Cheese, Danielle, our charming waitress, suggested some appetizers from 'The Beginning' menu. We especially enjoyed the Shark Bite which was big chunks of tender fresh swordfish grilled on skewers with fresh vegetables and marinated in lemon aioli.  The sushi grade Tuna Tartare resing in a crispy wonton with Asian marinade, guacamole and orange zest was fresh and the flavors blended perfectly. Lightly crusted and tender, the Calamari served with grilled pineapple, jalapeno and sweet chili sauce is always a good choice when sharing with friends.  Finally, the two types of Mussels- in white wine and garlic, and "Bloody Mary' were tender and delicious served with garlic bread perfect for dipping in the sauces.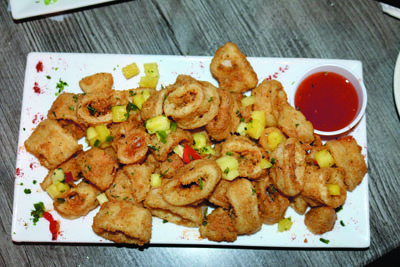 After all of those wonderful appetizers, we decided to taste just one of the specials and a few salads. The Chimichurri Marinated Skirt Steak served with a house salad and Homemade Fries was perfectly marinated and tender and accompanied by two optional dipping sauces, however it was great as is. The Summer Kale Salad complete with cherry tomato, bell peppers, purple cabbage, carrot, pineapple, and a sweet chili vinaigrette was light and the dressing was an excellent balance of sweet and spicy. Finally, the Watermelon and Feta Salad was sweet and refreshing; both perfect summer salad choices.
Chef Jeffrey, originally from Puerto Rico but here for 8 years is enjoying his first year as chef of the Sloppy Tuna. He was a pleasure to speak with and shared that much of his training started early on with his Mothers and Grandmothers influence. Chef Jeffrey prepares nightly specials incorporating a Caribbean flare while offering diners additional plates to chose from.  We had a lovely evening enjoying an amazing view and a delicious, casual meal.