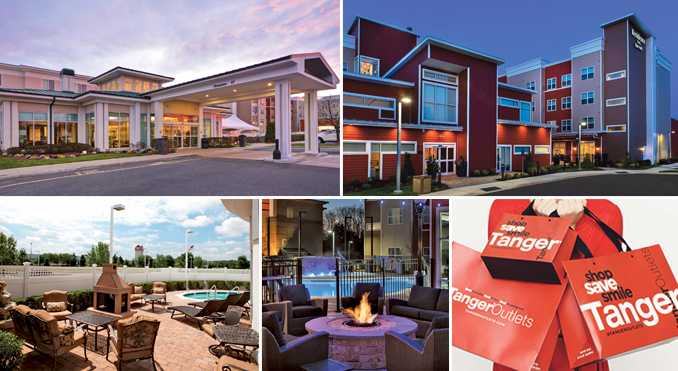 by Sue Giustino
Hilton Garden Inn Riverhead
Residence Inn by Marriott
With limited getaway opportunities in this time of COVID, many people are looking in their own backyard for a change of scenery. Along with so many outdoor opportunities in Montauk and the South Fork, Riverhead and the North Fork affords Long Islanders and other visitors numerous activities for day or weekend getaways. From summer beach and park fun, to spring/fall/winter winery/brewery tours, and pumpkin and apple picking, the options are many while accommodating to all.
Located across from the Tanger Outlets, at the beginning of
the North Fork; surrounded by shops, restaurants, breweries, wineries, cooking classes, hiking trails and more; the Hilton Garden Inn Riverhead and the Residence Inn by Marriott  are two perfect choices for a quick or extended Staycation.  Sharing adjoining parking lots, the two properties offer a variety of room types, indoor/outdoor pools, fitness center, restaurant and lounges, hot tubs and fire pits.
The Hilton Garden Inn https://www.hilton.com/en/hotels/isprhgi-hilton-garden-inn-riverhead/ has a restaurant- Long Island Fork– on premises and open daily from 5-10pm. In addition, there is a roomy bar, breakfast buffet and room service is available if you'd prefer not to leave your room.
The Residence Inn https://www.marriott.com/hotels/travel/isprh-residence-inn-long-island-east-end/ next door has many amenities as well. Relax at the Loft Lounge and Bar for a craft beer, cocktail or a light bite, and enjoy a complimentary continental breakfast- now a grab and go bag with a variety of breakfast treats. With many Suite options to choose from, you can also enjoy a stay with your family or friends with all the comforts of home with none of the stress.
The suites at the Residence Inn are beautiful, extremely spacious- bigger than most NY studio apartments-and the layout is perfect; accommodating all of the amenities with lots of living space. There is a well equipped kitchen with a microwave, and efficiency sized stovetop, refrigerator and dishwasher. It's perfect for a short visit or even for an extended stay.
Both properties are clean and welcoming. The lobby, hallways, and rooms have esthetically pleasing décor, and are also
equipped with hand sanitizer and/or antiseptic wipes. The sitting lounges have been spaced with social distancing in mind; offering seating for small groups or individual quiet time.
The well landscaped outdoor areas with pools, hot tubs and fire pits offer space to gather at a safe distance. If you don't want to head out to a restaurant, eating in your room is comfortable and convenient. Followed up by a relaxing venture out to the fire pit. On a cool evening, enjoying the night sky in big comfortable chairs, chatting with friends and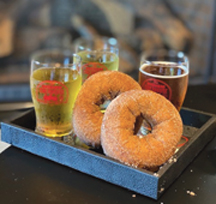 sipping on a beverage, or enjoying uninterrupted family time, it doesn't get much better.
Delightful experiences await for a relaxing weekend of your making; shopping, visiting wineries, a work-out in the gym, relaxing in the indoor or outdoor pool, sitting around hot tub or the fire pit, or even taking advantage of one of their packages.
Book a Wine Tour or our Brewery & Distillery Tour. Book one or both of these tours [Ncastillo@browninghotels.com] with East End Wine Tour including three handpicked wineries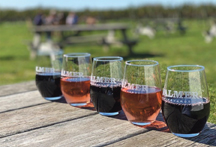 on a shuttle bus, boxed lunch and wine tastings-$149pp + lodging with a four person minimum. Or experience one of their Shop & Stay packages: 1. An overnight stay at Hilton Gardens, a Tanger Coupon Book with over $1,700 Savings, a glass of wine or beer, and 1 appetizer in Long Island Fork Restaurant & Bar, plus a
continental breakfast for two.  2. An overnight stay at the Residence Inn by Marriot, a Tanger Coupon Book with over $1,700 Savings, a bottle of wine from their market, plus a continental breakfast for two.
'Rest Assured', you will feel comfortable during your visit with the Elevated Cleaning Protocols at both properties: thoroughly disinfected surfaces, doors, elevators, rooms, public areas, and on their shuttle bus. Social distance seating is arranged in all public areas and fitness centers. Marriott Bovoy or Hilton Honors members can use contactless and enhanced check-in/out.   Of course, be sure to pack your mask to be used in all public areas of the hotels.
So get your loved one, family, or close covid-circle group and escape, relax, and enjoy a change of scenery. A fun 'STAYCATION' time is yours for the asking.
STAYCATION: noun [ C ] informal
pronounciation: /steɪˈkeɪ.ʃən/
a vacation that you take at home or near your home rather than traveling to another place.
Example: Rather than traveling far from home, a staycation in Long Island is a good idea.
                                                                                           -from the Cambridge Dictionary.