…by Patria Baradi Pacis…
On Friday, April 20, a group of about one hundred consisting of students from Montauk and East Hampton High School, their teachers, friends, parents, siblings and their pets gathered together at Kirk Park to start "The March For Their Lives" walk. Its

purpose was to find ways on how the community can help create a safer environment for the kids in school especially after the Parkland, Florida school shooting last February.
Teary eyed Nancy Atlas opened with a song she wrote for the occasion being grateful to have her children celebrate her birthday that day knowing that other parents who lost their loved ones were not so fortunate.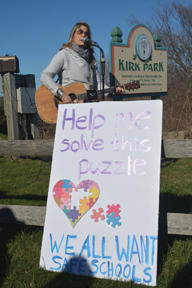 For the past couple of months, Pastor Bill Hoffmann from the Montauk Community Church (MCC) and Father Tom Murray from St. Therese Lisieux Catholic Church have been holding meetings with the locals to discuss ways to prevent future tragedies. Pastor Bill pointed out that although we have strong disagreements, we all agree that we want our children safe. He encouraged the group to have honest and open discussion and cooperation with one another instead of ending up with shouting matches and demonizing those who disagree.
Students holding banners with the sayings: "Help Me Solve This Puzzle," "Books Not Bullets," and "End Gun Violence" led the group. Together, they marched to the Gazebo On The Green. Montauk's School Superintendent Jack Perna, educator and parent, Heather D'Agastino, members from the MCC family, Chip Duryea and East Hampton senior Gianna Gregoria expressed their views such as:
"Gun ownership is more than a right. It is a privilege. We must take responsibility",
"Know what you stand for and make others understand" and
"The time is to act now!"
Sensitive gun control, mental health and cultural issues and bullies were also discussed. Pastor Bill reiterated "even though prayers are fine, they are not enough." "We must turn our prayers into action." "We need to listen and talk to one another." "We need to be sensitive to those around us" and "Never stop having hope."
The program closed with the entire crowd singing "America The Beautiful" led by local singer Sarah Conway." A special shout out to the McCoy bus company for providing free transportation to the group and to all those who volunteered to make this event a great success.