It's amazing that some of the best places in Montauk are the ones that are truly hid-den away. If you enjoy fresh, authentic Mexican food, barbeque, or seafood, then it's time you seek out one of Montauks treasures, The Hideaway at the Diamond Cove Marina.
Frieda and Skip have been married for 42 years and obviously complement each other in love and in their culinary talents. They operate a finely tuned kitchen and do all of the cooking in house. Frieda incorporates the traditional Mexican secrets from her family, while Skip is the master of the barbeque and seafood delights. Their kitchen is spotless and they even have a refrigerated prep room and TV's around for prep time to keep their kitchen help happy- "if s important to have fun in the kitchen" says Skip. He told us that many years ago his dad told him "No matter what you do, do it right."
And that's what they do at The Hideaway, they do it right! Sitting at the bar; there's also outdoor seating and seats along the windows that are taken out on sunny days with a view of the marina, we were treated to one of bar-tender Sushil's special margaritas. The bar offers 8 beers on tap, and a long list of bot-tled beer, red or white Sangria, 120 tequila's-'on a good day'-, and special tequila cocktails including the Skinny Pina, Bloddy Maria's, and the one I tried, the Guanabano Paloma. This refreshing cocktail combines tequila with guanabana juice and grape-fruit soda. We also sampled the Havanero Peach, sweet Basil Pink, and the Jalapeno Watermelon Margarita's, they were all very unique and tasty alternatives to the tra-ditional margarita.
Skip proceeded to bring us what seemed like an unending variety of delicious plates. The Wild-Caught Shrimp Ceviche was perfectly marinated; spicy, bursting with a tasty citrus-cilantro flavor with chunks of shrimp, and diced tomato. The Pozole Rojo is a traditional Pre-Columbian soup made with hominy, slow-cooked pork, and chilies then garnished with shredded lettuce, onions, and lime and served with chips. It was so tasty, gently spiced with a light broth. The Sopes were next; they are small handmade thick 'tortillas' topped with black beans, lettuce, pico do gallo, crema, and queso fresco. We sampled the Avocado & Cheese, Brisket, and Chicken Tinga [shred-ded chicken in a tomato and chile chipotle sauce] which were full of flavor, each of-fering a unique taste. Additional choices include Pulled Pork, Grilled Vegetables, Pork, Steak, Chorizo, Pulled Pork, Chicken or Wild-Caught Shrimp. Next came out tender chicken stuffed Jalapeno Pepper which is presented in a slow-simmered red sauce topped with queso fresco and crema; this dish is amazing, not the fried jalapeno pop-pers we thought they were. Depending on the pepper this can be a bit spicy, but ours was perfect it had a nice bite but not too hot and the mixture of chicken stuffing and red sauce was terrific.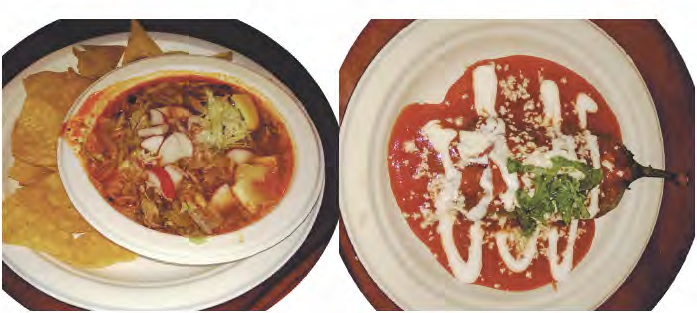 At this point we were already full but Skip had two main entrees that he wanted us to try, he promised to wrap up the leftovers for us to take home. Flautas are crispy fried rolled- tacos stuffed with pork (or chicken) and topped with chopped lettuce, pico do gallo, fresh sliced avocado, crema, and queso fresco served with traditional Mexican rice and beans. One of the evening's specials was our second dish: Duck in Mole Sauce. The duck was tender and covered with their special home-made Mole Sauce- which is not to be missed! Both of these meals were delightful and there are so many other delicious choices on their menu you'll want to keep coming back to try them all.
All of the meats, St Louis Style Ribs, Beef Brisket, Pulled Pork, and Chicken are all slowed cooked and bursting with flavor. While the Steamed Seafood choices; shrimp, steamers, mussels, and an unbelievable combination platter- each offer the freshest tastes. From mozzarella sticks, Nacho's, hamburgers, fish and chips, Tacos, Burritos, and Quesadillas to fresh guacamole, mango black bean corn Salsa, Mexican Corn like you've never had and become addicted to, Enchilada Verdes, and Alambres there's something for everyone at the Hideaway.
The casual atmosphere should not be mistaken for your run of the mill Mexican fair; everything on the menu is the highest quality and the sauces range from very hot to mild as to accommodate all palates. We frequent the Hideaway but this night, we decided we needed to move past our usual favorites. So when we arrived Skip told us that he would prepare some of the dishes that we haven't tried, and ohhhhh was it wonderful.
Look for their Fall Specials on BBQ Seafood, and Taco's. They'll be open every day for lunch and dinner through Labor Day- call for hours after Labor Day.