The Trails End eatery opened in 1927 and was originally on the bay near the old fishing village. [At one point it was won in a card game!! But that's another story.] Much of the old village was destroyed by the hurricane of 1938; the building survived but was moved to its present spot. For years the Trails End Restaurant has been known for family-style American comfort food in a friendly atmosphere with reasonable prices.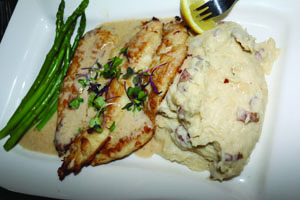 Now the oldest restaurant in Montauk has been sold, and as this new chapter in the restaurant's history begins the new owners have incorporating updated styles of both décor and fare while keeping some of the charm and history alive. Michael Nasti and Steven Paluba have teamed up on their venture of creating a new 'TAUK' of the town. TAUK @ Trails End offers simple elegant food with indigenous product and sustainable local fish.
Michael Nasti and his wife Colleen have been enjoying Montauk since the early 90's when they would summer for a few months each season. Eventually that expanded to April through October. Interstate trucking is Michael's business and along with his family's shift to extend their Montauk life, he was looking for investment property here in Montauk. Working with a local Real Estate he came across the Trails End- asked Steven Paluba if he'd be interested in going in with him as Partner/ Executive Chef- Steven and his wife, also a Colleen, agreed- and the rest is history.
The two families met six summers ago while enjoying a Montauket sunset; they became friends instantly. The Nasti's quickly became fans of Steve's culinary skills and frequented Steven and Colleen's Café at Atlantic Terrace. Eventually Steven was asked to be their Chef for many events and charters on the family's boat. So when Michael thought about this new restaurant venture his obvious choice was his friend Steven, with his talent, experience, and potential.
Steven is an accomplished Chef who has had an appearance on Hell's Kitchen and has an excellent reputation here on the East End. He's catered for celebrities and high end clientele, as well as catering weddings and local clam bakes that people line-up for year after year.   While interviewing Steven about the new restaurant, he said, "The key virtue in my Kitchen is consistency.  I want my customers to enjoy a dish and come back 2 years later and enjoy the same taste."
Open since June, the establishment has taken off and TAUK is now a popular dining destination. Lunch and dinner is served daily in either the remodeled dining room with a casual rustic Montauk décor, out front on the quaint deck, or in back on the beautiful private patio where they also have live music each weekend.
For this review we were joined on a Tuesday evening by my in-laws Helen and Joe and once again it was a very pleasing experience. Greeted by our friendly waiter Sean, we asked him for suggestions on some of the favorite dishes and he had excellent recommendations. So to start, we enjoyed a few of the specialty cocktails. The Loco Cocojito which is made with Mtk Rum Runners Coconut Rum, mint, and lime juice; Becky's Raspberry Lemonade prepared with fresh raspberries; and the Spicy Watermelon Margarita with jalapeno infused tequila and fresh watermelon. Each unique creation was delicious as well as pretty to look at. Enjoying our cocktails, we nibbled on a fresh loaf of Italian bread with a very tasty basil and cheese oil.
A highly recommended appetizer was the Fresh Ceviche which we learned from Mike is prepared with the local catch, tonight happened to be Fluke, and marinated in lime, lemon, herbs and seasoning and elegantly served in endive boats. He also explained their fish buying process: each day they buy a variety of local catch for the evening's specials, in a relatively small quantity to ensure the freshest quality, if there's any fish left it is marinated overnight for the next day's Ceviche.
Bursting with flavor and a bit of a spice the Fluke Ceviche was absolutely one of the favorites of the evening. Steve's fall off the bone baby back ribs never disappoint, tender and served in a sweet/tangy BBQ Sauce. While the Baked Stuffed Clams Casino offer a smoky blend of clam and seasonings that was also quite tasty.
As we sat at our table, the crowd continually increased filling both in and outdoor tables; a busy Tuesday night.  It was obvious that Steve works hard behind the scenes in the kitchen preparing everything to look and taste like you're the only diners in the restaurant. While Mike monitors the floor, chatting and welcoming diners and ensuring that everything runs smoothly-even giving a helping hand to the staff as needed. We asked him about the art work on the walls and he said that Ryan Keeley is the talented artist-  [Utilizing a technique which allows Keeley to add very fine detailed photographic imagery to his paintings which he calls "Layered Hybrid Expressionism" similar to true expressionist paintings however using various forms of media layered on top of each other.]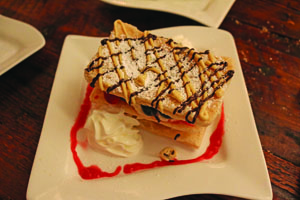 As dinner arrived we each sampled one of the red wines on the list, they were delicious. Along with additional Red, White, Rose and Sparkling choices by the glass or bottle, and the unique Specialty Cocktail list, there's something that is sure to please everyone. With our wine, we enjoyed the Fluke Meuniere and the Seared Diver Scallop– both evening Specials. From the regular menu the Lobster Linguini and the Applewood Bacon Cheeseburger. Perfectly seared and sitting atop a creamy Shrimp and Asparagus Risotto the Scallops were exquisitely tender and along with the risotto resulted in an amazing blend of flavor. The Fluke Meuniere was light and delightful served with asparagus and the creamiest whipped red potatoes I've ever eaten. If hamburgers are your thing, this is one to try.  A large handmade burger grilled to your liking and served on a brioche roll with hand-cut fries, lettuce, tomato, pickle and tomato jam. The Lobster Linguine, just one of the delicious sounding pasta dishes, is tossed with sautéed fresh lobster and garlic, shallots, chives, butter, wine and tomato, and sprinkled with pecorino- producing a delectable light, fresh and gently creamy pasta dish.
In addition to the nightly specials, this extensive menu offers additional appetizers, salads, soups, entrees, sides and even a kids menu with a soda and ice cream included. Desserts, did I mention the homemade creations that Steve assembles fresh to order? It may take a bit longer to receive, but they are definitely worth it.  Snafflized Cheesecake,  Fresh made Crepes with berries, and homemade Chantilly Cream, Tuak Napoleon layered with vanilla ice cream, mousse, berries with ganache and sauce framboise, and the famous Oreo, Nutella, Marshmallow Wontons… you'll just have to come in a give them a try- they are even better than they sound.
Open daily for lunch and dinner– and they offer After the Beach Specialsfrom 2-5pm. Come in for a lovely wrap, chicken Quesadilla, creative tasty sandwiches, as well as some of their dinner menu items, and of course Drink Specials.
There's a lot of history associated with the Trails End- and the new owners tried to preserve some of it by keeping the old Trail's End signs and incorporating the blue and white color scheme in the dining room. In addition, they have re-created the restaurant, TAUK @ Trails End, with a bit of nostalgia. In preserving the 89 year old history of the building, 100 year old reclaimed wood was used for the bar and table tops. They also kept the phone booth closet and the extremely large urinal in the men's room…  Stop in and check it out- and Locals don't forget to ask about the Local VIP program.
https://www.facebook.com/taukattrailsend/?fref=ts