…by Sue Giustino…
After a successful season, TAUK @Trails End is once again planning to stay open in the off season. Chef Joel and his team are now offering a fall menu along with many of the favorites from this season. We enjoyed a sampling on a beautiful Saturday evening while being entertained with live music by Manny.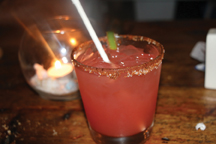 With Dave behind the bar crafting some of their specialty cocktails and relaxing while enjoying warm fresh baked bread with an oil and balsamic dip, a spicy watermelon margarita and a nice red cabernet, our evening was off to a great start. Offering a variety of 'freshies', 'mules', and local creations, along with complete lists for the beer lovers and the wine enthusiasts, the TAUK bar has it all.
For starters, we chose a few options that warm you up on a cool fall evening. The spicy/sweet fall off the bone BBQ Spare Ribs which never disappoint. The Homemade Fried Zucchini Chips were hot, thick, crispy, and delicious with the cool creamy dipping sauce. Finally, the Baked Clams with a perfect blend of bacon, clam and spice were a flavorful treat.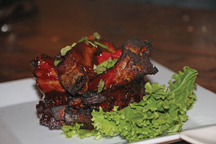 The menu spans land and sea with an array of choices for all; including healthy options and meals 'for little TAUKers'. Roasted Cauliflower is one of my favorite dishes to make, but Joel's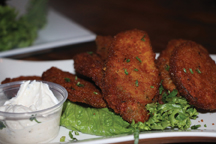 description of his creation is something I'd never imagined. Roasted tender and topped with sautéed blueberries and cannellini aioli this cauliflower was both unique and delicious. The blueberries were not too sweet or overpowering; just accenting the natural cauliflower flavor.
Along with this dish we had the Eggplant Rollatini, the Lobster Pasta, and the Catch of the Day. Each meal was fresh, full of flavor and beautifully presented. The tender Eggplant is rolled with ricotta cheese and roasted pepper, and baked with fresh tomato sauce and mozzarella cheese. While the Lobster Pasta is linguini with a light pink sauce, loaded with chunks fresh house poached lobster meat. Finally, the Catch of the Day was fork tender blackened swordfish atop a panzanella salad loaded with fresh tri-colored cherry tomatoes.
As pleasing as the entrees are be sure to save room for the mouthwatering selection of desserts, because they are irresistible. Our choices were the Creamy, Tart Key lime Pie and the airy, light, smooth fresh Chocolate Mousse. Both were worth every calorie! Once again Chef Joel's meal was outstanding, and from the way the crowd increased as we were dining, it's obvious he and TAUK @ Trails End has quite a following.
For further information and hours check out their website:
http://taukattrailsend.com/