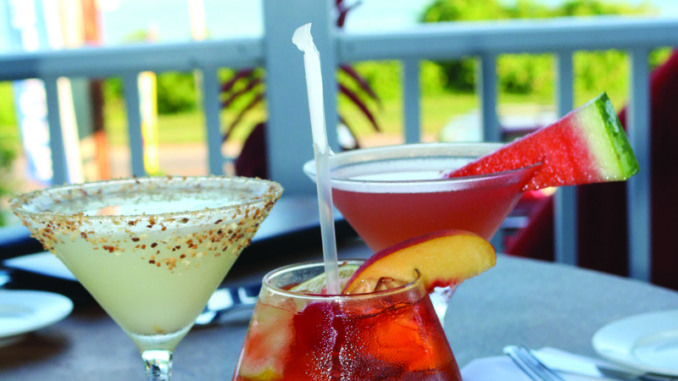 by Sue Giustino
…A memorable place to enjoy delicious food with a view
Prior to becoming Surfside Inn and Restaurant in the 80's the property was operated as a Hotel & Restaurant under the names Surf & Sand and The Anzac House. However, its history dates back to World War II when the premises was occupied by the Coast Guard officers during their service. Now a family owned business for thirty four years, the present owners have taken the history and tradition of the premises to heart and operate with the motto, "MONTAUK THE WAY IT USED TO BE".
Owners and operators Tom and Helene, along with their welcoming staff, work diligently to ensure all of their guests have a wonderful dining experience. While speaking with Tom he reiterated this commitment, "I order only prime meats, and create top drinks that are not small or filled with sweeteners." True to their beliefs, the friendly, relaxed atmosphere is exemplified further by the fine food
prepared by Chef Gary who has been part of the Surfside family for over 10 years. Chef Gary Lyons originally from Georgia, and Sous Chef Juan Brufau from Agentina, are a team that from their inspirational kitchen with an ocean view, produce a creative menu incorporating specialties and techniques from their upbringings. When eating at Surfside, you're truly in for a dining experience that is uniquely Montauk.
Seated on the quaint front deck overlooking the Atlantic Ocean, I was overcome by a comfortable feeling of sharing a dinner on the porch of a friend. We were greeted by our waiter Richard who pleasantly informed us of the evening's dinner specials and recommended a few specialty cocktails; we appreciated his warm attentive service. Choosing a Coconut and a Watermelon Martini, from a list of six martinis, as well as a Red Sangria and a Planter's Punch- we really enjoyed how unique, light and refreshing each one was.
While sipping our cocktails, relaxing, and soaking in the mesmerizing view and natural ambiance of this optimal location, we decided to have Chef Gary choose some of his favorite dishes for our meal. Two appetizer specials of the evening were Stuffed Baked Clams and Lobster Cakes. The clams were chopped [unlike their Clams Surfside that are prepared whole] and blended with Andouille sausage giving a light smoky flavor to these delicious clams. While the menu always has a Crab Cake, tonight we enjoyed a Lobster Cake packed with tender lobster and served with a Remoulade sauce. And of course, a house favorite, Honey Ginger Popcorn Shrimp topped with sesame seeds and scallions. Spicy, sweet, crisp- these delicate shrimp are hard to stop eating.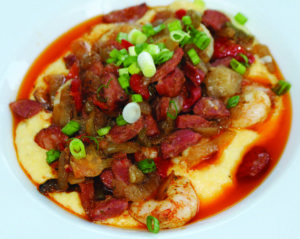 The main course menu is divided into From the Frontyard, comprised of a selection of fish and seafood -Pasta, Pasta, Pasta- and From the Farm, offering an array of beef, pork and chicken. Fortunately we were served one meal from each section. Bringing traditional Southern flavors to
Montauk, the Savanna Style Shrimp [one of Chef Gary's specialties] is a Shrimp and Grits dish like no other. With Andouille Sausage sautéed with red and green peppers, and onions all served over creamy Cheddar Cheese Grits, the result being an unbelievable spicy blend of deliciousness. Their al dente Lobster Ravioli filled with tender lobster, sitting in a delicate Parma Rosa Sauce and topped with fresh basil, diced Cherry Tomatoes, Maine Lobster Meat and fresh shaved cheese is not to be missed. The Boneless Braised Shot Ribs in Veal Demi-Glaze is fork-tender arranged with crispy Herb Crusted Roasted Potatoes, Roasted Cipollini Onion and Grilled Peppadews. As usual when we visit Surfside, our entire dinner was perfectly prepared and presented for our enjoyment.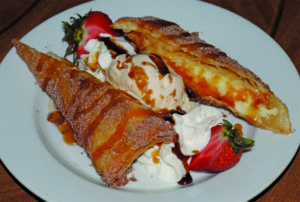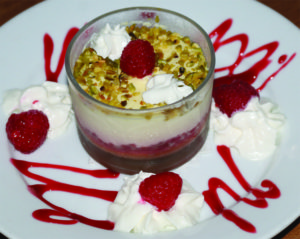 Apparently a meal would not be complete without some after dinner tasty treats. Chef sent more than we could eat, but they are all homemade and so good it must have been hard for him to choose just one. The Raspberry Mascarpone is delicate multi-layer creation, while the Cappuccino Tartufo [not home-made] is rich and creamy. Florida Tequila Key Lime Pie with Tequila in a Buttery Graham Cracker Crust is tart, thick, and creamy- one of the best in Montauk. The Fried Cheesecake with Vanilla Ice Cream is creamy cheese cake rolled in pastry dough and fried then dusted with cinnamon sugar- it's delicate and flaky-like a stuffed churro, only better. Be sure to leave room because each dessert is a culinary delight; as beautiful to look at as they are to eat, absolutely delicious and served with fresh berries, ice-cream and/or whipped cream.
Frequented by locals and visitors returning year after year, The Surfside Country Inn and Restaurant is an ideal dining and/or lodging destination. With its picture-perfect views of the ocean, the Inn offers a memorable getaway; it's only a 5 minute walk to the village and there's an ocean beach path just a few yards from the front door. Along with the fabulous view and food, there's Live Music every Thursday and Friday evening, Dinner is served daily, Saturday lunch at 12pm, and a delicious Sunday Brunch is available at 10am. For a night out, or for special events, rehearsal dinners, or intimate weddings Surfside Inn is a perfect choice. http://www.surfsideinnmontauk.com/