Gazing from the deck or inside dining room, just beyond the natural seaside greenery diners are treated to a spectacular view of the Atlantic ocean-one of the best in Montauk. Add to the view a friendly, relaxed atmosphere and fine food prepared by Chef Gary who has been part of the Surfside family for 10 years and you're in for an experience that is uniquely Montauk. Chef Gary Lyons and Sous Chef Juan Brufau are a team that from their inspirational kitchen with an ocean view, produce a creative menu with an exciting array of brunch, dinner and dessert items.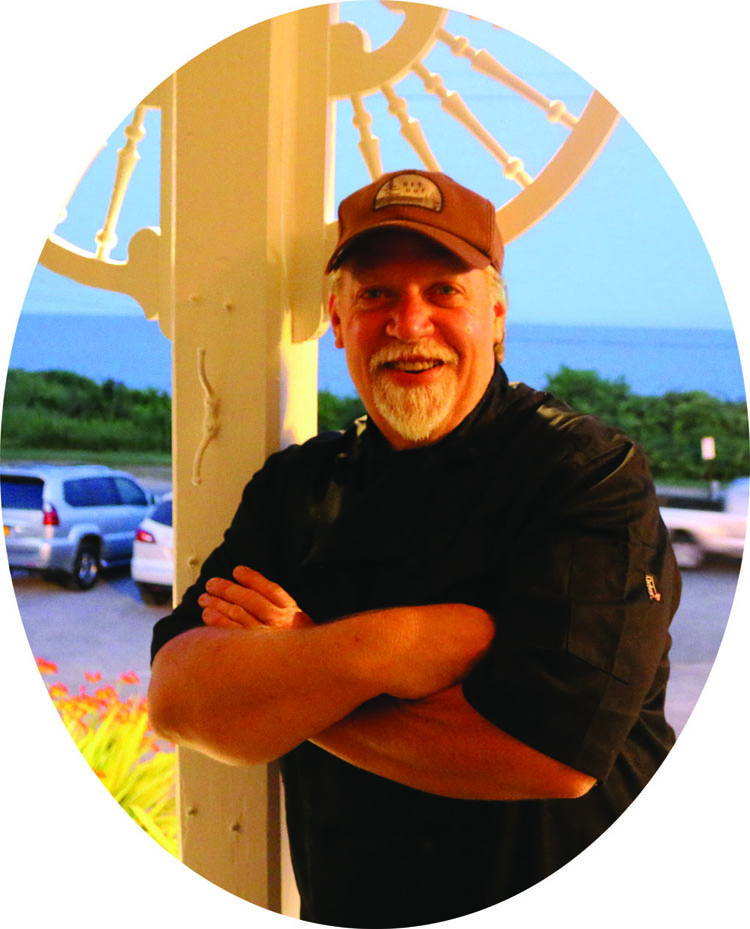 As the sun was setting to the West, we sat in the dining room enjoying the view and luscious drinks prepared by George at the bar; I'd recommend the Rose or Red Sangria and the Coconut Martini. To accompany our drinks and begin our meal, Gary sent out a sampling of the appetizers and the wedge cut, crispy, ancho chili and seasoned salt Sweet Potato Fries. The Artichoke, Spinach & Artisan Cheese Dip with flat breads was steamy, and creamy; the Brie creating a perfect consistency for dipping. The Asian Vegetable Dumplings are light and served with two zesty sauces. While the Clams Surfside are prepared with the whole clam and lightly topped with garlic and breadcrumbs and baked in white wine and butter sauce- each of the dishes are equally delicious. As are all of the appetizers, soups, and salads on the menu.
Offering something for every palate, the dinner menu is divided into three categories: 'From Our Frontyard' (the sea) – 'Pasta, Pasta, Pasta'- and 'From the Farm'. After all of the appetizers we were quite full, though we did managed to at least sample each of the dinners Gary presented us. The Famous Savanna Style Shrimp with Andouille Sausage sautéed with onions, and red and green peppers, served over cheddar Cheese Grits with a kick, is rich, creamy and brings traditional Southern flavors to Montauk. Another favorite that people return for are Chef Lyons' Mango Chipotle Glazed BBQ Baby Back Ribs. Fall of the bone, with a tangy sweetness from the sauce makes these ribs unbelievable- I tried to get his recipe but apparently it's a secret process and Gary wasn't divulging. The Prime USDA Buckhead Beef, a 16oz Grilled Rib Eyeserved with herb crusted potato wedges and sautéed shaved Brussel sprouts was cooked magnificently to order and melted in your mouth.  Finally, one of my favorites was the Baked Fresh Cod. It was topped with light horseradish crust and served over wilted spinach with a dollop of lemon caper aioli resulting in a summertime delight; fresh, tender and flavorful.
Homemade Desserts and Sweet Treats at Surfside are worth saving room for. Sous Chef Juan makes the Tequila Key Lime Pie– Florida Key Lime Pie with Tequila surrounded by Buttery Graham Cracker Crust as well as the Summer Mudpie which is a layered creation consisting of Coffee Ice Cream, Rich Dark Fudge, Walnuts and Oreo Cookie Crumbs. The Key Lime is thick and creamy and reminds me of the Key Lime I ate as a child vacationing in Florida.  A chocolate lovers dream, Chef Gary's Warm Dark Fudge Brownie served with vanilla Ice Cream, fresh fruit and drizzled with dark chocolate syrup- you can't even make it up.  We didn't have it this time which is good since I was so full, but we did have the Fried Cheesecake with Vanilla Ice Cream which is creamy cheese cake rolled in pastry dough and fried then dusted with cinnamon sugar- it's delicate and flaky-like a stuffed churro, only better. These are just a few of the decadent creations, and you can even slurp on an Old Fashioned Root Beer, Orange, or Black Cherry Ice Cream Soda!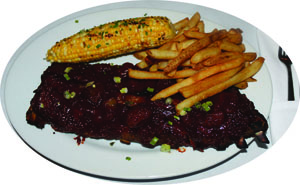 Frequented by locals and visitors returning year after year, they have been family owned for 25 years! Owner and operators Tom and Helene, and their staff are welcoming and work diligently to ensure all of their guests have a wonderful dining experience. Our waiter Mario is always smiling, pleasant and informative; we appreciated his warm, attentive service.
The Surfside Country Inn is an ideal dining and/or lodging destination. With its picture-perfect views of the ocean, the Inn offers a memorable getaway; it's only a 5 minute walk to the village and there's an ocean beach path just a few yards from the front door. Along with the fabulous view and food, there's Live Music every Thursday and Friday evening, Dinner is served daily and a delicious Sunday Brunch is available at 9am.  For a night out, or for special events, rehearsal dinners, or intimate weddings Surfside Inn is a perfect choice.
Brunch at Noon!