Shaping The Future of Surfing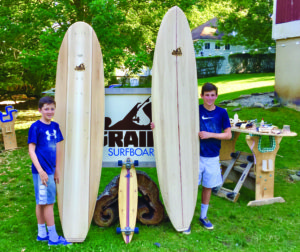 One of the most magical aspects of surfing is our connection to nature. Immersed in the elements, riding waves ultimately makes us more aware of preserving the environment around us. We want to keep our beaches and oceans clean, yet a quiet irony in surfing is the very board in which we ride. Usually boards are made with environmentally unfriendly materials and produced with chemicals that can be toxic. Enter Grain Surfboards, a Maine and Amagansett-based company that specializes in workshops to shape your own custom wooden surfboard or skateboard, from start to finish.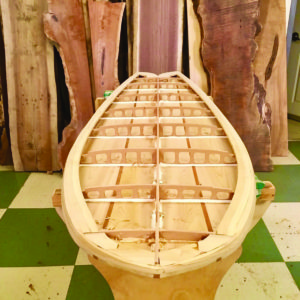 Grain's mission? To lessen the impact on the environment by shaping quality, stunning, sustainable boards, the kind that can keep us connected to the roots of surfing. According to New York Principal Brian Schopfer, even the board bags they sell are made from recycled billboards, and as many materials as possible are environmentally friendly. "We use Entropy Resin which is a bio-based (tree sap) epoxy. It has zero VOC's which makes it safe to use without a respirator unlike polyester resins which are full of chemicals," he says.
Grain offers over eighteen shapes to choose from along with body boards, skateboards, custom boards and even boards shaped by one of their partner's, Channel Island's. The rewarding experience of handcrafting your dream board is a tradition lost in the mass production of surfboards. "I love seeing the sense of pride and accomplishment in people as they finish their boards," Brian says.
Ultimately you are building a one-of-a-kind work of art, but these boards are meant to be ridden and have an impact on your surfing. It may be a new challenge to adjust to the take-off on a wooden board, but on a choppy day the ride will feel much smoother, more sturdy and faster. Made from Northern White Cedar from Maine, these boards will last a lifetime. Grain is open year-round, and brings an appreciation of craftsmanship and art to the community.
To shape your board, you will have three to four days of instruction for about eight hours each day, perhaps a morning surf to start the day if there are waves. Breakfast and lunch are included, and the mood is communal and supportive.
The goal is for surfing to come full circle, as we are more conscious of our environment and the toxic mass-produced boards that may look pretty but negatively impact our planet. And when you are not riding your Grain Board that you created, it can function as a beautiful work of art until you can put it back in the water.