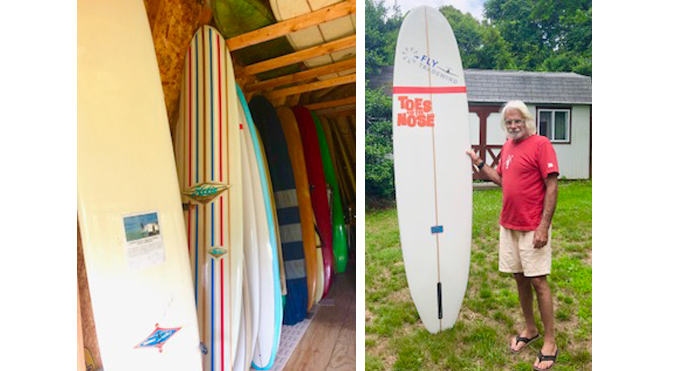 East Coast Surfing Hall of Fame's
Newest Member, Tony Caramanico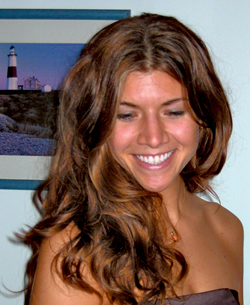 If you have spent just one or many summers surfing breaks around Montauk, chances are you will have surfed with local surf Icon Tony Caramanico. Recognizable by his signature long-boarding style, he is a joy to watch and a positive source of energy in the water.
Like all of us that became hooked on surfing, Tony's obsession with the sport started in the 60's when he was thirteen. He hasn't stopped surfing since. What separates Caramanico from the rest of us, is the long list of accomplishments on his surfing resume; Winning Greg Noll's Legends Classic in Costa Rica, shaping for Channin Surf Boards, partnering with Joel Tudor on a line of boards, having sponsors like Matuse, Tradewind Aviation and Toes on the Toes are just a few. He even created a program for ABC to document surf travel in Indonesia.
Also a successful artist, galleries from East Hampton to Manhattan to St. Barth sell his work. An evolution of surf trip journal entries, clippings, notes and travel memorabilia, he even showcases his work on custom-made surfboards shaped by Mike Becker of Nature Shapes.
Locals however celebrate Tony for being Tony. He and his wife Charlotte are a regular presence on the beach or in the line-up. Surf with them and you will be cheered on when you catch a wave, and out of the water you will see them at local events supporting other artists and generously donating art for fundraisers and non-for-profit organizations.
Calling Montauk their home base for decades, you will find Tony and Charlotte surfing waves in the Caribbean, Latin America and the occasional stint to the South Pacific during the winters. His famous collection of boards in Montauk however says it all. With nearly one hundred boards from every stage of his surfing career, one walk through is like flipping through pages of a surfing encyclopedia.
When The East Coast Surfing Hall of Fame chose their inductees this year, they were honing in on athletic accomplishments and those that have made an impact on East Coast Surfing Culture. Look no further than Tony. An organization that started in 1996, inductees then were recognized simply for winning contests held on famous breaks from all over the world. Being inducted this year along with ten others, Caramanico can celebrate yet another fabulous surf milestone. After the pomp and circumstance is over however, you will still find him checking the waves each morning. Tony is an example for all of us to go for the life you have always envisioned while keeping it positive and humble along the way. Aloha.