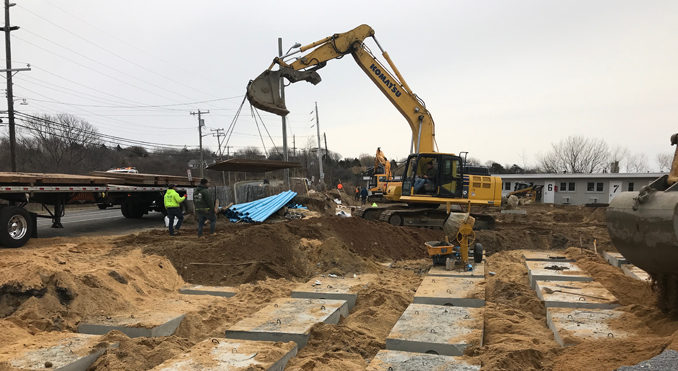 The Surf Lodge is upgrading their Septic Wastewater System to one that is new, sustainable and innovative. The existing conventional sanitary system will be upgraded to a new Innovative and Alternative On-Site Wastewater Treatment System (I/A OWTS). The new I/A OWTS centers around the Fuji CEN21 units. These units provide treatment for the sewage generated on site, whereas the existing conventional system did little to treat the sewage before recharging it. The I/A OWTS will remove 1.6 pounds of nitrogen per day, or approximately 144 pounds over the course of the summer
season. In addition to the I/A OWTS, the effluent disposal system will be upgraded to include 81 pre-cast concrete leaching galleys. The leaching galleys were designed such that they provide the required vertical separation to groundwater in accordance with SCDHS standards. Overall, this system is a vast improvement over the existing system and will go a long way towards helping to improve overall groundwater quality. With the new Septic Wastewater System, The Surf Lodge aims to improve water quality throughout the community andeducate people on sustainability. The Surf Lodge
will also be announcing more sustainable initiatives this season.
From Jayma Cardoso, Founder & Owner:
"Surf Lodge sits on the edge of Fort Pond which is home to a lot of great wildlife and is a favorite destination in town for fresh water fishing, kayaking and paddle boarding. We wanted to upgrade the system ever since we purchased the property 11 years ago and are really thankful to have had the support of the Town of East Hampton and Suffolk County government in getting it done in time for our season opening.
Updating the septic system has always been a priority for us. It was a 5-year process of researching the best wastewater system and working with the town and various agencies to make sure the system would accomplish our shared goals. I'm happy to say the new system will actually improve groundwater quality within the community as we treat the water and remove nitrogen on site. This upgrade was important to us, and Montauk is truly a blessing to all of us and should be treated with great respect.
The $1.4mm project consists of a high-tech system that will employ new nitrogen-reducing units that treat sewage onsite using technology that is fairly new for commercial, rather than residential, use, and is accompanied by 81 concrete "leaching galleys." We started a commitment to sustainability at Surf Lodge three years ago that included working closely with the town, local residents, and non-profits like the Surf Rider foundation and CCOM (Concerned Citizens of Montauk). Our hope is to be a leader in these efforts and to show that you can both run a successful small business and be a positive impact on your surrounding environment. The addition of this septic system highlights a summer where we will be single-use plastic free and committed to working alongside the town to continue to explore ways to improve our environment."
The Surf Lodge  ·  183 Edgemere St., Montauk, NY  ·  http://www.thesurflodge.com/