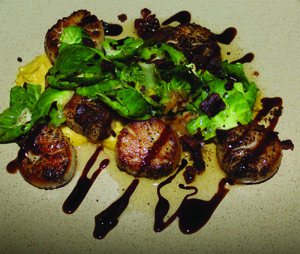 With one season in, the continued improvements to the nostalgic Shagwong Tavern and Restaurant on Main St. in the heart of Montauk are not just obvious to the eye, so get those taste buds ready. Darren Boyle, a graduate of Johnson and Wales University, is back in Montauk and the Shagwong is the lucky recipient of his talented culinary skills. Previously, among others, his experience includes the Harvest, Old Harbor House, Second House, the Ritz Carlton and most recently Salt in Sag Harbor.
Surrounded by the historic photo's that have been preserved through the changes, the Shagwong's new menu and taste is worth checking out. Although Chef Darren had only been in the kitchen for a week when we had our visit, everything was outstanding. We told him to send out whatever he wanted to highlight, so after our friendly waiter Travis freshened our wines the parade of food began. Mussels in a white wine and butter broth, with shallots, garlic, and topped with parsley were a perfect size and balance of flavors. They were tender and fresh with just the right amount of garlic, not overpowering the flavor of the mussels. Next, were local Sea Scallops prepared to perfection with crispy peppered lardons, fig balsamic, and Brussel sprout petals all atop a creamy sweet corn puree.  This was accompanied by their Baby Beet and Watercress Salad tossed with bacon, lemon, toasted walnuts and mountain blue cheese.  So delicious and fresh, our meal couldn't get better. Yet it did!  A special of the evening, elegantly golden seared Blackfish perched on a tower of wilted spinach, salsa verde, and polenta encased in a thin crispy coating for the base…words can't really explain how these flavors blended resulting in one of the best fish dishes I've ever eaten. When I asked Chef Darren about the fish, he said there was just seasoning and it was properly seared to form the golden outer crust of tender flaky fish. Just to round out the surf, our turf was the fork tender Braised Short Ribs with a flavor-filled dark brown gravy served with creamy mashed potatoes and thick sliced gently crusted onion rings. Obvious to us after this elegant and delicious meal, through the years with an abundance of diverse experiences, Darren's craft has been perfected.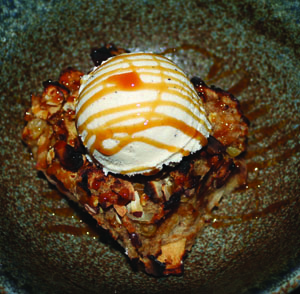 Dessert is always good, but after the meal we enjoyed we should have said no. However, how better to let you know what to try if we don't go there?  So out came the homemade Rumchata Bread Pudding and the Double Dutch Chocolate Torte. These two were worth every calorie- the torte was so rich and chocolaty and served with crème fraiche, dense creamy Grenache, and beautiful blackberries. While the Bread Pudding was, light, warm, accented with harvest spices, and had a toasted almond crispy top with a scoop of creamy ice cream. After these two decadent treats, I can't wait to try the trio of Crème Brule, the pumpkin Beignet, or the other special desserts to come.
For an evening of fine food in a relaxed and friendly atmosphere – Shagwong Tavern is not just pub food! So hang on Montauk, Chef Darren has arrived and Shagwong has just stepped it up many notches – ready to compete in the ever evolving food landscape of our town.
774 Montauk Highway, Montauk, NY 11954 | 631-668-3050 |  www.shagwongtavern.com