…by Sue Giustino…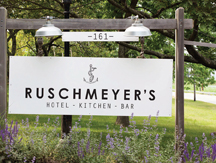 Looking for a delicious dinner? Weather you dine inside or out, Ruschmeyers offers a lovely setting and an array of tasty meals, including brunch on weekends. If you're not into the young crowd, I'd recommend mid-week dining, or arrive by 6 or 7pm on weekends.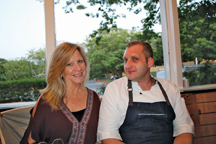 This year's chef, Vincent Ricciardelli, has been in Montauk since he was five. His restaurant experience includes working at Surfside, being Executive Chef of Harvest on the Hudson, and at various restaurants in NYC for about 12 years including the Metropolitan Opera, and being the executive Chef at Jade Hotel's Grape n Vine Restaurant. Now back in Montauk, on short notice, he's putting his years of experience to work and offering dynamic meals at Ruschmeyers.
We arrived on a Friday evening and immediately felt welcomed by all; the lovely hostess Melody, Jeff and Johnathan at the bar, and Anna our waitress. After sampling the house specialty "The Ruschmeyer", a blend of watermelon vodka and simple syrup we sat by the window and began a taste exploration of the menu. The dining room has the feel of outdoors with the wall of vines and surrounding windows welcoming the wooded outside in. 'Welcome Home' chalked on the board makes diners feel like they've returned from a journey ready to enjoy the comforts of home- as long as your 'home' offers outstanding food and drink options!
For our meal, Chef Vincent decided to send out many of the menu items-a delightful selection of his 'signature' dishes. One after the next we couldn't believe the flavors and presentations – everything fresh and offering flavors that pop.
Off to a great start, the very tasty Sang Lee Farms Beets are served unchilled, allowing the natural flavors to be highlighted, atop Greek yogurt with watercress, oranges, and toasted pumpkin seeds all dressed with a light vinaigrette. Each individual earthy, tart flavor added to the overall freshness off this salad. Another light treat is the Scallop Crudo; sea scallops marinated in lemon and mint, and mixed with diced cucumber and fresh raspberries. The blend off fresh ingredients enhanced the dish without muddling or drowning the fish's pristine flavors.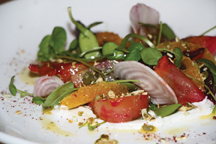 Two additional appetizers we enjoyed, The Charred Octopus and Wu Tang Clams are equally delicious and fresh. The Spanish Octopus is charred perfectly and accompanied with Gigante beans, Frisee, and
preserved lemon and olive tapenade. The compliment of ingredients are as memorable as the tenderness and flavor of the octopus. Not to be outshined, the Montauk Cockles soaking in a bold saffron broth with Nduja [a spicy, spreadable sausage from Calabria in southern Italy] and South African pepper have to be the best I've ever had. Be sure to enjoy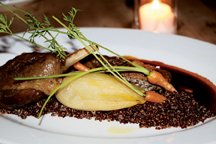 soaking the crusty bread in that broth- yum! It's worth mentioning that everything we saw being served to surrounding diners looked just as tasty as ours.
So just to give a complete overview of the delectable menu offerings, Chef sent four of the six entrees for us to sample. Montauk Day Boat Cod, is gently roasted and sits beside a bed of Farro Verde Ragot, grilled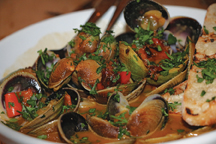 zucchini, feta, and Colatura confit tomato. Day Boat Scallops are gently grilled and topped with fresh avocado and served with Mexican street corn succotash with tequila burre blanc and cotija. Mojo Charred Skirt Steak is perfectly charred outside and cooked to order inside accompanied by Chimichurri, grilled market vegetables and Fondant potatoes. Finally, the Crescent Farm Duck L'Orange made my husband believe in good duck again. He has had many disappointing attempts to find a duck that he remembers enjoying from years ago- and I'm happy to say, this duck is the one. The tender breast and leg confit is evenly glazed, crispy golden brown and presented with endive and quinoa, and sauce Bigarade. For each meal Chef Vincent has a skillful way of blending five or so flavors producing uniquely balanced delicious plates.
Trying to turn down dessert was out of the question so we compromised on one- the S'mores. Set between crispy wafers, the roasted marshmallow and bitter sweet chocolate is perfect and topped with a chocolate drizzle; it's reminiscent of sitting around a campfire making your own.
Ruschmeyers is a quiet resort property set on 3 wooded acres, this hotel and restaurant is 1.3 miles from Montauk station, offering direct service to New York City, and 1 mile from Kirk Park Beach and Montauk town. Set back among the tress, just past the outback garden, the rooms feature cabin-style decor with modern accents. The view from the rooms include the dining garden, a central lawn with picnic tables, fire pits, hammocks and charcoal grills, and just across the street is a lake.
161 Second House Road, Montauk     631.668.2877      https://www.ruschmeyers.com