On Sunday, October 23rd, the beautiful Pindar Vineyards hosted Rock the Harvest featuring music by Hopefully Forgiven. I had the pleasure of meeting and talking with owners Pindar Damianos and Alethea Damianos Conroy, making it quite evident to me why the Vineyard is such a success. They so clearly and genuinely love what they do, which shows through the success of their work as well as the success of this event.
The weather was flawless. Such a beautiful autumn afternoon, perfect for bringing out your long awaited fall wardrobe with a light breeze, blue skies and the sun shining. It was the perfect day for sipping a glass of wine while enjoying some live music. Many, including myself, enjoyed Pindar's wine tasting, sampling five different wines of your choice for $10. Beer and other refreshments were also served at the outside bar, along with Twin Forks BBQ, with a delicious menu of barbeque grilled foods perfect for the occasion. A friend and I each enjoyed a glass of the award winning Pythagoras red with a delicious sausage and peppers hero.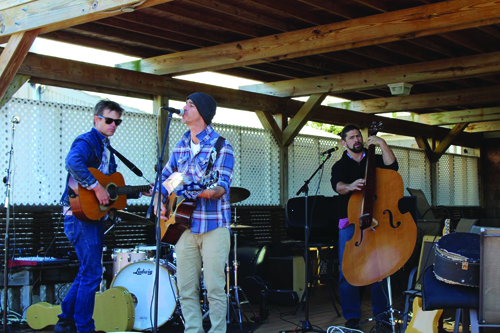 I had heard many good things about Hopefully Forgiven, with musicians Telly Karoussos, Brad Penuel, and Ben Goodale, prior to coming to this event, and they definitely did not disappoint! Their performance incorporated a mix of their original songs and covers of a few rock favorites. Their cover of Take a Load off Annie got the audience up and dancing, keeping everyone on their feet for most of the afternoon! The event was such a success, that Pindar will be inviting the band back to play again and will be making Rock the Harvest an annual event held at the beginning of every October. I know I will be making the trip out next year!
If you missed Rock the Harvest and want to catch Hopefully Forgiven perform, which I highly recommend, you can join them on November 11th at Baron's Cove Sag Harbor, for their release party. Here they will be introducing their new EP, 'Soaked,' with a night of celebration in the band's favorite venue!
'Champagne, Chopin & Caviar'
Pindar will be hosting Champagne, Chopin & Caviar tours, at 2 p.m. every Saturday and Sunday. You can enjoy a tour of the beautiful winery, learn how their sparkling wines are made while having a glass, do some wine tasting in the tasting room, and enjoy light side dishes in the cellar such as caviar and cheeses. Make a reservation for yourself or a group, for $15 a person, and enjoy a beautiful afternoon!