by Debbie Tuma
Riverhead is still a happening place in the wintertime, and there are plenty of great restaurants, entertainment venues, and places to stay. Many people out East think of Riverhead when going to the Motor Vehicle Department or Tanger Outlet Center, but there is much more to do than that.
In downtown Riverhead, from East Main Street to West Main Street, is a varied and diverse selection of restaurants, when you want to take a break from shopping in the many department stores. And in the heart of Main Street is the Suffolk Theater, a renovated movie house from the 1800's, which seats about 700 people and is one of the biggest venues on Long Island. They have bands, singers, comedy acts, private events, and shows of all kinds year-round. There is seating downstairs and in a balcony, with food and drink service, and there's a wrap-around bar where you can have drinks.
I love to catch some older acts of bands and singers I loved and never got to see in person. Over the past years these have included Arlo Guthrie, the Moody Blues, Herman's Hermits, Frankie Avalon, and most recently, Tony Danza. Having been a fan of the TV show "Who's the Boss," I looked forward to seeing him as a grown up! We caught his one-man show in December, and were happy the theater was packed! Danza, who has moved from California back to New York City, is now touring around the country with this show, which includes his singing, stand up comedy, tap dancing and playing his ukulele! Although his hair is now gray and he is more mature, he captivated the audience with his same boyish charm and wit, singing love songs and telling stories from his life, which included growing up in Brooklyn. For upcoming shows go to www.suffolktheater.com
Coming in from out of town, a great and centrally located place to stay is the Hyatt Place Long Island/East End, at 451 East Main Street. This 5-floor, 100-room hotel has beautiful views of the Peconic River on one side, and Riverhead's Main Street on the other. It has a large, spacious, and newly renovated lobby with a bar and snacks on one side, and comfy couches and chairs with some TV's to catch up on the latest events. There are also computers and printer available. There is an adjacent breakfast room with a huge complementary buffet with your stay. A variety of eggs, bacon, sausage, potatoes, cereals, bagels and toast, oatmeal, yogurt, fruit, juice, and of course, coffee.
I love to stay there in the winter snowstorms, to swim in their heated indoor pool on the first floor, adjacent to their fitness center. You can swim while looking out at the scenic river and marina nearby. The newly renovated rooms are large and comfortable, with a king or double bed, and all the amenities. Take advantage of their great winter deals right now—only $140 on weekdays and ranging from $199 to $225 on weekends, in January-February. Compared to $400-650 a night in the summer.
And you'll never be bored at the Hyatt Place Long Island/East End, because adjacent to this hotel is the Long Island Aquarium, an amazing place to take the kids. Their interactive exhibits include shark dives, feeding the stingrays, and watching the sea lions. There's a sea horse, jellyfish and octopus tank, and fish and shellfish from around the world. There's a Megalodon display of fossilized teeth and vertebrae from a 60-foot shark from millions of years ago. The aquarium also houses a wonderful Butterfly Exhibit, an Amazon Rainforest, and a gift shop.
Across the street is the Preston House & Hotel, for fine dining, a lively bar, farm to table modern cuisine, and a fabulous brunch on weekends. Also adjacent to the Hyatt Hotel is Jerry & the Mermaid Restaurant, overlooking the Peconic River and marina, for great seafood and steaks, with waterside dining.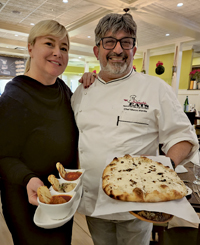 If you're in the mood for amazing homemade Italian food, check out Insatiable Eats, a short walk from the Suffolk Theater, at 113 Main Street in Riverhead. Chef Marco Barrila and his wife, Sheila, opened this restaurant about two years ago and it has gained fame in Riverhead. Marco brings his love of cooking, from his Sicilian roots, to present his homemade pasta and pizza, and his extensive menu of Italian favorites. We enjoyed appetizers of chicken, sausage and short rib meatballs and white truffle pizza, followed by entrees of Eggplant Ravioli, Asparagus and Shrimp Risotto, Fettucini Mare Monte (Mattituck mushrooms and Tiger shrimp) and Tartufina Bianca (Buffalo Ricotta, fresh mozzarella, mascarpone cheese and shaved truffles), along with Chianti wine. It was the perfect dinner, and we were also serenaded by Tony Della, of Riverhead, singing Frank Sinatra and other songs on Thursday and Saturday nights.
Insatiable Eats is having many specials, including Monday, all you can eat pasta for $29.99, Tuesday, all you can eat pizza with a salad and soft drink, for $19.95, and Wednesday, Supper Club Night of a 5 course, family-style dinner at $34.95 per person. Saturday is a Mediterranean Brunch, with classic favorites like frittatas, and Sicillian eggs. You can also shop for Italian imported gifts. There is live music on weekends and starting soon are cooking classes.
Another fun restaurant with lots going on, is Sound Avenue Bistro, formerly the Lobster Roll North, on Sound Avenue. Open year-round, they have a fun "Bingo Night" on Thursdays from 6-8 pm, with discounted drinks, apps, and a cash prize. Also Happy Hours with a large, wrap around bar. Four cozy dining rooms and weekly food specials, like Steak Fritte, Duck Wings, Lobster Mac and Cheese, and Linguini with Clam Sauce. Come in Sundays for a fabulous brunch from 10-2 pm with live music. Open from Thursday to Sunday for lunch and dinner.
Riverhead offers many types of ethnic cuisines, including Polish (The Polish Grille,) with great weekday Happy Hours and the best homemade Polish food as sauerbratan and pork loin); The Polka Deli (formerly Wisla Deli), Turquaz Restaurant, located on the Peconic River, with amazing Turkish Shish-k-bobs); and Haiku, on Main Street, with fresh sushi and Chinese food.
And if you're into health and wellness, stop by the Green Earth Natural Foods Market at 50 East Main Street in Riverhead, for herbs and supplements and find out about their new energy and Qi Gong Tapping classes and private sessions with international healer Paolo Boletti.
Make Riverhead your fun destination on the way to the Hamptons!