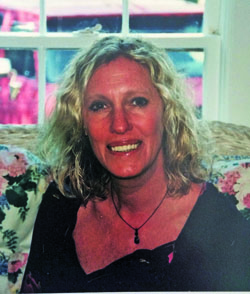 About a thousand people packed St. Therese of Liseux Roman Catholic Church on a rainy, windy morning on October 22, to mourn the sudden, tragic loss of a much-loved Montauker, Janis Hewitt, who died too young at the age of 63.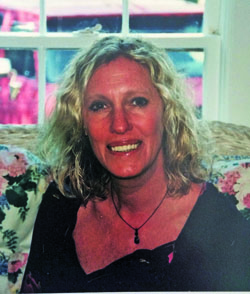 Earlier that week, on October 18, she was killed instantly when her car veered into the path of a propane gas truck, traveling west on Montauk Highway near the transfer station. She was alone in the car. The driver of the gas truck, David Kelleher, 42, was taken to the hospital and released. The cause of the accident is under investigation, and the car and truck are being checked.
Hewitt was a 20 year-reporter for the East Hampton Star, and the mother of three children with her long-time husband, Peter Hewitt, of Montauk. Along with his family, he ran the Shagwong Tavern for years, owned by his brother, Jimmy Hewitt.
A wake was held on October 21 at Yardley & Pino Funeral Home in East Hampton, with hundreds of people lining up to get in. Numerous framed photos lined the aisles of Janis and her family and friends at the beach, surfing, at the Shagwong, at family gatherings, and other occasions.
At the funeral service, the priest pointed out how the "sadness of death brings out the love of community." He commented on how all the Montauk firemen had arrived on the scene to help. And of how Janis was involved in the community in her newspaper work, covering town meetings and local news.
"She loved to laugh, she loved her family, and she also touched each of our hearts," he said. "Her life was short, but look at the impact she made."
Janis Hewitt's daughter, Jenna Hewitt, of Hawaii, and niece, Caley Serin, came up to speak about her. They talked about how she was such a great Mom, a girl scout leader, and a writer about things that mattered to her, like the Montauk students.
"Her son Jason was an avid surfer, and she drove him to all his contests," said her niece, Caley Serin. "At Halloween, all the kids would come to her house, and she would give candy to the entire town."
She said despite surgery on her knees, Janis would walk with her two dogs from her home at the Air Force Base, all the way to the Lighthouse.
"She was also like a Mom to me and our cousins, always very generous and fun," said Serin.
In one of her columns, Janis Hewitt wrote an idea she had about all the locals getting T-shirts and putting gold stars on them—if you lived here a few years you would get one star, if you lived here more years, 2-3 stars, and if you lived here most or all of your life you'd get five gold stars, or be a "five-star local."
At the burial ceremony, at Fort Hill Cemetery, gold stars were given out and pasted all over her wooden casket. Just prior to this ceremony, the funeral procession left the church and made a trip around the Montauk Lighthouse on the way to the cemetery.
Afterward, hundreds of friends and family packed the Shagwong Tavern for a huge reception, honoring her life. Janis Hewitt is survived by her husband Peter Hewitt, their children, Heather Matthews, Jenna Hewitt, and Jason Hewitt, and grandchildren.