Perched along the coast of the Atlantic Ocean set amid a backdrop of powdered-sugar sandy beaches and rolling waves is home to the epicenter of world renowned resorts, Gurney's Inn. As guests of Gurney's Sea Grille have discovered, the opportunity to dine on an elegant meal while overlooking the sea is a rare and memorable experience that is as essential to Montauk as the Ocean itself. One cannot explore the East End without the Gurney's experience.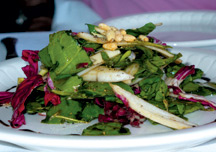 A newly revamped space recently given a polished facelift, The Sea Grille boasts expansive views, and casual charm that conveys warmth at every table within the spacious dining room. An old-world paradigm standing apart in the modern mass of trendy restaurants that come and go, Gurney's Sea Grille is a well-established landmark; the culinary matriarch of Montauk restaurants.
Enchanted by the serene presence of the sapphire blue sea framing the Sea Grille, simply choosing a cocktail or glass of wine begets a calm indulgence. The Castello di Borghese Pinot Noir, an organic wine from Long Island's North Fork was French in style, with balanced hints of berries and mocha that complimented our modest selection of dishes. Pairing well with our freshly shucked Malpaque Oysters and a multihued Tri-Color Salad with ribbons of endive, radicchio and arugula, our wine was well matched with our bold and carefully selected entrées.
One of the specials, a local Striped bass cloaked under a sweet tomato reduction encircled by brilliant green broccoli and tender rice pilaf was enlivened with hints of roasted garlic. My dining companion Chris's selection of the Gurney's Surf and Turf was the Alpha-meal of the Speciales della Cucina. Six ounces of a Brazilian Lobster tail coupled with a seven ounce filet mignon, baked potato and grilled asparagus turned heads as it arrived to our table.
Tempted to sample the skillfully orchestrated creations by pastry chef William Bertha, our desserts of crème brulee, a rich custard finished with a caramelized sugar crust, and the Montauk Mud Pie of dense chocolate and sweet berry glaze won in fierce competition with the tiramisu of mascarpone cheese, moist ladyfingers, sweet cream, espresso coffee, and pure cocoa.
Gurney's Sea Grille offers a Sunset Prix Fix Menu served daily from 5:30 to 6:30, offering three courses for $25.95 that includes options from the "Ship Shape" Spa Menu. Spa Crab Cakes, lighter salads, black bean crusted Atlantic salmon and Grilled Cajun Chicken Breast is healthier cousins to the more decadent selections.
A cornerstone of Montauk that leaves lingering impression, Gurney's Sea Grill could not have cherry picked a finer location, where the only audible sounds beyond the buzz of the dining room are the rising and falling waves of the Atlantic.
Gurney's Sea Grille is located on Old Montauk Highway. For more information about the Gurney's Sea Grille, call 631 668-2660.