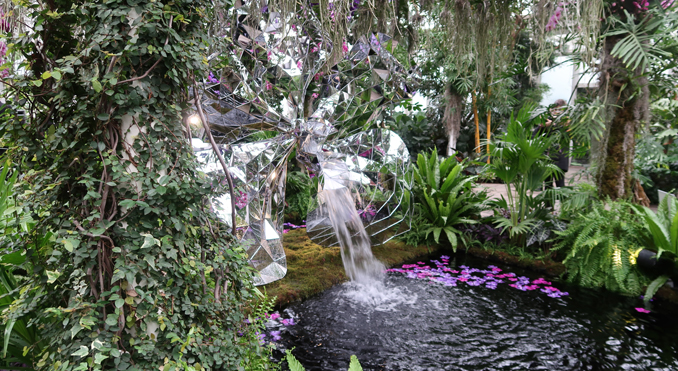 by Evelyn J. Mocbeichel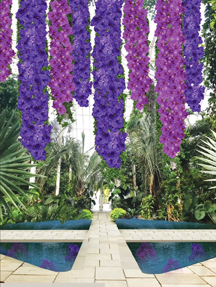 Had enough of winter wind, ice and snow? Here's a way to look past this dreary weather and head into spring early and be surrounded by flowers. The New York Botanical Garden (NYBG) popular orchid exhibition is returning for its 19th year and tickets are on sale now. The Orchid Show: Jeff Leatham's Kaleidoscope opened February 26 and runs through May 1, 2022. Lifestyle icon and floral designer to the stars, Jeff Leatham, designed the 2020 Orchid Show, which was cut short due to the COVID-19 pandemic. He is set to reinvent his dazzling creations, transforming each gallery of the exhibition in NYBG's historic Enid A. Haupt Conservatory into a different color experience, like the turn of a kaleidoscope. These dazzling floral creations are the vision of Mr. Leatham, artistic director of the Four Seasons, Hotel George V in Paris and floral designer to the stars. His clients include Dolly Parton, Tina Turner, Cher, Oprah Winfrey and many others. His bold and colorful vision will unfold through captivating installations and designs throughout the Conservatory. Orchid towers of orange, yellow, and green, undulating fields of white, and overhead plumes of purple, together with artistic embellishments and a kaleidoscopic tunnel of lights, will enthrall visitors. Leatham worked with horticulturists from NYBG, including Senior Curator of Orchids Marc Hachadourian, to assemble orchids from its collections as well as from some of the finest growers in the world. Orchids of seemingly every conceivable shape and provenance, including rare and iconic specimens, will be on display in breathtaking configurations.
About Jeff Leatham: Excited to be back to the NYBG for this second showing, Mr. Leatham says, "I am thrilled to bring Kaleidoscope back to The New York Botanical Garden in 2022, much like when you look into a kaleidoscope, the view is never the same. My reinvention of Kaleidoscope will be totally different installations than two years ago. Every turn will display a new vision, while maintaining the thematic element of every gallery focusing on a different color experience. With this design, visitors will appreciate the beauty of orchids and see NYBG's Conservatory in exciting new ways."  Originally debuted in 2020, The Orchid Show: Jeff Leatham's Kaleidoscope was on track to be NYBG's most popular Orchid Show yet. Don't miss this horticultural spectacle featuring thousands of dramatically displayed orchids in every shape and size.   Tickets are available at https://www.nybg.org/visit/admission/. While you are visiting the Orchid Show, don't forget to stop at the NYBG Shop. Visitors can select from thousands of top quality orchids for purchase from exotic, hard to find specimens for connoisseurs to elegant yet easy to grow varieties for beginners, along with orchid products and books. The shop also has unique gift and gardening items for sale.
Orchid Evenings: On select Friday and Saturday evenings in March and April, from 7 – 10 pm the NYBG hosts Orchid Evenings. Guests will lose themselves in twists and turns of color at New York City's most spectacular evening out as they step into a world of color and Style with Orchid Evenings. These nights are for adults 21 and over to experience the exhibition at night with music, cash bars, and food available for purchase. The New York Botanical Garden is located at 2900 Southern Boulevard, Bronx, New York 10458.