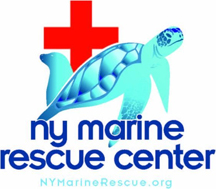 On Friday, April 16th the New York Marine Rescue Center released two of our seal patients. Due to the ongoing pandemic, this was the first public release in almost 2 years!
The two seals released are Joan Jett and Billy Joel. Joan Jett, a female harbor seal yearling, was found on January 25th by a local beach walker at Georgica Beach in Easthampton, NY. Joan was admitted due to dehydration, and injuries to her mouth and eye. Joan has been in our care for the past 11 weeks and has recovered from her injuries. Joan currently weighs 47.18 pounds.
Billy Joel, a male gray seal pup was admitted to our facility on April 8th. Billy was spotted on Kismet Beach on Fire Island, NY. He was brought into our care, after being monitored for a few days due showing signs of dehydration. Unlike Joan, Billy was admitted for short-term rehabilitation and is ready for release after only a week in our care. Typically, a seal is in our care for around 6-8 weeks, but in some cases, like this, they only require a short stay.
Maxine Montello, Rescue Program Director says, "We are excited for the opportunity to host public releases again. This past year has been difficult for everyone and we hope that people will feel comfortable coming out for these special occasions. It is always an incredible opportunity to see these seals go back to their habitat."
Every year the NYMRC has a theme for naming the sea turtle and seal patients. This year it is rock and roll musicians and groups.
The New York Marine Rescue Center is a rescue and rehabilitation organization that promotes marine conservation. Our mission is to preserve and protect the marine environment through conservation efforts including rescue, rehabilitation, education and research. As a 501(c)(3) non-profit, we are the primary responders for sick or injured seals, sea turtles, dolphins, porpoises and small toothed whales, and maintain the only marine mammal and sea turtle rehabilitation center in New York State.
New York Marine Rescue Center
467 E Main Street Riverhead, NY 11901 • http://www.nymarinerescue.org/