Situated on a 200‐foot private beach on Fort Pond Bay, Navy Beach offers prime seating on the sand and some of the best sunsets in the Montauk. Also providing indoor seating in their nautically themed dining room and bar and welcoming boaters anchored in the protected waters of Fort Pond Bay. Diners enjoy the casual coastal cuisine in a laid back, family‐friendly setting while admiring the view; boats, paddle boarders, and kayakers, adding an additional nautical element to the theme of the restaurant.
Chef Randy Santos' New American influenced menu features regional coastal cuisine with an emphasis on local seafood and produce. He has been with the restaurant and owners since the inception six years ago. Randy is a res‐ ident of Montauk and his training is from a Culi‐ nary School in Puerto Rico. Prior to Navy Beach he has worked at Nick's, and Gosman's Top Side‐ where he met his wife. This being his third year as head chef, Chef Randy to make a few changes on the menu each sea‐ son while keeping some of the long time favorites. Any‐ one who has been to Navy Beach is familiar with the Jumbo Lump Crab Cake; Peruvian Ceviche Mixto; Mon‐ tauk Clam & Corn Chowder; Crispy Calamari Salad; Chopped Kale Salad; Yunnan Ribs; Soy‐Glazed Golden‐ eye Tilefish; Buttermilk Fried Chicken; and of course the Navy Burger. Each of these long standing dishes is prepared to perfection and never disappoint.
As one of the owners Martin Cabrera explained to us, this year the emphasis continues to be on infusing the influence of Spanish and French cuisine and wines. As last year introduced a number of new Rose wines, the list has expanded yet again with elegant selections from across the winery regions of France. The Rose selections, along with their light cocktail choices, are perfect for warmer weather and pairing with the seaside menu.
As we entered the restaurant we met Zach, the bar‐ tender, who made us two of their many tasty special cocktails. We sipped on the Spicy Margarita which had just enough spice while still enjoying the other flavors of the drink, and the Montauk which was vodka with mulled lemon, mint, lime and cucumber; perfect on a summer evening. Heading outside to our table as the sun descended over the water, we had the feeling of being far away, relaxed, and eager to enjoy the anticipated changing colors of the evening sky. Martin outlined the new menu items and prepared us to pace ourselves so we could enjoy a selection of them.
As we sat appreciating our surroundings; the setting sun, lovely nautical blue umbrellas and cushions sprawled on the custom wood benches, with the dining tables arranged on each side, we were presented with plates of Tuna Nikke, Cucumber Salad and Steamed P.E.I.
Mussels. The Tuna Nikke is tender chunks of fresh Tuna expertly blended with Avo‐ cado, Sea Beans, White Soy, Yuzu, and Crispy Rice. As we learned from Martin, Chef Randy adds a bit of texture to each dish for contrast, and the Crispy Rice did just that. The combination of flavors and the crunch makes this dish perfect. The Shaved Cucumber Salad, with seared tuna [or shrimp] comes with mandolin sliced cucumbers, pistachio, pomegranate, mint, Heirloom Tomato, fresh dill sprigs and drizzled with yogurt. I loved this fresh salad, once again textured with crunchy pomegranate ‐ which with the tuna or shrimp would make an amazing lunch dish. The Steamed P.E.I. Mussels soaking in Lobster Bisque, Crème Fraîche, and Scallion and served with Garlic Croutons is the most unique preparation of mussels I've ever enjoyed; tender and bursting with flavor from the light lobster bisque broth.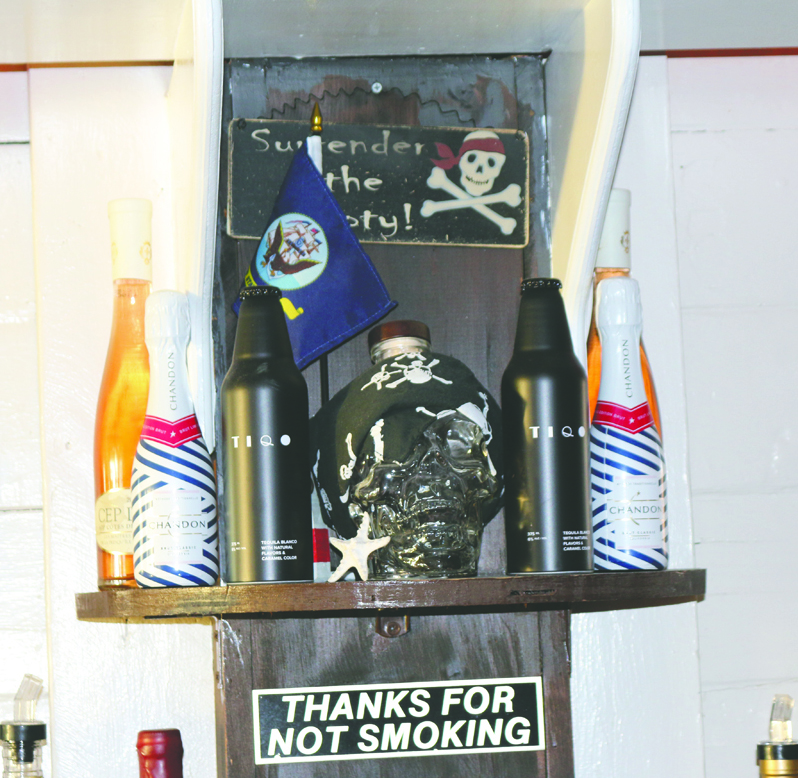 The melt in your mouth Grilled Sea Scallops are elegantly presented, surrounded by delicate celery root puree and grilled Heirloom Cauliflower, Purple Basil, and topped with Chorizo But‐ ter; absolutely amazing. Seared Atlantic Salmon is served with its gently seared crispy skin and cooked with Shiitake, Bok Choy, Ponzu Vinaigrette, and Black Sesame. The vinaigrette is offset by the Bok Choy and garlic flavors resulting in a flaky and flavorful piece of salmon.
Martin decided he needed us to taste two of the other new additions to the menu; although already quite satisfied, being good sports we agreed and oh what a great choice. The Whole Fried Local Catch perched upon Grapefruit, Watercress, and Crispy Hearts of Palm with a Mustard‐Rosemary Dressing is picture perfect. Cooked whole and crispy, the fish practically fell of the bone, and was superbly accented with the mustard‐rosemary dressing drizzled on top. Montauk Seafood Moqueca can be loosely compared to an exceptional seafood stew; however, that doesn't really accurately represent what we were served. The bowl of Bamboo Rice is smothered with Prawns, Clams, Mussels, Squid, Cod, Cashews, Coconut Milk and Dende Oil. Along with the bamboo rice, the varied layers of flavor and texture are outstanding, making this dish a seafood lovers delight.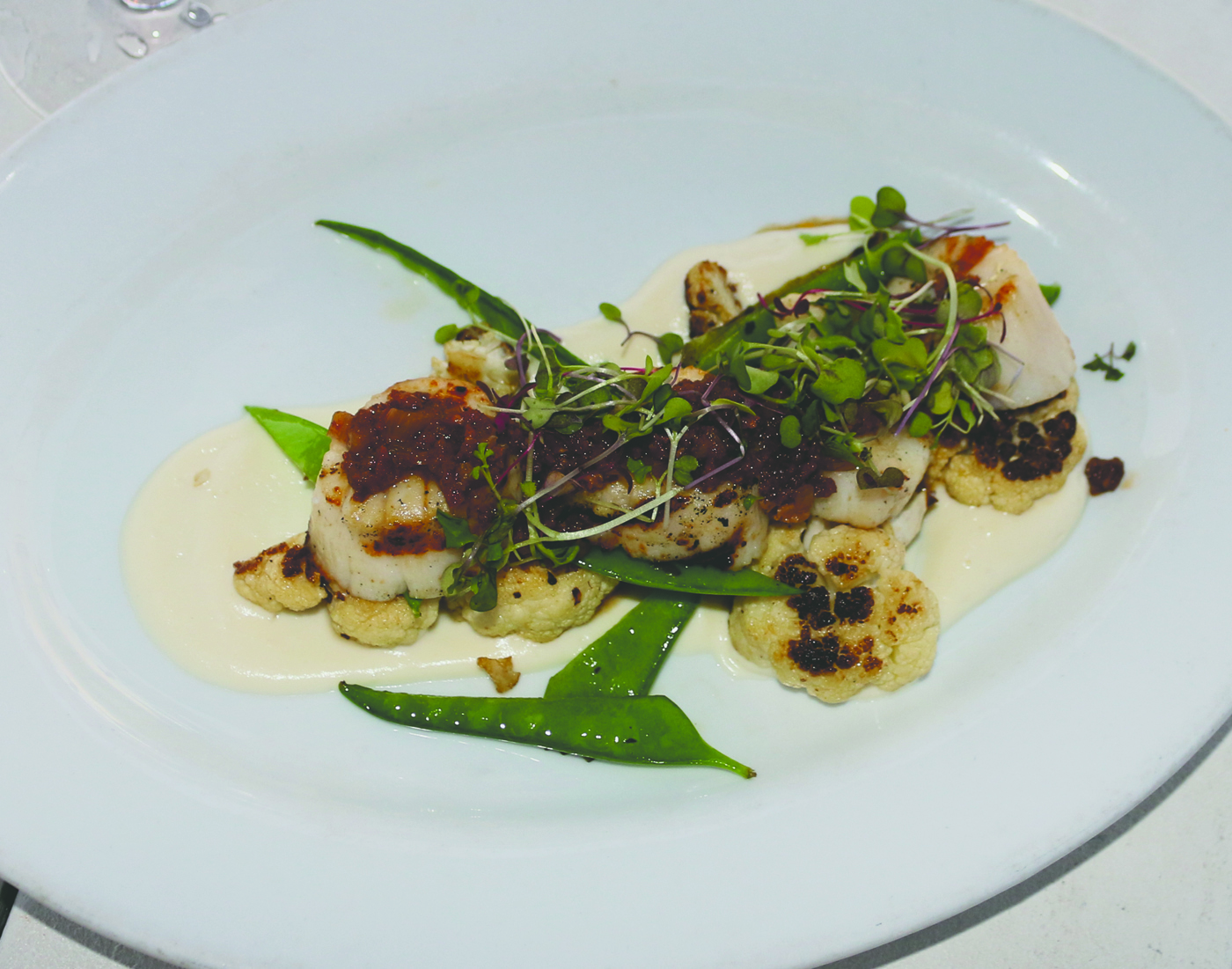 The presentation, aromas, and flavors are intensely pleasing; along with the casual nautical atmosphere and lovely view, for lunch or dinner you can't go wrong at Navy.