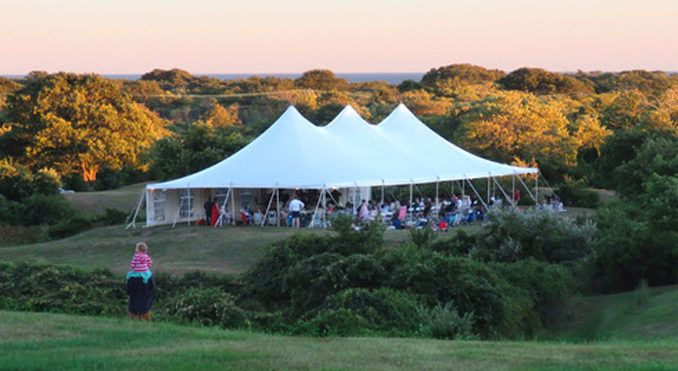 MUSIC FOR MONTAUK (M4M), under the direction of Lilah Gosman and Miloš Repický, has made the SUMMER SERIES a tradition of world-class musical performances in Montauk's most beautiful and iconic outdoor venues. M4M tailors the musical programming to celebrate the location. The rolling hills and stunning views at THIRD HOUSE (MONTAUK COUNTY PARK) have been the setting of many magical musical evenings and will feature two concerts, including the fiery and passionate chamber music of BRAHMS GYPSY DANCES and BACH & CO. featuring the festive and vibrant Cantata #51 "Jauchzett Gott in allen Landen". The performances are timed to end just before sunset so the combination of location, light and music creates a complete experience. The FREE CONCERTS at Third House last just over an hour and the audience can BYO and picnic – it's the perfect post-beach, pre-dinner hour.
This year, M4M curates a special immersive performance of George Crumb's "VOICE OF WHALE" (Vox Balaenae) at THE MONTAUK LIGHTHOUSE.
The 2019 Music For Montauk Summer Series combines an eclectic mix of classical music with the stunning backdrop of Montauk sunsets and outdoor venues. The concerts are ideal for classical music fans as well as anyone interested in the truly unique experience of enjoying live music in settings such as the lush Third House at Montauk County Park, the iconic Montauk Lighthouse and more. Families are welcome and our hosts introduce each piece with a compelling and entertaining narrative — providing a thoughtful background and brief "musical education" for guests of all ages. Guests are encouraged to bring blankets, picnics and refreshments to complete their experience.
Music for Montauk's 2019 SUMMER SERIES features international operatic star Rachelle Durkin, Grammy winning trumpeter CJ Camerieri, Mimi Stillman, flute, Annaliesa Place, violin, John Marcus, violin, voilinist Jessica Meyer, cellists Ani Kalayjian and Diego Garcia, Ben Fingland, clarinet, Bradley Aikman, Double Bass, Amanda Lynn Bottoms, Mezzo Soprano, Lilah Gosman, soprano and Miloš Repicky, pianist.
EVENT LINEUP:
Thursday August 15, 6:30PM at MONTAUK COUNTY PARK (THIRD HOUSE)
BRAHMS GYPSY DANCES
Songs, Strings, Piano
Outdoor Concert, Family Friendly, BYO & PICNIC, FREE CONCERT
Passionate & exotic romantic era music combined with new works and arrangements by M4M performers…celebrating the transient outlier rock stars of the 19th and 21st Century.
Celebrating the freedom and openness of the outdoors as inspiration for the – fiery, earthy, exotic, passionate, adventurous, mischievous, bold, individualistic, unassailable – spirit of the "Gypsy" as Romantic ideal for creator/artist/musician being "Bound to Freedom", ending with the raucous finale of Brahms' G minor Piano Quartet (Rondo alla Zingarese).
Saturday August 17th, 6:30PM at MONTAUK COUNTY PARK (THIRD HOUSE)
BACH & CO. Cantata #51 "Jauchzet Gott in allen Landen"
Baroque Chamber Strings, Vocals, Trumpet, Keyboard
Outdoor Concert, Family Friendly, BYO & PICNIC, FREE CONCERT
Bach's most festive and vibrant cantata with musical fireworks for both Soprano and Trumpet. Featuring international operatic star Rachelle Durkin and Grammy winning trumpeter CJ Camerieri with M4M's core chamber ensemble. Bach's Cantata #51, set in the dazzling light of Montauk, especially from the rolling hills and sublime sunset vistas of Third House, becomes an exaltation of the natural magnificence around us.
Wednesday, August 21st, garden at SOLÉ EAST 6:00-8:30PM:
SUMMER SALON: Summer Benefit Party – New works and Standards reimagined, featuring M4M Performers
Cocktails & Light Fare
Located in the beautiful garden space at Solé East
Exclusive Ticketed Event (Tickets $100 to benefit Music for Montauk)
Friday August 23rd at the MONTAUK LIGHTHOUSE 6 – 8PM:
"VOICE OF THE WHALE" George Crumb's Vox Balaenae
Electrified Piano, Cello, and Flute
The Four Seasons – Vivaldi & Piazzolla
String Quartet
Outdoor Concert, BYO & PICNIC, Tickets $25 (Limited Availability) at www.musicformontauk.org
Picnic and enjoy Vivaldi and Piazzolla's The Four Seasons with our virtuosic string quartet at the Lighthouse Amphitheater, and then be transported to another epoch by George Crumb's musical evocation of the Voice of the Whale in the Lighthouse Oceans Institute.
Featuring Mimi Stillman, flute: "Ms. Stillman is not only a consummate and charismatic performer, but also a scholar. Her programs tend to activate ear, heart — and brain." — The New York Times
Music for Montauk's specially curated musical event will challenge your sense of time and place. Vivaldi's Four Seasons – music traditionally played in a concert hall and meant to evoke the wonder of the natural world is performed in a spectacular outdoor setting, followed by an immersive experience of Crumb's Vox Balaenae "Voice of the Whale" performed in the intimate indoor setting of the Oceans Institute, evoking the vastness of the world's oceans and suggesting the "larger rhythm of nature" and the transcendence of chronological time.