As a verb, to muse is to consider something thoughtfully. As a noun, it means a person — especially a woman — who is a source of artistic inspiration. In mythology, the Muses were nine goddesses who symbolized the arts and sciences. Today, we think of a muse as a person who serves as an artist's inspiration. I'm not sure of the origin of the name for this restaurant, but as I considered our dining experience in conjunction with the meanings of the word Muse, my conclusion is that the chef, Matt, just may consider the fresh, local fish and produce as his muse to create the fine dishes he prepares and serves each day.
Situated one block off Main Street in town, Muse @ the end offers a fresh rustic beach look with seating on the front patio, at the illuminated bar, or in the open dining room.
Offering a wide variety of cocktails, the vast, unique bar is lined with a wine rack wall displaying the extensive variety of wines available. After chatting with the bar tenders, as our guests arrived and we were seated at a lovely inside table. While enjoying the warm evening breeze through the opened window, our waitress Victoria welcomed us and presented fresh bread accompanied by a trio of spreads.
Chef Matt eliminated the difficult task of choosing from the extensive soup, salad and starter choices, by sending out many of the house favorites for us to sample. The Summer Apple Salad was served atop a crispy Gruyere Bread Pudding-something I've never tried, but loved. The Frisee Lettuce tossed with Granny Smith Apples, sunflower seeds, smoked Gouda, Craisins, smoked salmon bacon, and dressed with blood orange marmalade Caesar is a perfect blend of flavors that excite the palate with freshness and flavor.
Light, and loaded with fresh tender Peconic Bay Scallops, the Scallop Mac-n- Cheese prepared with a White Cheddar Boursin Cheese sauce is perfect for lovers of creamy, homemade mac-n–cheese.  If fresh Ahi is your yen, the Tuna "Menage A Trois" is a must. The trio; Ahi Tuna Tartar atop Vegetable Taboul
i, Tuna Lollipop topped with candied Wasabi on avocado, and Seared Tuna Carpaccio with seaweed Salad are delicately arranged on a small platter and each is fresh and delicious.  Prince Edward Island Mussels in a Prosecco Butter Sauce with grilled artichoke hearts, tomatoes and Giganta Beans, accompanied by grilled toast for dipping, is an amazing combination of complimentary flavors that makes Mussels a la Muse unique and one of the best mussel dishes I've tasted. Truly unparalleled, their East End Seafood Cake which is a blend of lump crab, shrimp, clam, lobster, bay scallop and char grilled LI Corn is  generously portioned and paired perfectly with a Horseradish Caper Aioli.
So as if these tast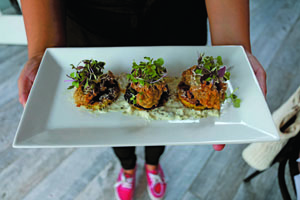 y treats weren't enough, the last of our 'starters' was the "Big Easy" Fried Local Oysters. Admittedly, I'm not an oyster fan, however the other three dining companions enjoyed the plump Cajun Cornmeal dusted gently fried oysters served on a charred scallion Johnny Cake with Horseradish Caper Aioli and Dark Molasses Chile Oil.
At this point any average diner would have called it a night; however, we take our task to heart and strive to bring our readers a complete review of the fine restaurants in Montauk. So, we trudged on, each choosing a dish from 'The Supper' menu choices which range from chicken, pork chops, steak, a vegetarian dish and a nice variety of fish and shellfish.
The Seared Giant Sea Scallops were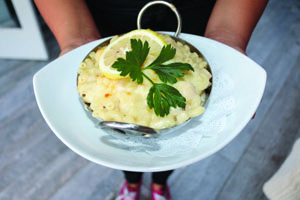 'giant' in both size and flavor. Resting atop a whipped parmesan sweet pea puree, accompanied by a shaved fennel salad and topped with Lemon Thyme Prosecco Beurre Blanc, the flavors complimented the sweet tender scallops perfectly.
The Tomato Crusted Scottish Salmon Scallopini are thin slices of  Salmon pan seared and is served alongside roasted shaved Brussel sprouts, shallots and Italian white beans and whipped cauliflower. This is  not your typical salmon dish, I'm actually not a big fan of the fish, but the scallopini style and flavors were amazing.
Perfectly cooked to order, The Horseradish & Gorgonzola Crusted NY Strip Steak was served with a Loaded Baked Potato and Port Demi-Glace. This generous portion of steak was both tender and flavorful.
The Blackened Sashimi Style Ahi Tuna is an amazing cut of tuna served on whipped gingered carrots and baby arugula cucumber slaw with smoked avocado mousse, along with fresh ginger. The Tuna and each of our meals was presented beautifully with lovely sides or garnish; savory and bursting with freshness.
Desserts are altogether too much after a meal like ours, however seeing how well we did with our meals, Chef Matt sent us a sampling of the 'Happy Endings'. Chocolate Layered Mousse Cake with whipped cream and rich chocolate sauce, Cheese Cake Chimichanga tossed in a cinnamon sugar and served with Raspberry Coulis, Vanilla Rice Pudding layered with fresh strawberries and blueberries, and Grandma G's Zeppole served in a  paper bag with love and accompanied by Raspberry, Vanilla, and Carmel Sauces….need I say more?
Muse @ the end plans on staying open year round with seasonal changes to the menu, brunch, and a pub style bar menu. Kevin, the GM, is born and raised here in Montauk. Previously, he worked in Muse in Sag Harbor and he jumped at the chance to be here in Montauk. Kevin is excited to be in a place that has "pure potential" and is willing to put in extra work to get it right. It seems Mat and Kevin make a good team along with the rest of their friendly wait staff- we wish them well and look forward to an additional choice for dining this winter.